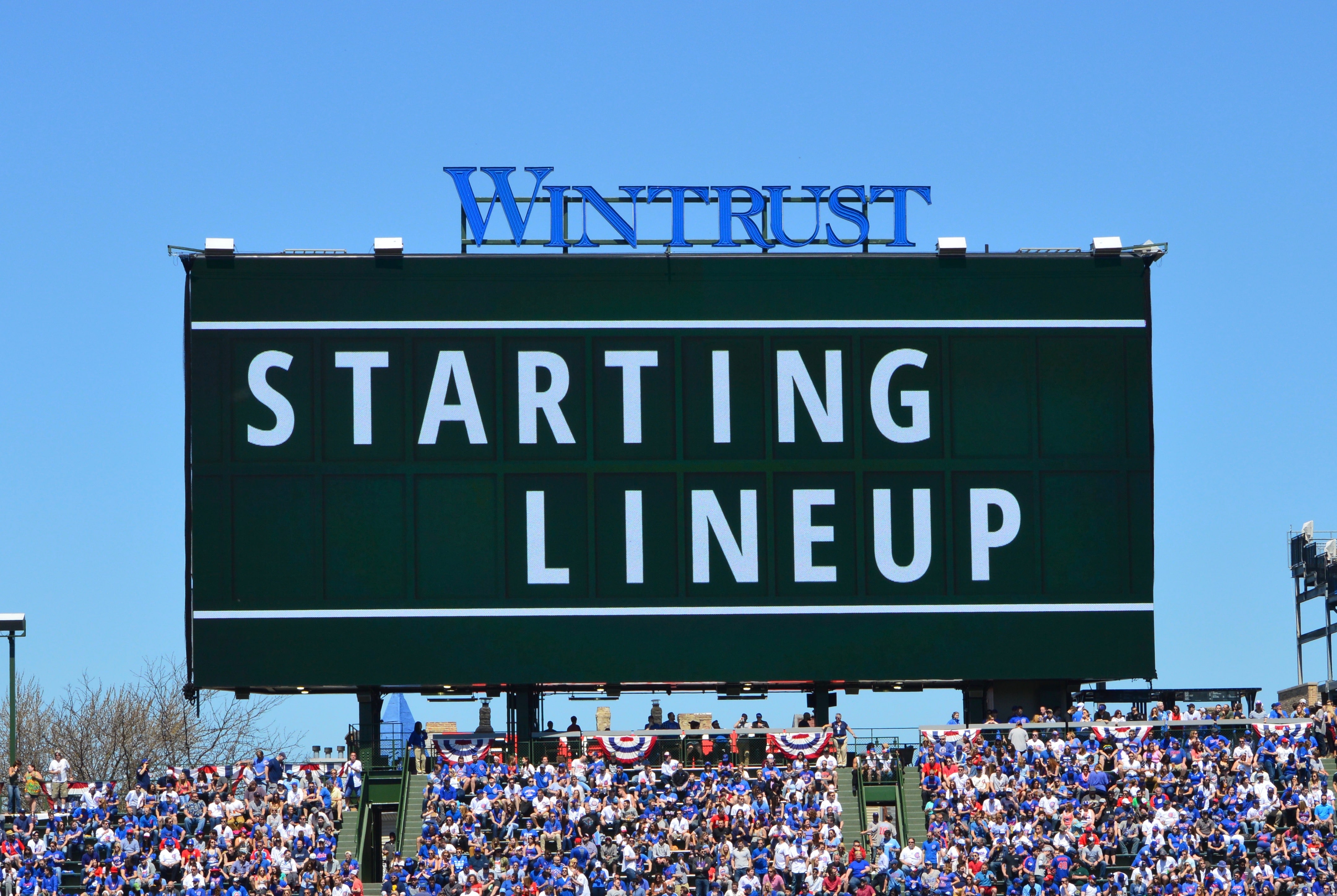 Chicago Cubs Lineup: Almora Leads Off, Happ in RF, Lester Pitching
Albert Almora Jr. is leading off in center and Kris Bryant follows him as he seeks to break the schneid. Anthony Rizzo, Willson Contreras, and Kyle Schwarber comprise the heart of the order, Javy Baez and Addison Russell make up the middle infield, and Ian Happ is in right.
Jon Lester is in line for what could be the best season of his remarkably consistent career by some measures. His 2.22 ERA would be his lowest ever, though we're a long way off from that being a reality. Not all of Lester's numbers are exceedingly great, but what matters is that he's putting forth an excellent performance every five days.
Over his last six starts, Lester is 5-1 with a 1.63 ERA and 8.15 K/9 against 2.33 BB/9. Even better, he's averaging nearly 6.5 innings per start in that stretch and has kept the Cubs in every single one of those games. Heck, the only loss he took came when he allowed a single run to the Indians over seven innings.
Lester has been excellent over the years when pitching in St. Louis, posting a 1.84 ERA (3.37 FIP) in six starts. He'll need every bit of both his current and historical success against a man who's having a career year of his own.
Michael Wacha has an 8-1 record with a 2.47 ERA (3.40 FIP) and he hasn't allowed more than two earned runs in a game since April 20. The Cubs have absolutely lambasted the big righty over the course of his career, but he got the better of them when these teams faced off in Chicago last month. Wacha held the Cubs to two runs (one earned) but did not earn a decision in that one.
Wacha's success is a little odd given his peripheral numbers, as he's allowing more hard contact (43.2 percent) and line drives (29.2 percent) than ever. And it's a lot more on both of those fronts, which makes the .240 BABIP against him seem like a flashing beacon of impending regression. He's also walking more batters than ever (3.52 BB/9)
At the same time, his pitch mix is a little more varied than in the past and may be keeping hitters off balance. Wacha has dialed back the four-seam and has turned up the usage of the change, cutter, and curve. The former two of those have been particularly effective, ranking among the top two in MLB among their respective peers.
Wacha's change has accounted for 10.1 runs saved, which is the best in baseball at this point, and it ranks third in value per 100 pitches. Tyson Ross ranks first, but that's only because he doesn't throw the pitch often at all. Know who's second? That's right, it's Lester, whose change has saved 5.6 total runs (5th) and whose 4.06 runs saved per 100 pitches is really the best in the game.
The Cubs need to watch for Wacha's cutter as well, since it has saved more runs (5.9) than anyone this side of Corey Kluber (13.4). While the Cardinals starter is throwing both of his most valuable pitches more frequently than in the past, he's doing so with less velocity. Both are coming in a couple ticks slower than last season, which may be helping him to command them a little better.
He's not working in the zone nearly as much, cutting his first-pitch strikes from 65.8 percent last season to 50.8 this year. That latter mark is the lowest in baseball among qualified pitchers (even Tyler Chatwood is at 52.4 percent). Wacha is in the zone a career-low 42.5 percent as well, so he's not giving hitters much to work with.
This is one of those matchups in which familiarity could be as much a curse as a blessing, since Wacha is a different pitcher now from the guy the Cubs had previously tuned up. They'll need to remain patient and not allow the recent offensive futility or their past domination of Wacha to get them jumping early.
All that said, I fully expect Bryant and Schwarber to bust out of their respective slumps in a big way in both this game and the series as a whole.
First pitch from Busch Stadium is at 7:15pm CT and can be seen on ABC-7 or MLB Network (out of market).
Here is tonight's #Cubs lineup against the Cardinals.

Game preview: https://t.co/yPCGlKjWhw #EverybodyIn pic.twitter.com/1FcHKvnyai

— Chicago Cubs (@Cubs) June 15, 2018