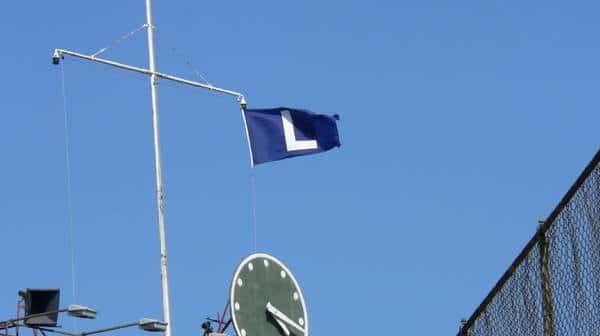 CI Recap (6/13/18) – Brewers 1, Cubs 0: Cubs Offense Sputters In Shutout Loss
The Cubs came into Wednesday's game with a chance to win their series against the Brewers and move into first place in the division. Unfortunately, a quality start from Mike Montgomery was wasted as the Northsiders failed to generate any runs.
After stranding runners on third the first two innings, the Brewers took the lead in the 3rd. The increasingly annoying Lorenzo Cain smoked a 3-1 Montgomery fastball over the left field wall for a 1-0 lead. The Cubs could not get anything going against big righty Jhoulys Chacin. They got seven men on base, but stranded all of them in six innings of work.
Monty didn't allow much else to the Brew Crew after Cain's homer, going six strong innings of his own. Joe Maddon went into his bag of tricks in the 8th inning, playing the matchup game by swapping Brian Duensing and Steve Cishek between the mound and left field for four hitters. It didn't matter in the end, as Milwaukee's lights-out pen slammed the door shut. Jeremy Jeffress, Josh Hader, and Corey Knebel finished off the final three innings to preserve the shutout. (Box score)
Why the Cubs Lost
Simply put, you can't win a baseball game if you don't score any runs. Once again, the Cubs showed a lack of extra-base power, with a double from Javy Baez representing the only slugging on Wednesday.
Key Moment
The Cubs' best chance to score came in the 5th inning when Ben Zobrist and Jason Heyward walked with one out. Chacin buckled down and got out of the jam with a strikeout of Tommy La Stella and a ground out by Anthony Rizzo.
Stats That Matter
Montgomery deserved a better fate Wednesday: 6 IP, 1 R, 2 H, 4 K, and 1 BB. He has continued his excellent work subbing for Yu Darvish. It's hard to make an argument for him returning to the pen when Darvish is healthy.
Baez had two hits, which was the high point for the ugly Cubs offense.
Kris Bryant got the day off and wasn't used as a pinch-hitter at any point. Certainly curious when Chris Gimenez hit against Knebel in the 9th. Clearly it was a total day off for the former MVP.
Bottom Line
The Cubs have gone 18 innings without scoring a run, not a trend that can continue against the Cardinals Friday. The Northsiders sit 1.5 games back of first, but there are a lot of games left to play.
On Deck
The Cubs start a three-game set with the Cardinals at 7:15 pm CT Friday night. Jon Lester faces Michael Wacha, who's been very good in 2018. The game can be seen on MLB Network (out of market) and ABC-7.