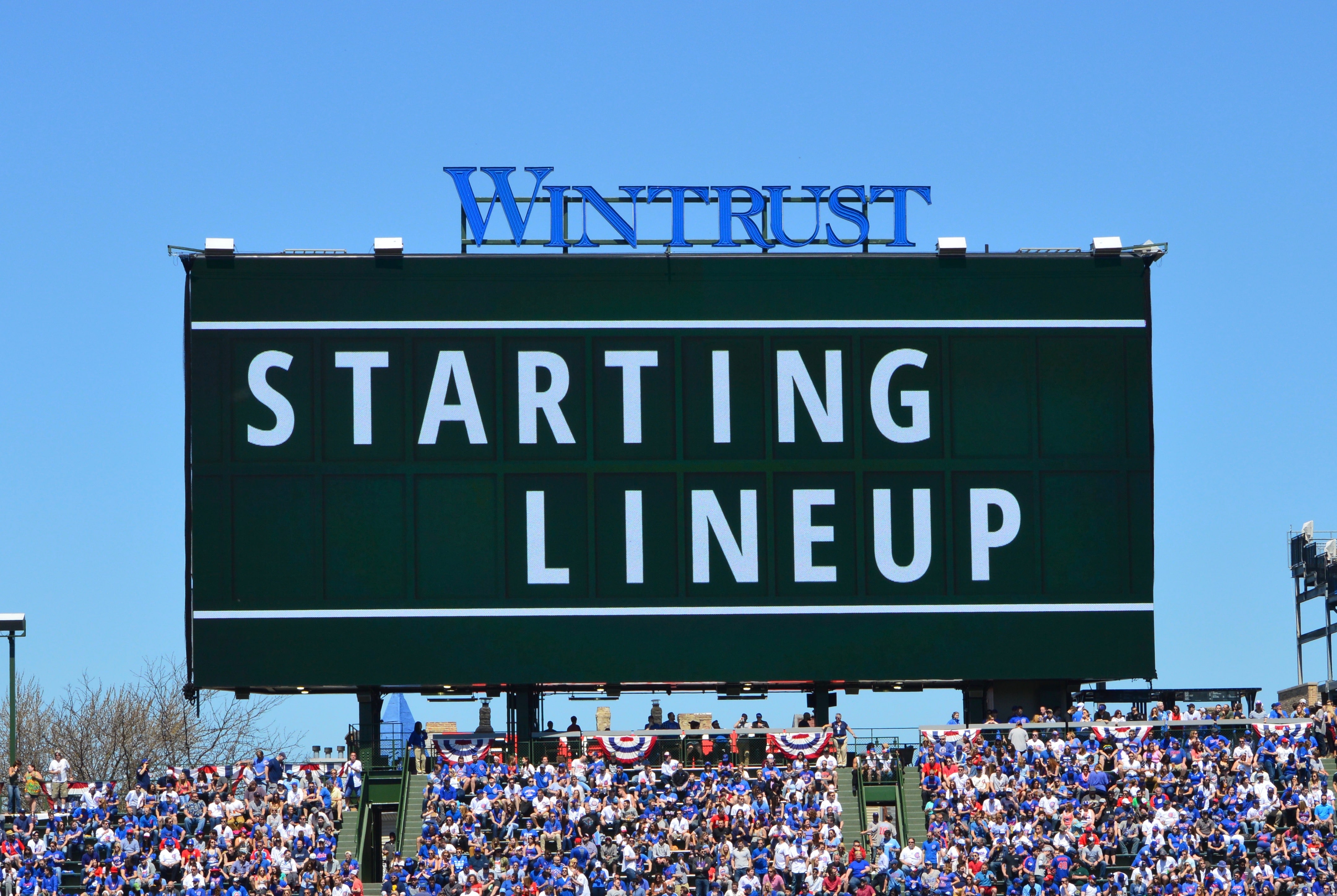 Chicago Cubs Lineup: Almora Leading Off, Zobrist in LF, Chatwood Starting as Cubs Try to Chase Anderson
Albert Almora Jr. is leading off in center with Jason Heyward in right, followed by Kris Bryant and Anthony Rizzo at the infield corners. Ben Zobrist is in left, Willson Contreras is catching, Javy Baez is at second and Addison Russell is at short.
It's a solid lineup, to be sure, though I'd have put Kyle Schwarber in there to face a man against whom he's already homered this year. Even though Schwarber is hitless in his last 16 at-bats, you have to think he's ready to explode. And, as you'll learn in just a little bit, the pitching matchup in this one actually favors lefty hitters even more than usual. Then again, Zo has been swinging it well and has also homered against tonight's starter.
What is there to say about Tyler Chatwood that hasn't already been said? He's wild but he has somehow managed more often than not to avoid the worst of his walk-happy ways. Chatwood has walked three more batters (56) than he's struck out (53) and has not struck out more batters than he's walked in a game since May 11 against the White Sox, when he had a 6/5 split.
Despite that, Chatwood has gotten at least two-thirds of the way through the 5th inning in four of his last six starts. Of course, the two outliers in that sample were the consecutive 2.2-inning abominations against the Indians and Giants. All of which is to say there's no more skin on his teeth, which actually sounds like something you'd say about John Lackey.
There is reason for hope in this one, though, if only because Chatwood's previous start against the Brewers was his best of the season by far. He went seven innings and posted a game score of 74, the only time he's gone over 58 in a dozen starts. That was also one of only three starts in which he's walked three or fewer batters, which is about the closest you can come to a compliment for the way he's pitched.
When Chase Anderson last faced the Cubs, he came in with a 3.25 ERA that stood in stark contrast to his 5.90 FIP. In other words, he had been getting very lucky, as evidenced by a .197 BABIP against through five starts. So of course he scattered five hits over seven innings and held the Cubs to a single run. He also walked only one and struck out two, the latter of which is in keeping with his career-low 5.95 K/9.
That lone Cubs run against Anderson came via a solo shot from Schwarber and was enough to win them the game. In similar fashion, Zobrist's solo shot against Anderson would have been enough to win them the game on April 8, though they went on to add two more in the shutout.
Giving up longballs has been a problem for the 30-year-old righty this season and it's something the Cubs should be able to take advantage of yet again. Anderson has already allowed 13 homers after giving up 14 all of last season, and his 1.80 HR/9 pace is the highest of his career. He's giving up more fly balls than ever and a higher percentage of those batted balls are leaving the yard.
Anderson won't blow anyone away with velocity, but he works in the low 90's with his fastball and his repertoire includes a sinker, cutter, curve, and change that can keep hitters guessing. That latter pitch is largely to blame. While the change had really been a weapon in the past, it's lost some luster here over the last few weeks and has been his worst pitch by far over the last four starts.
That's part of the reason Anderson's numbers have ballooned since that most recent start against the Cubs. Perhaps pitching two solid games and wearing losses got to him mentally or perhaps it was just the regression monster. Either way, Anderson has posted a 6.53 ERA with a 6.04 FIP over his last six starts, only once giving up fewer than three earned in any of them.
Typically a big-time reverse-split pitcher (remember the changeup that had been a weapon), Anderson has seen a dramatic reversal in those numbers when pitching at Miller Park. Though he's held lefty hitters to a .216 wOBA on the road, he's been lit up for a .985 OPS and .407 wOBA by lefties in Milwaukee. Eleven of the 13 homers he's allowed have come at home and six of those have been hit by lefties.
If those numbers bear out again in this one, it could be a good night for the Cubs to remove yet another chunk of the Brewers' soul to use for toilet paper. First pitch comes to you at 7:10pm CT on NBC Sports Chicago and 670 The Score.
Here is tonight's #Cubs starting lineup. #EverybodyIn

Stream on @YouTubeTV: https://t.co/t4XvcdoeJc pic.twitter.com/CsPqfgMrNf

— Chicago Cubs (@Cubs) June 12, 2018