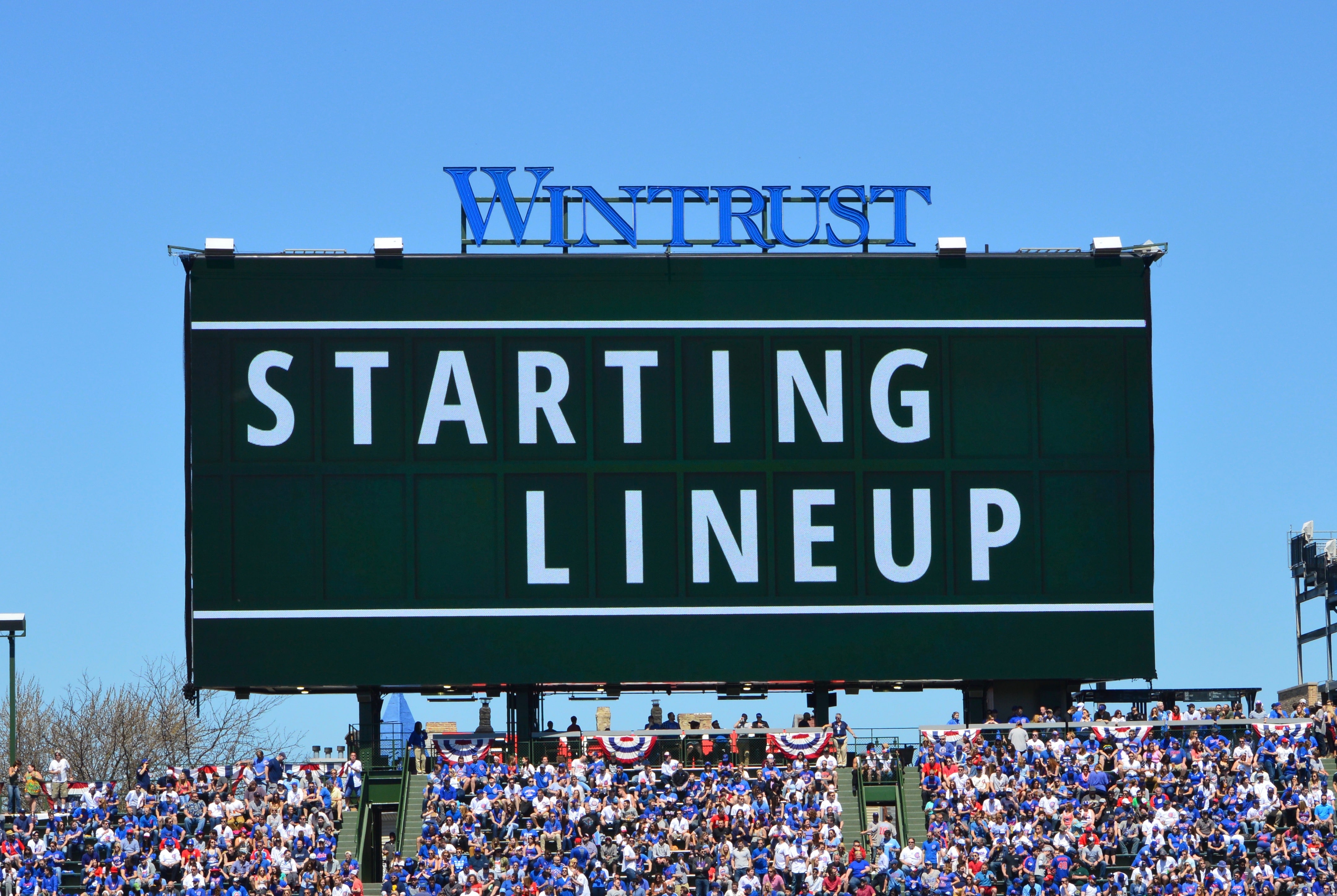 Chicago Cubs Lineup: Chatwood Tries to Control Mets, Zobrist and Heyward Up Top
Ben Zobrist and Jason Heyward are up at the top of the lineup just like last night, only this time Zo is in left field. Kris Bryant is at batting and playing third, Anthony Rizzo is cleaning up. Batting fifth and playing center is Albert Almora Jr., who has a very favorable matchup in this one.
Javy Baez is playing second and batting sixth, Addison Russell is at short, and Chris Gimenez gets his second start behind the plate. The veteran backstop was paired with Mike Montgomery during the swingman's first start, but his challenge will be somewhat greater this time around.
Tyler Chatwood is an enigma wrapped in a riddle hidden inside the body of a man who just can't seem to throw strikes. Though not as nebulous as MLB's slide rule, I can better perform calculus with a slipstick than explain how and why Chatwood is doing what he's doing.
If he gets two outs in the 6th in this one, he'll have logged more innings than in his last two starts combined. Those last two efforts were nothing short of disastrous, but the Cubs think they've figured something out and they've taken steps to turn down the volume on Chatwood's noisy delivery.
The wild righty said he felt good during a Friday bullpen session during which he worked on shortening his stride and breaking his hands a little earlier. Given the drop in his vertical release point, getting the whole motion started earlier and landing a little shorter might help him to get more on top of the ball. I guess we'll find out soon enough whether it works.
Going for the Mets will be one of three or four uninjured pitchers on the roster, Zack Wheeler. No stranger to the DL, Wheeler pitched only one inning of live baseball in 2015 and '16 combined and threw only 86.1 innings over 17 starts last season. Tommy John surgery didn't sap his velocity at all, but the 28-year-old righty hasn't gotten very good results since returning.
That all comes from fastball location, which has changed dramatically since his very promising 2013 and '14 campaigns. Wheeler used to bust righties inside with the fastball, both two- and four-seam versions, which better set up his secondaries. He's located over the dish a lot more over the last two seasons, though, which has turned him into more or less a split-neutral pitcher.
If he can manage to prevent hitters from squaring up the heater, Wheeler's slider is a legit weapon. He buries it down and away to the glove side and it's allowed a mere .395 OPS this season despite not being a real swing-and-miss pitch. In fact, hitters make more contact against that breaking ball than they do against his fastball. But since they hit it on the ground more than 78 percent of the time, their efforts are largely fruitless.
Wheeler has been pretty terrible at home this season, allowing a .902 OPS and .385 wOBA to opposing hitters. Lefties have been particularly successful, tagging him for an 1.115 OPS and .451 wOBA. Righties have still been above average, so this could be one of those games in which we see the Cubs really break out the drivers.
First pitch is set for 6:10pm CT, but this time it'll be shown on NBC Sports Chicago+ along with 670 The Score. I split my time between both TV and radio while finishing up a birthday gift for my dad last night, but I have to admit that I experienced some serious cognitive dissonance as a result of the radio broadcast.
Anyone who's listened to Pat Hughes and Ron Coomer call a game can tell you about the pair's little idiosyncrasies, like Hughes and his call of, "You know, Ron, this feels like it could be a turning point." That and other declarations from the venerable play-by-play man are inevitably followed by, "Oh I agree, Pat(rick)."
But last night, much to my dismay, Hughes verbally agreed with something Coom Dawg said. I almost passed out from the shock and was unable to proceed with my appointed activities for, like five seconds. Anywho, here's to hoping they better maintain the status quo tonight.
Here is tonight's #Cubs lineup for your analysis. #EverybodyIn

Stream on @YouTubeTV: https://t.co/t4XvcdoeJc pic.twitter.com/n6E84tELVJ

— Chicago Cubs (@Cubs) June 1, 2018