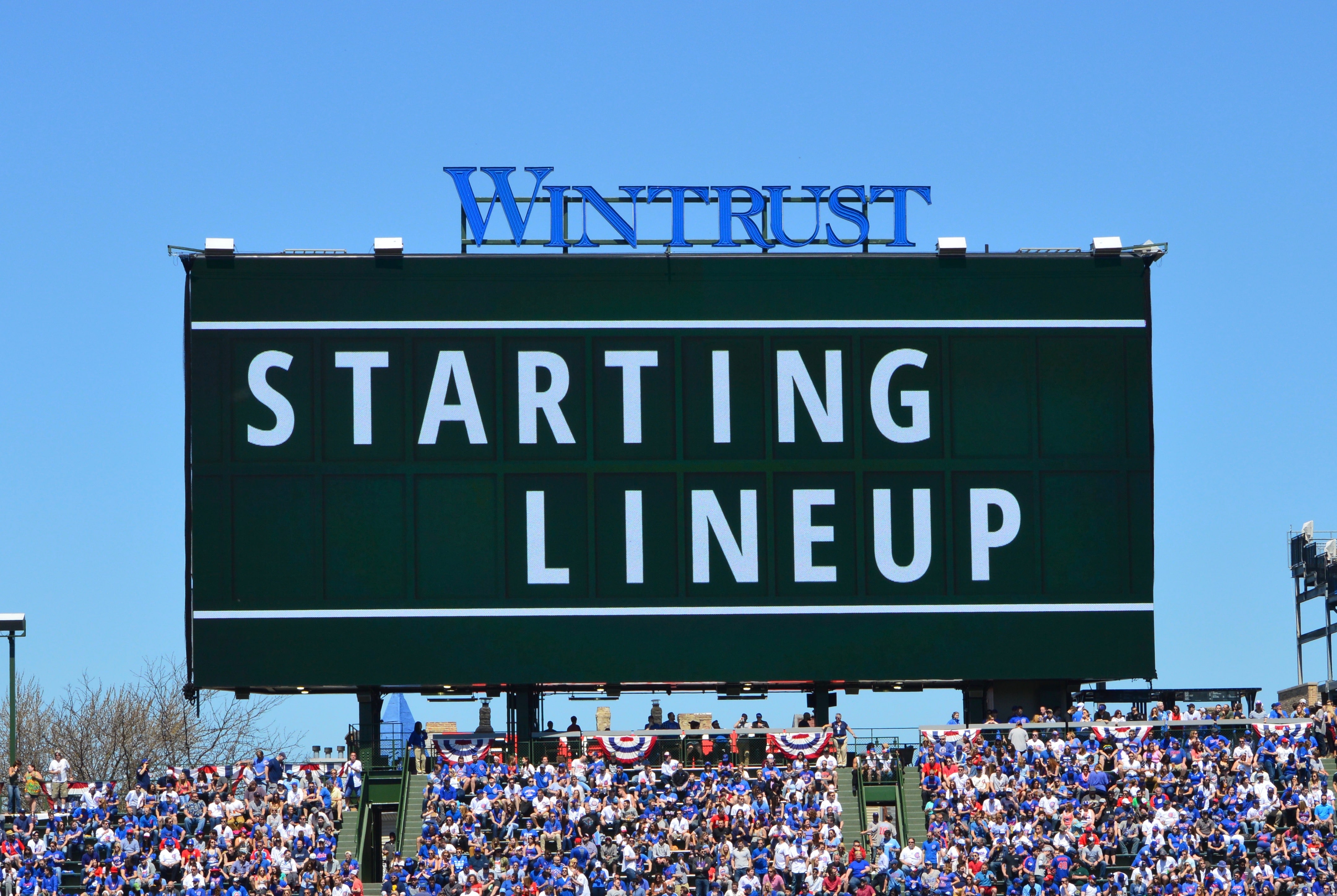 Chicago Cubs Lineup: Zobrist Leadoff, Schwarber Two, Happ in CF, Quintana Starting
Ben Zobrist brings his professional ball-striking ability to the top of the order, followed by Kyle Schwarber, the best defensive left fielder in baseball. Kris Bryant bats third, Anthony Rizzo is fourth, and Willson Contreras hits fifth.
Ian Happ is hitting sixth and playing center, Javy Baez is at short, and Jason Heyward is in right.
On a personal note, I'm writing this via spotty WiFi in a huge cabin in Michigan that may or may not have Redrum written on the walls. Hope I see you on the other side of the weekend.
Jose Quintana looked really good last weekend in Cincy and has been solid in four of his last five starts. Other than a disappointing effort against the Braves, the lefty has allowed just one earned run on 13 hits over 24 innings in those cherry-picked outings. You'd like to see fewer than 11 walks in there, but the overall results are strong enough to mitigate the blemishes.
Quintana's been using his changeup less lately and he's really flip-flopped back and forth with the fastball and curve. He's at his best when the breaking stuff is working early and often, something that is made possible by solid command of the heater. And as we've seen from the high walk totals, that's not always been the case.
One thing to look for in addition to his control is velocity, which has been ramping up slightly from the start of the season. Q was sitting 92 in his last start, up from 91 in the early going. As small a difference as that seems on the surface, it could be a sign that he's settling in and getting more comfortable with his stuff.
Going for San Francisco will be Chris Stratton, Rush Chairman, damn glad to meet you. I was disappointed to find that he 27-year-old righty does not go by Otter, though that's probably because neither he nor his peers likely know anything about Animal House.
This is Stratton's third stint with the Giants and his first as a full-time starter after being drafted out of Mississippi State with the 20th overall pick in 2012. He's never been a big strikeout guy, even in the minors, and he hasn't displayed remarkable control over the course of his professional career. What he's done pretty well, however, is keep the ball on the ground and in the park.
That hasn't been the case over the last five starts, however, as he's allowed six home runs and has generated grounders at a mere 37.7 percent rate. He's also walked 14 against 18 strikeouts, so opponents have really been able to wear him down. Stratton has gone six or more innings four times this season, but he's gone five or fewer in four of his last five starts.
Though he's not a very hard thrower, I suppose he can still hold the title of Rush Chair because he throws a lot of fastballs. The heater makes up about 60 percent of Stratton's offerings and it's easily been his best pitch this season. Hitters have managed only a .679 OPS against the four-seam despite making more contact with it than his other pitches.
The sinker hasn't been nearly as strong and doesn't get much usage because, even though it gets a lot of grounders, hitters have battered it for a 1.192 OPS. Stratton's slider is even worse, allowing hitters to slash .450/.542/.750 against it this season. As such, expect to see a very heavy dose of fastballs and curveballs.
It's a wonder Stratton has done so well with the fastball when you look at how he locates, or doesn't locate. His heat maps are all over the place, especially against lefties, and almost everything is up in the zone. The curve, on the other hand, is going to stay down with more 1-7 movement and he'll work more away to righties.
All that said, Stratton has been much better on the road and has actually posted some pretty extreme reverse splits this season. Lefties have crushed him in San Francisco but they are slashing only .172/.254/.313 with a .253 wOBA when he's facing them as the visitor. There's not much of a difference with righties, who don't see Stratton as well but slug better against him when he comes to their park.
The Cubs will need to buck some of those trends in this one if they want to maintain the momentum from yesterday's late surge. Stratton generally makes his fair share of mistakes, so it's a matter of capitalizing on them and doing damage when he inevitably puts a runner or two on base.
First pitch will be at 6:15pm CT, an unusual start time necessitated by the national FOX coverage. While that means no blackouts for those of you who have to deal with such things, the trade-off is listening to a national broadcast that will surely belabor some points you'd rather not deal with as you're watching. Of course, there's always 670 The Score to avoid such trifles.
Here is tonight's #Cubs starting lineup.

Game preview: https://t.co/wECt0roSt8 #EverybodyIn pic.twitter.com/k9eHz1lYxK

— Chicago Cubs (@Cubs) May 26, 2018