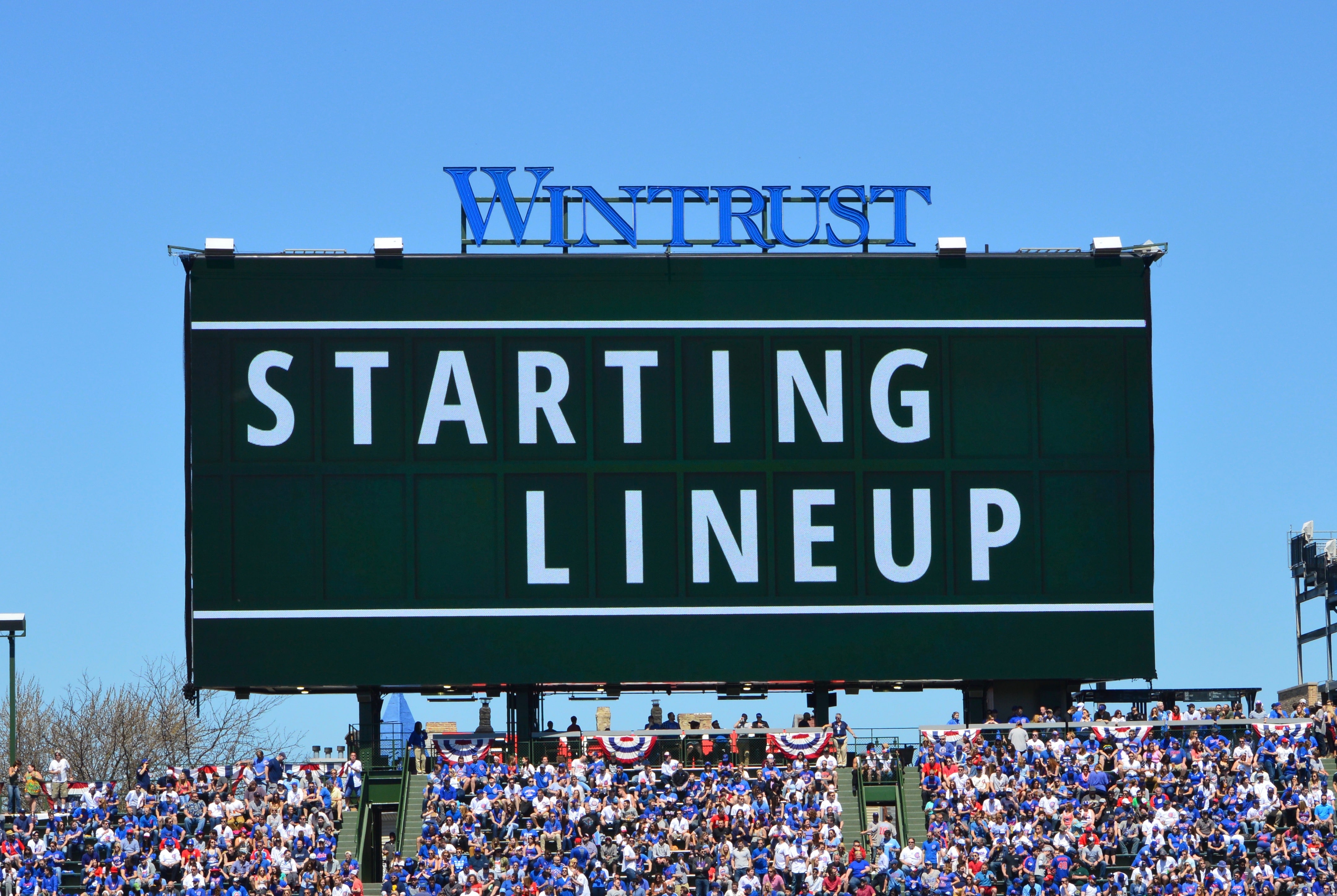 Chicago Cubs Lineup: Happ Leads Off, Schwarber Second, Lester Playing Mini-Stopper
Wow, uh, this is another unexpected change from Joe Maddon. That Ian Happ is in the lineup given his hot hitting is not a surprise, but putting him in the leadoff spot is something. Though much has been made of his strikeout rate, he's managed to reduce it to under 26 percent in his last 35 plate appearances. Small sample, still good results.
Kyle Schwarber is hitting second, several spots higher than he's been lately. He may have had a pair of homers last night were it not for the weather conditions, and facing an inexperienced pitcher could see him going off. Kris Bryant, Anthony Rizzo, and Willson Contreras make up the heart of the order, Javy Baez and Addison Russell form the middle infield, and Jason Heyward handles the duties in right field.
Jon Lester will be on the bump in this one to play stopper, which sounds a little funny when you consider that the Cubs have won three of their last five. But with this short series followed by another day off, it would be nice to wash away the taste of last night's tail-whipping.
The big lefty had a weird outing when these teams matched up in Cleveland last month, taking his only loss of the season by giving up only three earned runs. Lester walked two batters and allowed only four hits, but three of those knocks left the yard to account for all of Cleveland's scoring against him.
If he's able to put together a similar performance in all ways other than the longball, Lester should be able to get a significantly better result this time around.
Taking the mound for Cleveland will be 26-year-old righty Adam Plutko, who is making just his second career start in place of the ineffective Josh Tomlin. Perhaps the Cubs can treat Plutko just like they did his predecessor, who gave up four dingers back on April 24.
Plutko is a fastball/slider pitcher, using those two offerings for roughly 90 percent of his repertoire. His curveball makes up most of the remainder, with a changeup that he goes to on rare occasion. The heater sat 93 in his first start this season and generated only four swinging strikes, though all of them resulted in strikeouts. When hitters made contact, it was in the air, a product of leaving it up in the zone.
The slider generated six swinging strikes, two of which ended at-bats. He only threw that pitch three times to nine left-handed batters, which means righties will see it much more frequently. Though he typically buries it down and away, he hung nine of the 21 sliders over the plate to right-handed batters.
Lefties have hit him better in limited MLB action, but Plutko's minor league results show that he's been a pretty serious reverse-split pitcher. He's also a strike-thrower who doesn't walk many batters and has traditionally allowed more than 65 percent line drives and fly balls in his professional career. And while he's generally kept the ball in the yard in the minors, Plutko has given up four dingers in 11 MLB innings.
That'll be the key for the Cubs in this one, getting after the inexperienced righty and taking advantage of his mistakes early and often. Though the Indians bullpen looked good in relief of Trevor Bauer last night, they've been disastrous overall in allowing the second-highest ERA and FIP in MLB this season.
First pitch is scheduled for 7:05pm CT and will be carried by NBC Sports Chicago and MLB Network (out of market only).
Here is tonight's #Cubs starting lineup. #EverybodyIn

Stream on @YouTubeTV: https://t.co/t4XvcdoeJc pic.twitter.com/zTQDzVJlvO

— Chicago Cubs (@Cubs) May 23, 2018