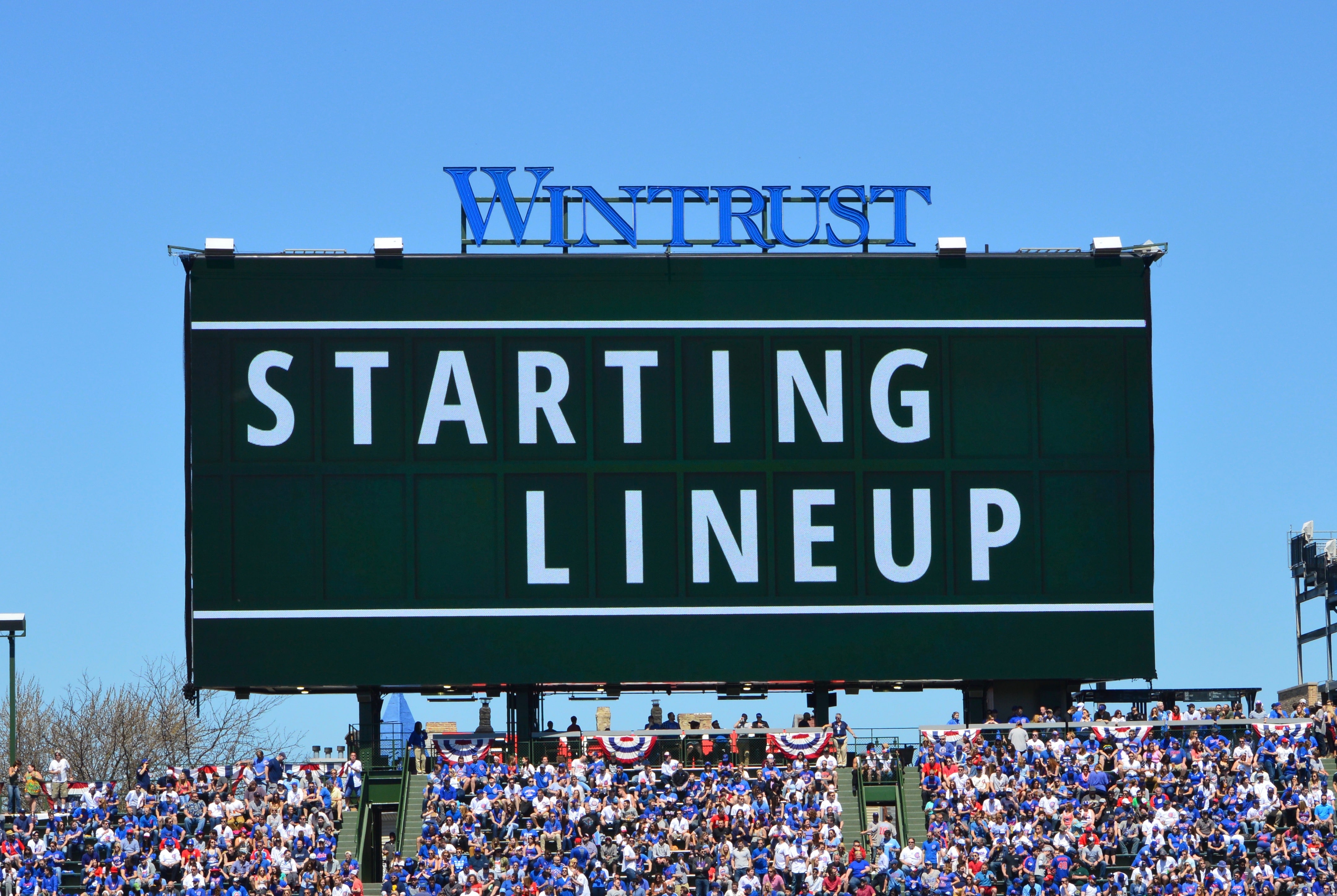 Chicago Cubs Lineup (Game 2): Zo Leads Off, Heyward in CF, Q Pitching as Cubs Look to Split DH
Ben Zobrist will lead off and play right in the second half of this twin bill. He's followed by Tommy La Stella batting and playing second, which means Kris Bryant drops down to third.
Anthony Rizzo cleans up, Willson Contreras is fifth, and Ian Happ starts in left after a monster game this afternoon. Addison Russell mans short and Jason Heyward will be in center for this one.
Friends, Jose Quintana has not been good this season. He's had three really solid starts, but doesn't have a game score higher than 38 in the other five. That includes a 4 in his first start and a 12 his last time out. He's had all kinds of trouble locating the fastball, which has led to trouble with the curve and change. Not exactly a formula for success, let alone in wet conditions.
The Reds are not a good team, but they still employ professional hitters who can do plenty against mistake pitches. Q really needs to dial in the fastball and control the zone in this one. If he does that, he'll be just fine.
The Cubs will be trying to get over on Reds righty Sal Romano, who turned to baseball after successful careers as a restaurateur and an extra in Martin Scorsese movies. At 6-foot-5 and 270 pounds, the 24-year-old from Syosset, NY looks like the kind of dude you'd expect to see standing behind Joe Pesci as hired muscle. But it's been opponents who've done the damage with baseball bats when Romano is in the frame.
A fastball-heavy pitcher, the stout starter will lean on his 95 mph four-seam for about 70 percent of his offerings. His slider makes up 25 percent and the changeup fills in the rest, though none of those pitches have produced positive value this season.
Romano will work primarily arm-side with the fastball, trying to bust righties in while keeping it outside to lefties. We can only hope he continues that trend against Bryant, who has been raking against inside stuff this season. That's a product of his offseason work, which you should read about if you have a few minute or five.
Cousin Sal's slide-piece will break more like a curve, which is why you'll see it classified differently depending on which tracker you use, though he does tend to get a little more sweep on it when facing righties. Lefties get it more down in the zone and over the middle of the plate, so there's some serious cement-mixer potential there. It's his only real put-away pitch, though, so it's still important for the Cubs not to overlook it completely.
The change, however, probably isn't something to worry about. Romano has more or less scrapped it over the last four starts after it kept getting tagged, so he's basically a two-pitch guy at this point. That might actually serve him well in this one, as Bryant's kryptonite this season has been sliders and curves from righties. He's only batting around .170 against those pitches, but maybe it's time for a correction.
Romano has allowed at least one earned run in each of his nine starts this season and he has struck out more than four in only one of those. This should be a game in which the Cubs are able to get some contact, something that has been hard for them to come by against power pitchers.
First pitch is set for 6:10pm CT and can be seen on WGN.
We invite you to join us in forgetting about Game 1.

Game 2 preview: https://t.co/ZrkPBOTKzi #EverybodyIn pic.twitter.com/ad7vXEjhIA

— Chicago Cubs (@Cubs) May 19, 2018