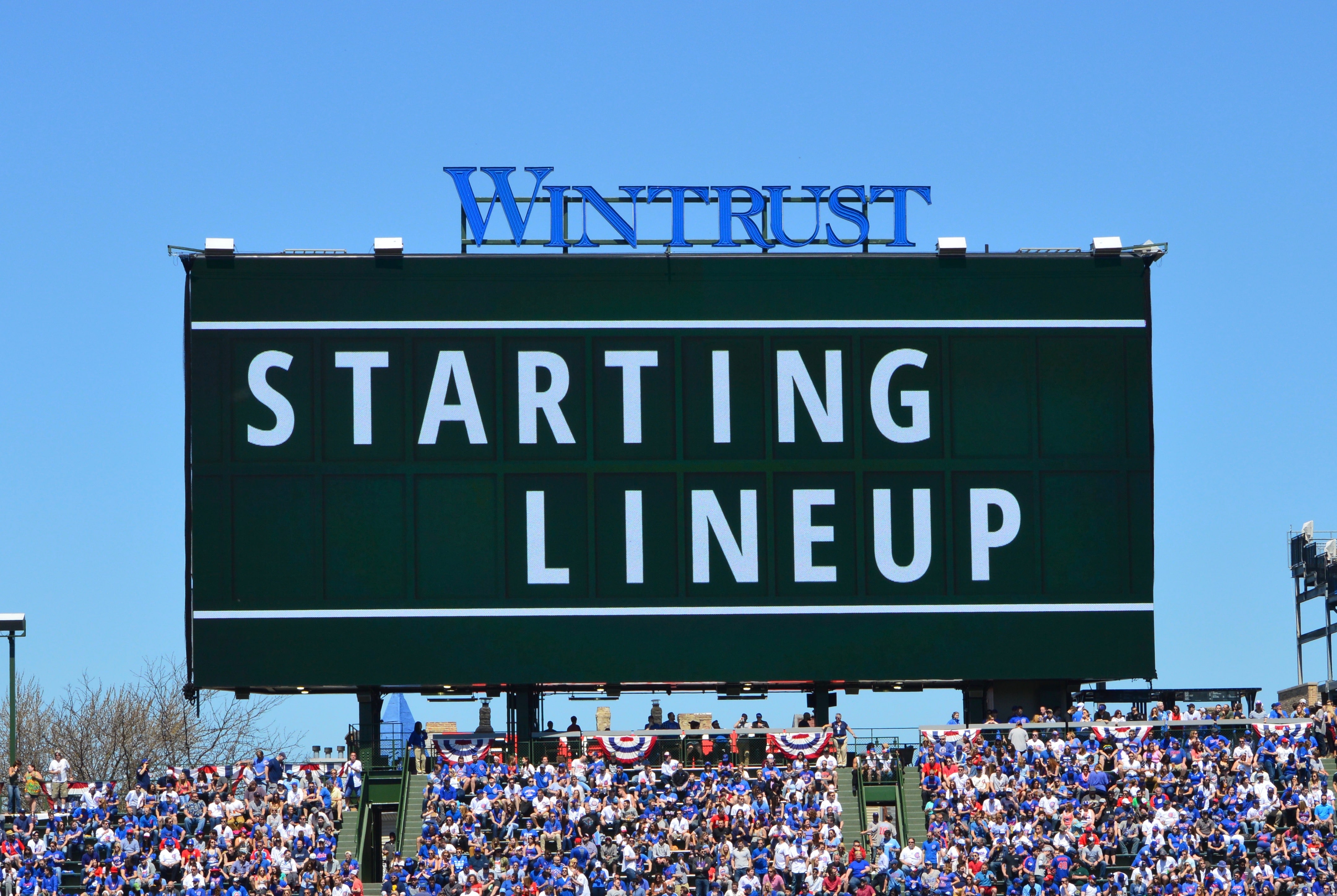 Chicago Cubs Lineup: Zobrist Leads Off, Javy Fifth, Darvish Returns to Mound
Hey, who's excited to watch Yu Darvish pitch against the team with the best record in the NL? This will be the first start back for the righty, who's been out since May 2 with a respiratory virus, and his performance has a lot of Cubs fans holding their breath heading into this start. Darvish has been a far cry from great through six starts, and he hasn't even been mediocre when pitching against any team that isn't the Brewers.
Control and command have both been lacking and his pitch mix has fluctuated wildly from start to start. Some of that could well be a matter of matchups, but Darvish just hasn't seemed comfortable with his vast array of pitches in most of his outings. Only in the games against the Brewers has he displayed the kind of performances everyone was expecting.
Maybe it's about time to change that trend up.
Looking to provide some support for Darvish will be Ben Zobrist, who leads off in right field. Kris Bryant and Anthony Rizzo follow, then Willson Contreras and Javy Baez. I can't think of a more dynamic, emotional pair of ballplayers than WillCo and Javy, so let's hope they're locked in tonight.
Kyle Schwarber is in left and batting sixth, where he's done boatloads of damage this season. Albert Almora Jr. bats seventh in center and Addison Russell rounds things out at short.
They'll be trying to hang some runs on Mike "Please Just Call Me Folty" Foltynewicz (FUL-ta-nev-ich), whose pitching has been almost as difficult for opposing hitters to figure out as his name. The 26-year-old righty comes into the game with a 3.21 ERA (3.57 FIP) and is striking out just over one batter per inning. He's not been very efficient, though, and has only completed six innings twice in eight starts.
Folty brings a really nice fastball to the table, running the four-seam up there at an average of 96.9 mph. He throws the sinker slightly harder, though the speed isn't really deceiving and may actually be hampering the offering's effectiveness. Then again, the main point of the hard stuff is to set up the change and slider, both of which have been big weapons this season.
The changeup is thrown harder than a Kyle Hendricks heater, sitting at 89, and the slider is just a few ticks slower. Foltynewicz also employs a curveball that breaks around 12-6 or 12-7, and it has actually been getting really good results over the last few games. It's not a big swing-and-miss pitch, but it generates a lot of fly balls and isn't generally hit too hard.
The slider and change, on the other hand, function as out pitches and get a lot of whiffs. The former gets a lot of contact on the ground as well, something that isn't really Folty's forte. Only 38 percent of batted balls against him are on the ground, something that could hurt him as the weather warms up. Then again, SunTrust Park has been pretty good when it comes to keeping balls in the yard.
Then again again, perhaps Foltynewicz would prefer to pitch on the road. He's got a 4.22 ERA at home so far and has allowed a .771 and .336 wOBA, well above his road production. Most of that damage has been done by lefties, who, despite batting 40 points lower than their counterparts, boast an .841 OPS and .358 wOBA (.692 and .309 for RHH) against Folty in Atlanta.
We'll see if the Cubs can avoid swinging on this pendulum when the game starts at 6:35pm CT on NBC Sports Chicago+ and 670 The Score.
Here is tonight's #Cubs lineup in Atlanta. #EverybodyIn

Stream on @YouTubeTV: https://t.co/t4XvcdoeJc pic.twitter.com/ksB2e2knac

— Chicago Cubs (@Cubs) May 15, 2018