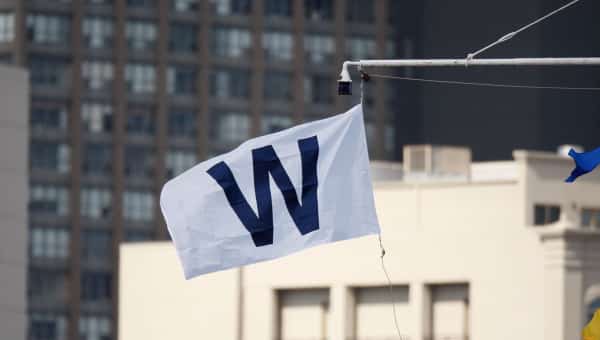 CI Recap (5/9/18) – Cubs 13, Marlins 4: Cubs Bust Out Big Bats to Complete Sweep
Kris Bryant started the party by going yard for the 100th time in his career in the bottom of the 1st inning. Anthony Rizzo and Addison Russell added homers of their own and Willson Conteras hit two triples, and that was only a small part of the action.
On a day when the offense was working on all cylinders, Mark Zagunis got his first major league hit. Jose Quintana pitched six strong innings of one-run ball to ensure the Marlins would not make a comeback. Justin Hancock finally made his major league debut in the 7th inning, which is always fun to see.
The Cubs got a big lead early, which made for a pleasant game to watch. (Box score)
Why the Cubs Won
The offense went off for eight runs in the bottom of the 3rd, sending 11 batters to the plate. In that inning, the Cubs hit for the cycle in four consecutive at bats, with Bryant doubling, Javy Baez singling, Rizzo homering, and Contreras tripling.
Key Moment
Rizzo hit a three-run home run in the bottom of the 2nd to extend the Cubs' lead to 6-0. Once he crushed that ball, pretty much everybody could foresee the result.
Stats that Matter
Anthony Rizzo went 3-for-4 with two doubles and a home run. He drove in five runs on the day and scored twice. Maybe he's finally breaking out of his slump.
The Cubs went 5-for-9 with runners in scoring position.
Every Cubs starting position player either scored or drove in a run.
Nine of the Cubs' 15 hits were for extra bases.
Bottom Line
After getting swept in close games by the Cardinals, the Cubs bounced back to pound the Marlins into the ground. They currently sit in fourth place in the Central with a 19-15 record, but they're only a game behind the first-place Cardinals, so don't let the standings fool you.
On Deck
After a day off, the Cubs welcome the South Siders to Wrigley. Tyler Chatwood will get the starting nod for the Cubs and Carson Fulmer will take the ball for the White Sox. The game will be broadcast at 1:20pm CT on NBC Sports Chicago.