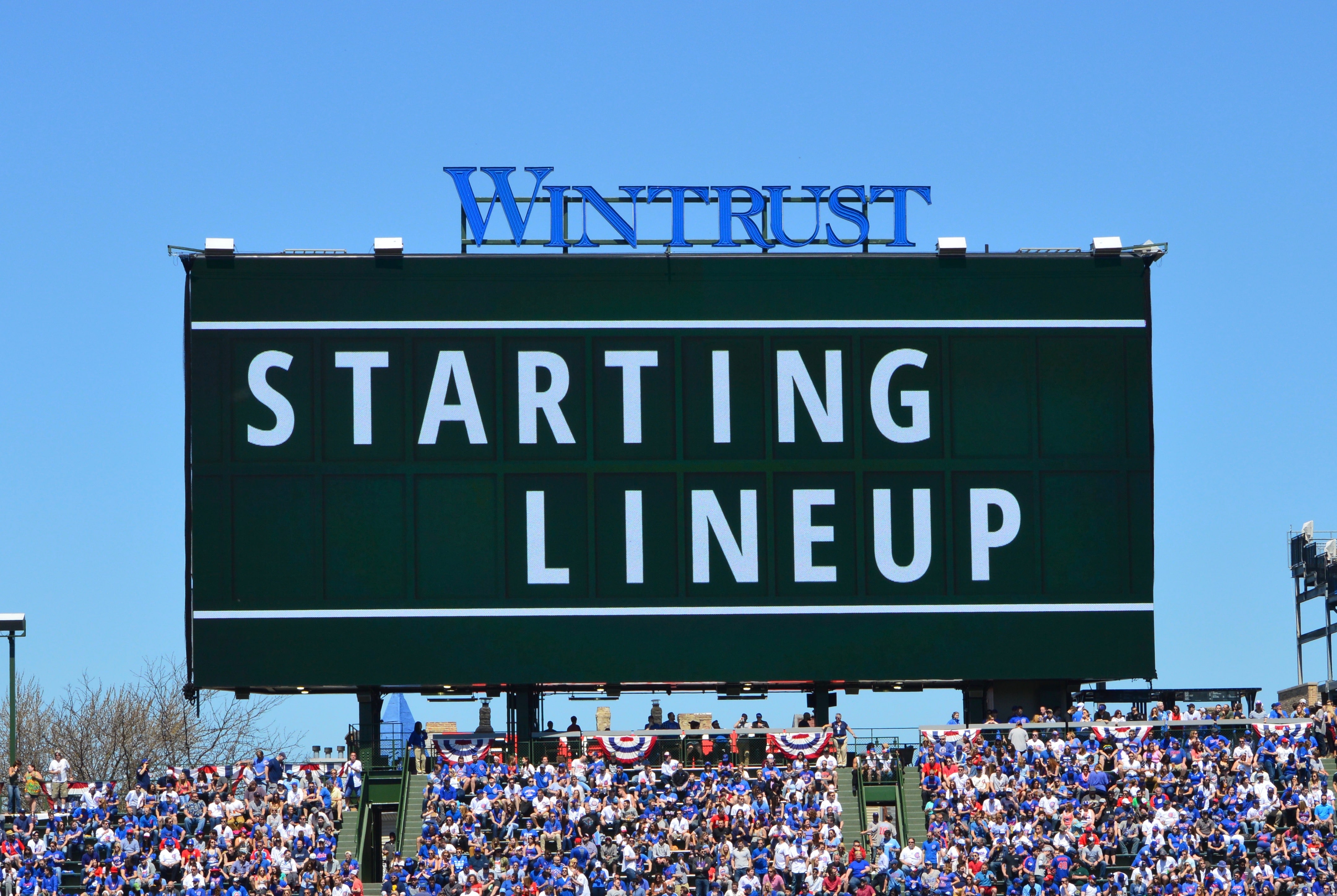 Chicago Cubs Lineup: Almora Leads Off, Bryant in RF, Javy Returns, Bote at 3B, Q Pitching
Albert Almora Jr. is back where he belongs, hitting first and handling the duties in center. Kris Bryant is batting second and playing right with Jason Heyward on the concussion DL. Javy Baez is back in the lineup in the three-hole after entering last night's game as a pinch hitter.
Anthony Rizzo has been making much better contact lately and he'll be in the cleanup spot, which is an interesting choice with a split-heavy lefty on the mound for Miami. Willson Contreras is catching, so let's hope Derek Dietrich doesn't try to get froggy this afternoon.
David Bote came up big with a two-run double in last night's game and he'll get the start at third base today. Ian Happ is in left and Addison Russell is at short to fill out the order.
There's not really much to say about Jose Quintana, who's making his seventh start of the season. If he walks fewer than four batters, he and the Cubs will win. If he walks four batters, chances are much higher that he wears a loss. In the three starts in which he's walked four, he's 0-2 and the Cubs managed to out-slug the Braves in one. Q is 3-0 in the three starts in which he's walked one or two batters.
As you might imagine, the fastball and curve have been more effective in those wins. Those pitches make up roughly 75 percent of his overall pitches, so having them dialed in will determine his success. The Marlins haven't been hitting well and are dead last in MLB in both home runs and ISO, which gives Q a little more margin for error.
Going for Miami will be 33-year-old lefty Wei-Yin Chen, who has pitched only 42.1 innings over the past two seasons due to elbow issues. Chen was shut down for four months last season after being diagnosed with a partial UCL tear, then made four relief appearances in September before going down again with discomfort in that throwing elbow.
The problems lingered into this spring and Chen was just activated at the end of April. He's made two starts for the Marlins this season, going 1-1 with a 4.82 ERA that is actually much lower than it should be given his performance. With all due caveats about small samples and individual stats, Chen's 8.52 FIP and 7.27 xFIP tell us that he's been pretty bad.
The southpaw will work with a five-pitch mix that includes a four-seam, slider, sinker, curve, and change, non of which have generated positive value this season or over the course of his career. The slider and change, however, have flashed really good at times and could be considered weapons if he's got the feel for them.
Given his lack of recent experience and overall mediocrity, this seems like a matchup the Cubs should be able to exploit the hell out of. Chen has performed well against lefty batters over the course of his career, but righties have raked against him. That's particularly true this season, though, again, it's just two starts.
Not much more to say about this one, the Cubs just need to go out and take care of business.
First pitch is at 1:20pm CT and can be seen on WGN.
Here is today's #Cubs starting lineup. #EverybodyIn

Stream on Twitter Live: https://t.co/jtwOK0raMS pic.twitter.com/XlJRlzilki

— Chicago Cubs (@Cubs) May 9, 2018