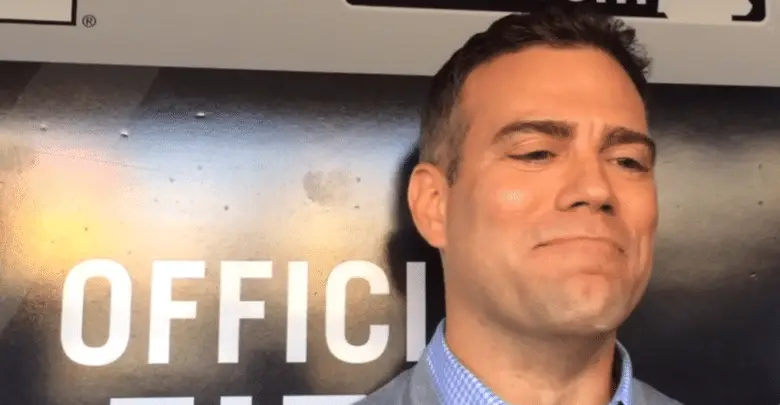 Cubs Made Good on Epstein's Prediction, Now Comes the Hard Part
One game in early May doesn't turn the season around or allay worries that have been lingering for the last few weeks, but it sure does feel good to hang a pair of touchdowns on your opponent. Yes, even if that opponent is Derek Jeter's Miami Marlins, a team that is little more than a child's illustration of what a baseball team should look like.
In trouncing the Marlins Monday night at Wrigley, the Cubs seemed to be offering a direct response to Theo Epstein's pregame lament and his proposed solution.
"It was easy to look at the World Series hangover thing last year," Epstein said to the assembled media. "There's no cute name for this one. It's just struggling.
"There's no fire-and-brimstone speech that will turn this thing around. Just continue to work hard and one good swing for each player involved usually is the key for having them feel good and go on a tear [emphasis mine]."
Yeah, I'd say they made good on that last part, with good swings to spare in a walkover that saw the Cubs rack up 15 hits on the evening (which I called on the nose, by the way). Four of those were the kind that travel over the fence and allow the batter to circle the bases at will, which was fun. What's more, all four taters came with men on base, marking the Cubs' first multi-run homers since they were a mile high on 4/20.
Not that such an outburst should have really been surprising, in and of itself. The Cubs are not a bad team, they've just been playing poorly. The roster isn't filled with bad players, just guys who haven't been performing nearly to their potential. And despite recent rabble about coaching changes and stylistic differences, it's not as though the new staff has over-tinkered with their charges.
"We haven't changed anyone's core identity as a hitter," Epstein explained Monday afternoon. "That's not what's going on in there. Our guys are slumping now and they're all kind of doing it at the same time. That's why it's so frustrating and everyone's pressing. We'll come out of it.
"You can't pin it on any one spot in the lineup. We're last in the league in walks. That's not going to last. We're not going to lead the league in soft contact."
The Cubs were actually able to draw five walks Monday night, including one each from the top three hitters in the lineup, which moved them all the way up to a tie for 13th in the NL in walk percentage (8.1). Despite the round-trippers and other well-struck balls, however, they've still got the highest soft-contact percentage (21.4) in the league. Baby steps.
Also encouraging was the lack of errors, which isn't normally something you'd want to applaud. I mean, yeah, it's good to not commit fielding and throwing errors, but the expectations for this team are that it would be an eight-man Dyson vacuum.
"We've had some defensive mishaps and have done it to ourselves," Epstein explained softly. "It puts an extra strain on your pitching staff when they don't need the extra burden. When you're not hitting, those plays that you don't make can be the difference between winning a series or losing a series, winning a game or losing a game. That might be the hardest to explain. We have to keep grinding away and stress to stay focused and lock in our defense."
Is it just me, or does the boss seem pissed off? Epstein isn't one to throw tantrums or call people out individually, but his carefully-chosen words carry the same crushing force as a show of strength from a more iron-fisted dictator. Now I'm not suggesting in any way that the world's greatest leader taking the podium to talk about how frustrating it was that the Cubs sucked got them to magically turn it around.
This was more a matter of the players acting out Epstein's assertion that they were simply too good to be playing so bad. After all, this is almost exactly the same thing we saw from them last year. At 17-15, they're actually a game ahead of where they were through 32 games in the 2017 season. May 25 saw the Cubs four games over .500 at 25-21, but they wouldn't be that far clear of even again until July 19 following sweeps of Baltimore and Atlanta to open the second half.
Why, then, does this season feel so different from the last one? Maybe it's just a matter of recency bias, since kind of a lot has happened in the space of a year and we forget things. More likely, it's because the convenient excuse of a World Series hangover is gone and we've all finally been roused from the refractory period following that ultimate achievement.
Now the Cubs are just day-drunk and stumbling along haphazardly, occasionally providing a gust of good baseball in between the doldrums. Consider that Monday night's blowout was their sixth double-digit scoring output of the season, all wins in which they've averaged 12.8 runs/game. In the five subsequent contests they've played to this point, however, the Cubs are 0-5 and have been outscored 26-7.
That means the Cubs are scoring a mere 1.4 runs/game the day after scoring double digits, which you can view as either pathetic or unsustainable. Or you can view those things as one in the same, which is the best answer. Both the schedule and the law of averages say that the Cubs should perform much better moving forward. As in, immediately.
Remember way back three paragraphs ago when we read about them sweeping two really bad teams to get clear of .500 and create momentum? That wasn't until after the All-Star break, but getting the Marlins and White Sox at home this week could offer a similar health elixir. So too could the Reds, against whom the Cubs have four games following four with the Braves.
So while one game in early May doesn't turn the season around or allay any worries, a string of individual games could do just that. Or, you know, they could make everything worse. Let's just hope for the latter, huh? Scoring more than three runs Tuesday night would be a good start.