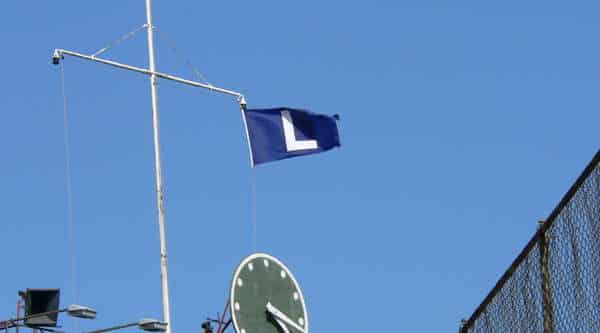 CI Recap (5/1/18) – Rockies 3, Cubs 1: Cubs Grounded with Wind Blowing Out
The Cubs tried to extend their winning streak to six against the Rockies at a balmy Wrigley Field on Tuesday. Joe Maddon shook up the Chicago lineup hoping to spark a scuffling offense, and it worked…for about two minutes. The Northsiders again struggled to score and this time the pitching staff couldn't save the day.
Much like his first start against the Rockies, Kyle Hendricks started slow. Charlie Blackmon and David Dahl rode the jet stream with the wind blowing out, hitting back-to-back homers to open the game. Leadoff hitter Anthony Rizzo did what he does hitting atop the order and took Jon Gray deep for a solo shot of his own in the bottom of the 1st. That would be the high point of the home team's offense Tuesday.
Other than a Nolan Arenado home run in the 4th inning, Hendricks was lights-out the rest of the night. The 3-1 lead was more than enough for Gray, however, who pitched his best game of the year. The Cubs barely threatened the Rockies the rest of the way snapping their winning streak at five. (Box score)
Why the Cubs Lost 
The Cubs grounded out 11 times while hitting only three fly balls the whole night. With the wind howling out, it was a recipe for frustration. Despite a solid pitching performance, the lack of run support made a victory impossible.
Key Moment
Dahl hit a solo home run deep to center field off of Hendricks in top of the 1st. The second dinger of the game gave the Rockies a 2-0 lead.
Stats That Matter
Hendricks was very good despite the three homers: 7.2 IP, 3 R, 4 H, 5 K, and 2 BB. The weather conditions hurt him, especially on the Arenado homer, which likely would not have gone out with no wind.
Justin Wilson got his first action in a week and pitched great, going 1.1 innings of perfect relief with two strikeouts. Wilson has either been terrific or awful in his appearances this season.
Rizzo started the game off with a pop, then returned to his 2018 struggles. Still not concerned about Tony, he will heat up at some point soon.
Bottom Line
Personally, I don't have an issue with the lineup changes Maddon made Tuesday. The Cubs offense had been in a slump despite the winning streak. This move didn't work, but it was worth a shot.
On Deck
The rubber match of the series is Wednesday afternoon at 1:20 pm CT. Yu Darvish looks for his first win as a Cub against Tyler Anderson. Television coverage is available on MLB Network (out of market) and NBC Sports Chicago.