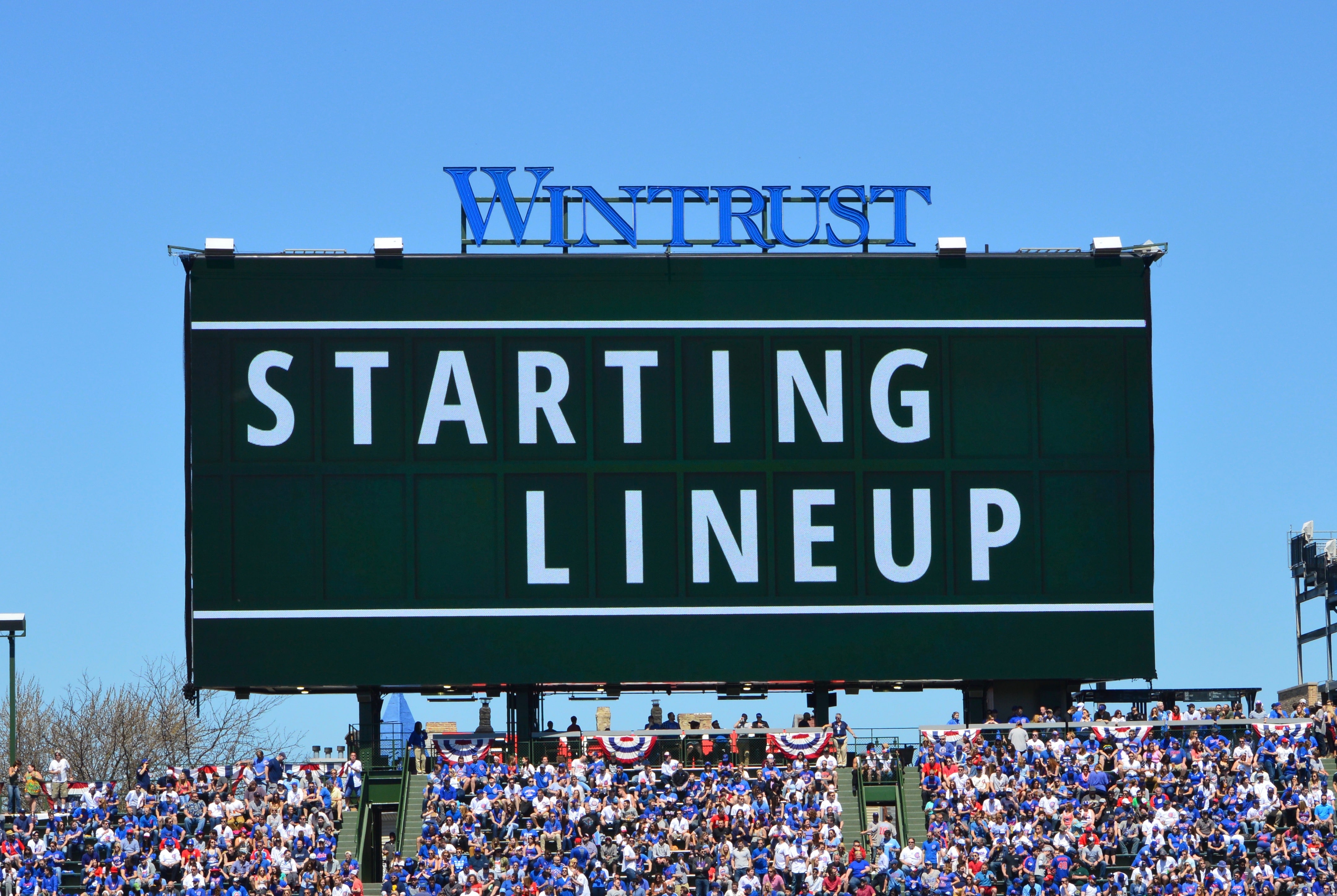 Chicago Cubs Lineup: Al Mago Up Top, Bryant Still Out, Lester Starting Against Pitcher You Love to Hate
Albert Almora Jr. will once again bat leadoff, even with a righty on the mound. He's followed by extra-base machine Javy Baez at second and Anthony Rizzo at first.
Willson Contreras cleans up and Tommy La Stella is at third in place of Kris Bryant, who is still out after taking a fastball to the head in Colorado. Kyle Schwarber resumes his role as the world's scariest six hitter while Addison Russell bats seventh.
The hot-hitting Jason Heyward bats eighth and Ian Happ once again rounds out the lineup in left. If Heyward can keep turning on fastballs and Happ puts it together more consistently, there is some extreme potency here.
Jon Lester has had a Jekyll-and-Hyde start to the season, though the box score totals might fool you into thinking he's been really good. A 2-0 record with a 3.10 ERA is solid, and even his 3.52 FIP is totally acceptable. But he's flipped back and forth from excellent to excrement in each of first four starts this season.
Lester has gone 12 innings in his two wins, allowing only one run on five hits and two walks while striking out 13. The other two starts have seen him go only 8.1 innings, allowing eight runs on 14 hits and six walks while striking out only five. The Cubs are going to need Lester to put up another solid effort if they want to leave Cleveland with a sweep.
As his velocity has dipped over the past few seasons, the big lefty has been forced to change his pitching style up a little. That means getting away from the cutter and sinker and going with more of the fastball and changeup. The key for Lester is being willing and able to locate his pitches in the zone. He can get into trouble when he tries to nibble, running up his pitch count early.
While getting over on Cleveland would be plenty satisfying in and of itself, it'd be even more so to do it by beating Indians righty Trevor Bauer. Long viewed as an abrasive lightning rod who repels people as readily as he attracts criticism, the UCLA product might be easier to dislike than Ryan Braun. Whether he's tweeting "Fly the L" or sharing opinions on various matters, Bauer is more than willing to say some interesting things.
But maybe this public perception of his unrepentant douchebaggery is all a matter of optics, as Bauer explained to ESPN's Jerry Crasnick.
"People get the wrong impression about me," Bauer said. "They think I'm elitist or I'm conceited or whatever. But I'm a really good person. I take care of my friends and my family. I'm kindhearted. I'm a better person than a lot of people I'm surrounded by [emphasis mine]. I'll get chewed up for saying that, but it's true."
Huh, sounds like we had him pretty much pegged from the start.
Getting back to baseball, Bauer is looking much better than the pitcher who wore two losses in the 2016 World Series. Much of his success this season can be attributed to the slider, which he's throwing with greater frequency and efficacy than at any point in his career. Well, he threw it a lot in 2015, but it wasn't as sharp as it has been this season.
Bauer is also throwing the curve more than ever, using it for nearly 30 percent of his total pitches. He'll work in a sinker and change as well, but the whole mix is set up by a mid-90's fastball that he likes to throw high and away (he'll vary it by batter handedness) in the zone. That's a big change in eye level from the breaking stuff that he buries low and away to righties or at the back feet of lefties.
As you might imagine from a guy who works both high and low, Bauer gives up nearly equal amounts of flies and grounders. He's also prone to hard contact, which means that his 2.67 ERA and .250 BABIP could be due for a little regression. Bauer is throwing more first-pitch strikes than ever in his career (62.3 percent) and he does so a few percentage points higher than league average.
Even though he's got legit swing-and-miss stuff, his profile tells me that the Cubs could find success by being aggressive early in counts. Bauer doesn't walk an inordinate number of batters (3.33 BB/9), but he's not going to play around in the zone if he gets ahead in the count. He'll use that four-seam early and will then lean on the curve and slider, more the latter, to get swinging strikes.
Because of his repertoire and being willing and able to throw the breaking stuff to both lefties and righties, Bauer is almost perfectly split-neutral. Even though righties have hit him eight points better when he's at home, hitters from both sides have an identical .741 OPS and .322 wOBA when facing him in Cleveland. Those numbers skew heavily to lefties this year, but that's only over two starts.
First pitch is set for 6:10pm CT and can be seen on NBC Sports Chicago.
Here is tonight's #Cubs lineup in Cleveland. #EverybodyIn

Stream on @YouTubeTV: https://t.co/t4Xvcd6DkC pic.twitter.com/w3Tb0aaZRz

— Chicago Cubs (@Cubs) April 25, 2018