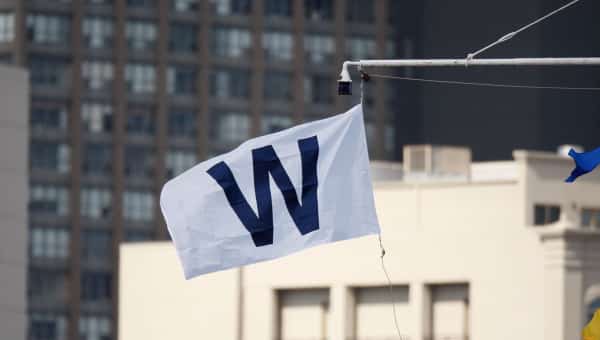 CI Recap (4/19/18) – Cubs 8, Cardinals 5: Cubs Start Fast, Hang On Late
The Cubs continued their roller-coaster early season Thursday afternoon against the Cardinals. A fast start offensively combined with a quality outing by Jon Lester was enough to hold off a late St. Louis surge.
A series of misplays gave the Cards an early 1-0 lead, but the Cubs answered back with two in the bottom of the 1st. St. Louis starter Luke Weaver allowed nine hits, eight of which were singles as the Cubs built a 6-1 lead with small ball. A Jason Heyward homer built the Chicago lead to 8-1.
Eddie Butler took over in the 7th inning and could not record an out. Steve Cishek got out of the bases loaded, no out jam, but not before the lead had been cut to 8-5. Carl Edwards worked around a couple base runners and Brandon Morrow slammed the door on the Cubs win. (Box score)
Why The Cubs Won
Jon Lester's strong start combined with early offense put the Cardinals in a hole they could not dig out of late in the game. The Cubs built their lead with a four-run second inning that featured five singles.
Key Moment
Jason Heyward blasted a home run off of Matt Bowman in the bottom of the 5th inning. The long two-run homer put the Cubs ahead 8-1.
Stats That Matter
Jon Lester had a no-hitter going into the 5th inning and was good all day: 6 IP, 1 R, 0 ER, 2 H, 7 K, and 1 BB. The only run he allowed was the result of a throwing error and a wild pitch.
Javy Baez had another big day at the plate with a triple and a single, but he did make a pair of bad throws on attempted double plays.
Anthony Rizzo had three hits today, which matched his season total heading into the game. Obviously his back injury had something to do with that, and hopefully this is a sign of things to come.
Kyle Schwarber had two RBI singles and smoked two other balls for outs. The best sign for War Bear, though, was consistently going to the opposite field every at bat.
Every Cub in the starting lineup had a hit in this one, including Jon Lester.
This was Joe Maddon's 300th victory in a Chicago Cubs uniform.
Bottom Line
The Cubs are again at the .500 mark in the early season. They have yet to string together a sustained winning or losing stretch. Something will have to give eventually, I would prefer in the direction of a winning streak.
On Deck
The Cubs head to Denver to take on the Rockies on Friday night. Kyle Hendricks takes on Jon Gray at 7:40pm CT. WGN has the television coverage, weather permitting.