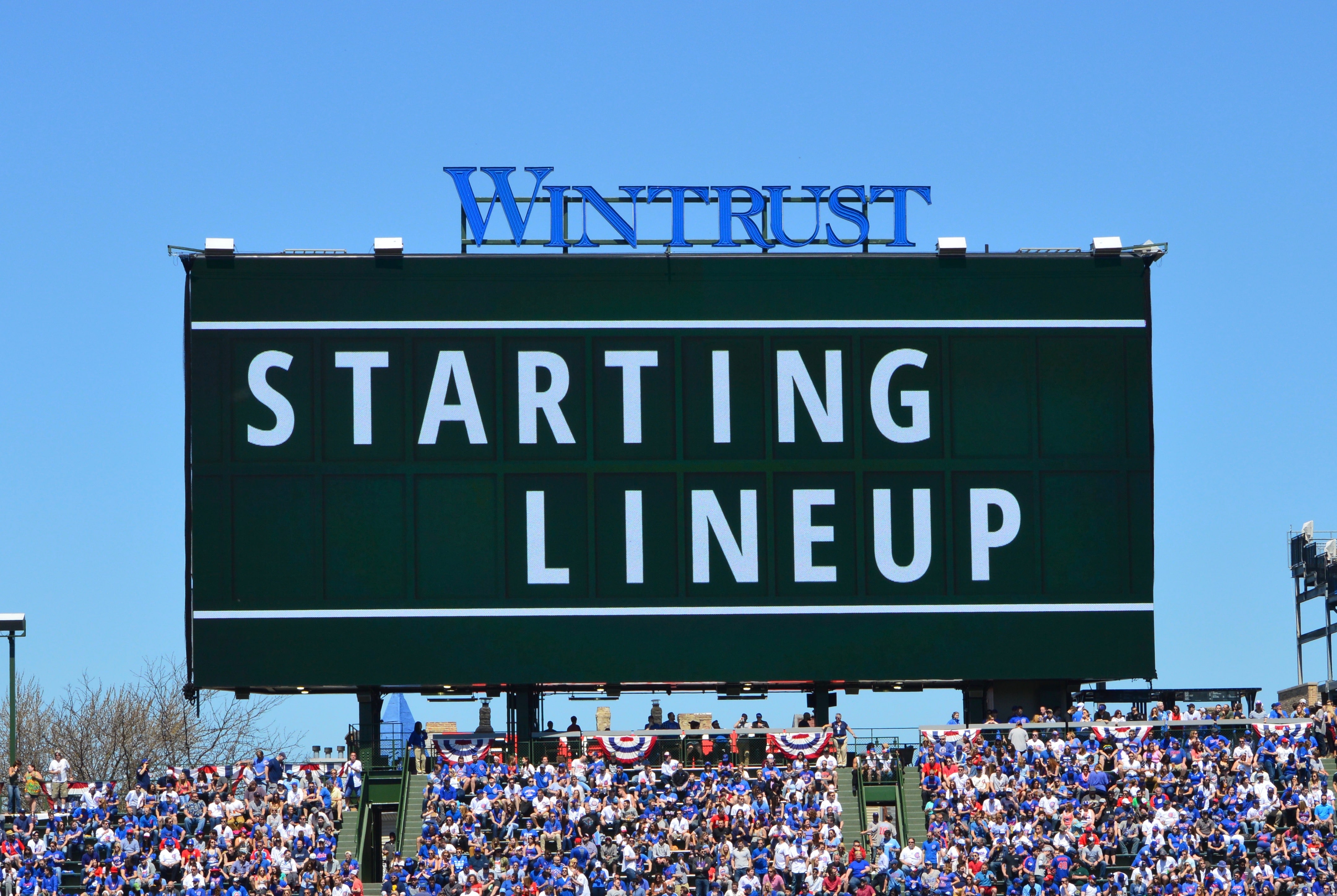 Chicago Cubs Lineup: Zobrist Leads Off, Bryant at 1B, Chatwood Starting (Update: PPD)
Update: Sunday's game has been postponed due to garbage weather and has been rescheduled for 1:20pm on Monday, May 15. Fans with tickets to today's game can use them next month with no need to exchange.
Today's game between the #Cubs and #Braves has been postponed due to the forecast for inclement weather throughout the day.

The game will be played on Monday, May 14 at 1:20 p.m. CT. Tickets for today will be honored for the makeup game. No ticket exchange is necessary. pic.twitter.com/IHndZtkeqa

— Chicago Cubs (@Cubs) April 15, 2018
---
Have you gotten over the shock of Saturday's insane comeback yet? It's way, way too early to start talking about springboards and pivotal games or whatever, but I'll be gosh-darned if that highly improbable victory didn't feel like it might have lit a fire under the Cubs.
They'll need that fire since it's cold and rainy in Chicago again, and the forecast is calling for snow throughout the afternoon. What a beautiful day for a ballgame. After winning a wild one in awful conditions yesterday, I'd just as soon see the Cubs bang this one.
If they do play it, Ben Zobrist will be leading off in right field. Tommy La Stella follows at third base, and Kris Bryant bats third and plays first. Kyle Schwarber is cleaning up in left, followed by Victor Caratini catching and Javy Baez at second.
Addison Russell is at short and Jason Heyward is in center to round out the order. Listen, I get that Heyward is a perennial Gold Glove winner and all that, but I'm not a fan of having him in the lineup every single day. His .591 OPS does not merit the regular run, not when Albert Almora Jr. is sitting there with an .861 OPS and a great glove of his own.
Tyler Chatwood is making his third start of the season with eyes on combining what he's done in the first two. Chatwood was somewhat effectively wild in Cincy during his Cubs debut, but then was very ineffectively controlled in the home opener. He's got all kinds of stuff and he it's clear that he can be an excellent pitcher, it's just a matter of working the corners and keeping the ball down in the zone.
Braves starter Julio Teheran knows a little about control issues, as he's walked 10 men in 14 innings already. He's also given up four homers, three of which came in his second start. This will be the fourth start of the season for the 27-year-old righty and he's given up at least two earned runs in each of the first three.
Teheran works a four-seam/sinker combo for nearly two-thirds of his pitches, backing them up with a slider, change, and curve with decreasing frequency. The slider has been his best pitch in terms of relative value throughout his career and the same is true this year, except the results in 2018 have just been about being his least bad pitch.
Though not all of his pitches have seen nearly enough usage to merit any real conclusions, none of them has allowed lower than a .795 OPS against. The overall results are just so bad that it's impossible to take much of it seriously. Teheran has been absolutely brutal against righties, against whom he's normally been much stronger.
We'll see whether and how the splits follow either his career numbers or those he's put up so far on the young season. Of course, we've already seen that it doesn't even matter what the Cubs do against the opposing starter.
All I know is that the Cubs need to find the (probably highly inebriated) fan who was heckling Braves relievers and give him lifetime passes. Dude was incredibly loud and the field mics were pitching him up clearly throughout the game, what with the light crowds. What start out as the tried and true, "We was a batter, not a broken ladder" turned so much better later on.
When Dan Winkler was on the mound, our hero was serenading him with solo chants of "HEN-RY WINK-LER" and could be heard calling the pitcher "Fonzie" and "Arthur Fonzarelli" at various times throughout his appearance. It's no coincidence, then, that a happy day for the Cubs followed shortly thereafter.
First pitch in this one, if they can get it in with the ugly forecast, is set for 1:20pm CT, with WGN and 670 The Score on the broadcast.
Here is today's #Cubs lineup for the series finale.

Game preview: https://t.co/vuR2XnwEMN #Jackie42 pic.twitter.com/cCB1p46t8C

— Chicago Cubs (@Cubs) April 15, 2018