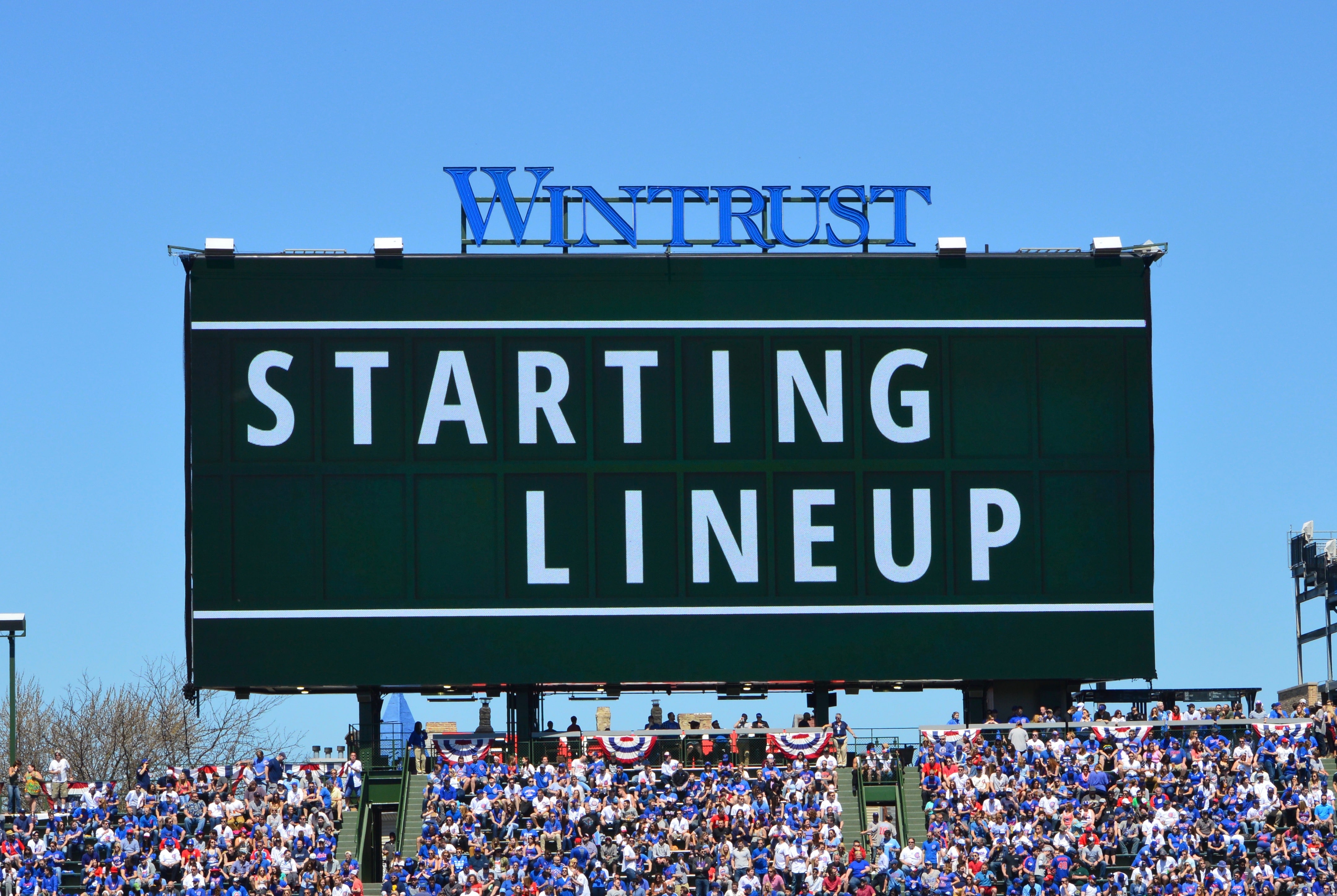 Chicago Cubs Lineup: Happ Still Leading Off, Zobrist Playing First, Chatwood Pitching Home Opener (Update: Game PPD)
***Update***
Monday's opener has been postponed and will be made up at 1:20pm CT Tuesday. Gates open at 11:20am and the opening ceremony is set for 12:45pm.
---
Nothing says "Home opener" like temps in the 30's and a field that needs to be cleared of snow in order to be ready for baseball. Good thing they got the sod in with a week or so to spare, I just hope the staples or nails they used to hold in place stay put.
Ian Happ remains in the leadoff spot, which could be at least partially due to Anthony Rizzo's continued absence. It's also a matchup thing, which we'll get into a little bit more later. Happ hasn't looked great since that season-opening homer, but Joe Maddon is sticking with him in the hopes that he'll pull out his funk. Or, more accurately, that he'll stop trying to pull and will thus get out of his funk.
Kris Bryant bats second, followed by Ben Zobrist, who'll be doing his best Anthony Rizzo impersonation by batting third and playing first. Zo has absolutely been scorching the ball so far, highlighted by a rocket home run in Sunday's series finale in Milwaukee.
Rizzo missing his fourth straight game is a little concerning, though Monday's conditions aren't necessarily ideal for a guy with a stiff back.
Willson Contreras is batting cleanup and has presumably calmed down from yesterday, when he F-bombed the Brewers bench. Wrigley could really use some of his heat, though, covered in snow as it is right now. Kyle Schwarber is playing left and should be able to get some hacks against the Pirates starter. Some of Schwarber's swings have looked really ugly, so a confidence boost would be nice.
Addison Russell is at short, Jason Heyward is in right, and Javy Baez is at second to round out the order. Russell has looked particularly good so far and Javy has make some spectacular baserunning plays. Heyward, well, he was leading all of baseball in hard-hit percentage for a minute or two.
Tyler Chatwood was something of a mixed bag in his first outing in Cincinnati, but some of that might have come from mechanical changes he's been working through. In particular, the righty spin doctor has been getting on top of the curveball more than ever before, likely in an effort to increase movement and efficacy.
While the six walks in six innings weren't a sign that he had things together, Chatwood allowed only one run and did appear to be getting good break on his pitches. The key for the former Rockies swingman will be finding a sweet spot with his release point and improving those walk numbers. I don't mean just last week's small-sample results, but the 4.21 BB/9 that has marred his career to this point.
Going for the Pirates will be 31-year-old righty Ivan Nova, whose identical 4.29 career ERA and FIP numbers are the picture of both consistency and mediocrity. Nova is a big-time four-seam/sinker pitcher who relies on those offerings for nearly 70 percent of his pitches. In fact, his 68.1 percent overall fastball usage last season ranked third in MLB behind Lance Lynn (81.1) and Clayton Richard (68.7).
His real weapon, though, is the curveball, against which hitters had only an .152 average and .450 OPS last season. Rather than the typical 12-6 break you might expect from the curve, Nova's bender more resembles a slider with it's 2-8 movement. He'll bury it down and away to righties or down and in to lefties, though he can miss more over the plate to lefties.
Nova doesn't have marked splits, either in terms of handedness or home/away, though his worst overall stats have been posted against lefties on the road. He's also allowed a .292/.346/.464 slash with a .351 wOBA in March and April over the course of his career, all of which are the highest he gives up in any other month(s) of the year. So he's a slow starter who throws a lot of fastballs and isn't great on the road against lefties.
First pitch is has been pushed back to 2:20pm CT due to the snow, so let's hope things stay precipitation-free between now and then. The forecast is calling for a little sun to peek through the clouds by 2pm or so, fingers crossed. Folks in the Chicagoland area can catch the game on ABC-7, and those outside the area can watch on MLB Network or local affiliates carrying the Cubs broadcast.
Here is today's #Cubs lineup for the home opener at Wrigley Field. #EverybodyIn

Game preview: https://t.co/i7kNTy2BpM pic.twitter.com/OXZOT3FX9x

— Chicago Cubs (@Cubs) April 9, 2018