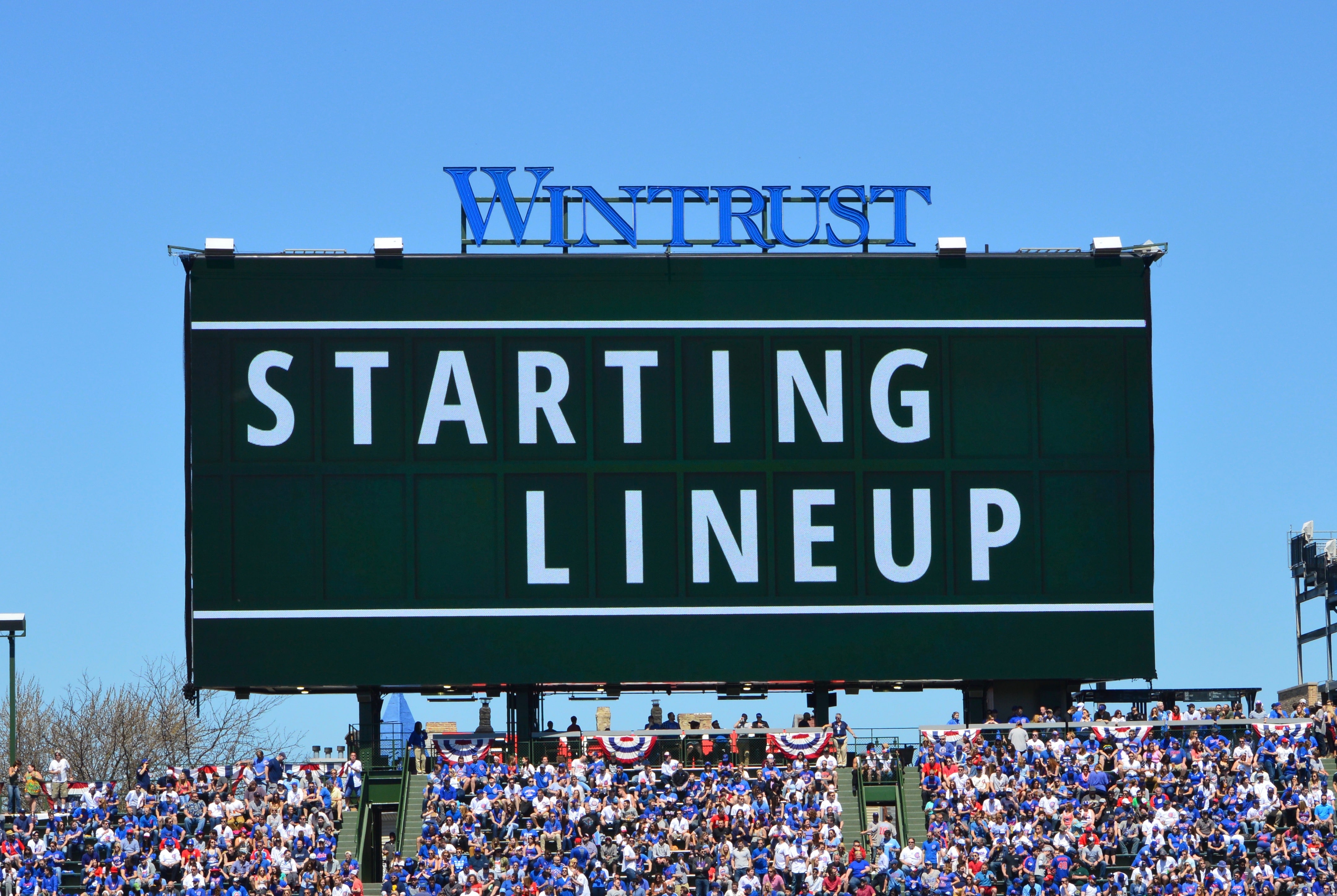 Chicago Cubs Lineup: Happ Leads Off, Bryzzo Moved Down a Spot, Lester Goes on Long Rest
Joe Maddon is shaking things up just a little bit with his lineup tonight. Ian Happ will lead off and play left against a lefty and Ben Zobrist plays right and bats in the two-hole rather than Kris Bryant. Bryzzo will move down one spot each to occupy the 3/4 slots.
Zobrist was scheduled to hit leadoff in Tuesday's rainout in Cincinnati, so it's not entirely surprising to see him near the top of the order. By putting another contact bat between Happ and Bryzzo, Maddon ensures a little more stability while still keeping Happ in that top spot.
Willson Contreras hits fifth and Albert Almora Jr will hit sixth and patrol center. The middle infielders, Addison Russell and Javy Baez, will round out the order. This is definitely an interesting look and we'll see whether and how it'll spark a dull offense.
It's been six days since Jon Lester took the bump in Miami to open the season and he's aiming to do quite a bit better against a lineup that figures to be a little more dangerous than the first one he faced. The good news is that Lester won't have to pitch to former Marlin Christian Yelich, who's on the shelf for at least Thursday's game with an oblique issue.
It took Lester 71 pitches to labor through 10 outs in that first start, though several factors were conspiring against him. But it'd be irresponsible to blame the lefty's struggles solely on suspect defense and an even more suspect zone. The velocity isn't what it used to be and he may not have elite stuff any longer, but Lester can still get guys out; he just can't go out there and nibble all night.
Opposing the Cubs will be 28-year-old Brent Suter, a willowy southpaw who enters this season as a full-time starter after Monty-ing the last two seasons. Chicago — which is Suter's birthplace, in case you were interested — roughed the lefty up during one of his relief appearances last season, hammering two homers and scoring four runs in an inning back on April 8.
Suter was much better in two subsequent starts against the Cubs, though, allowing just a single run on 10 hits and a walk over 12.1 combined innings. He's sort of like a mirror image of Kyle Hendricks, armed with a mid-80's fastball that he complements with a curve and change. One wrinkle there is that Suter also employs a slider with solid efficacy.
Also like Hendricks, Suter is a strike-thrower who's not going to walk many hitters. As such, the Cubs are really going to need to seek out their pitches and make sure they don't get rope-a-doped into a ton of weak contact. That's especially true for the lefties, against whom Suter fares really well at home. It's a little strange for a guy who pitches in a hitter-friendly park, but Suter's relatively even overall splits skew really platoon-heavy at Miller Park.
The contrasting styles the Cubs have faced so far seem to have played hell with some of the young hitters, which is where having two days off may really come in handy. It may also help that their most recent game came against a strike-thrower in Tyler Mahle. The Marlins had a ton of effectively wild hurlers, and I think that may have gotten a few guys off-balance. We'll see, I guess.
First pitch from the Ballpark that Beer Built is set for 7:10pm CT and can be seen on NBC Sports Chicago. As always, you can hear the dulcet tones of Pat Hughes and the constant concurrence of Ron Coomer on 670 The Score.
Here is tonight's #Cubs lineup in Milwaukee! #EverybodyIn

Stream on @YouTubeTV: https://t.co/t4XvcdoeJc pic.twitter.com/4iVQX4iSSc

— Chicago Cubs (@Cubs) April 5, 2018