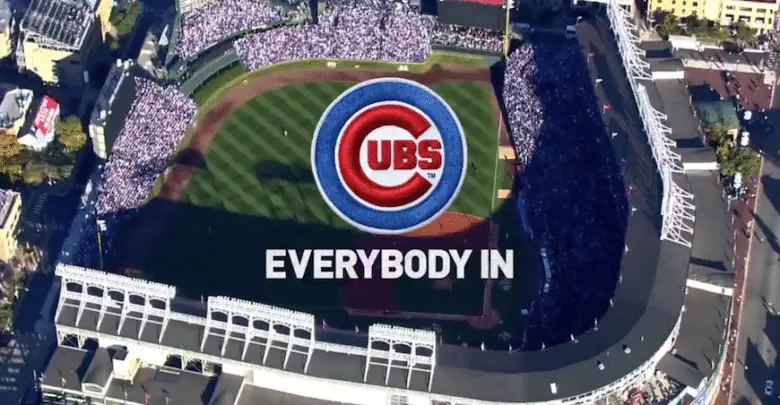 The Rundown: Opening Day Is Here, Previewing the Brewers, Maddon Expects Strong Start
Opening Day is here!
Except if you are in Cincinnati, where the tease will go on for at least another day. The Cubs play at 11:40 this morning in Miami in what is the inaugural game of the 2018 MLB season. You ready? The Cubs Hype Team is champing at the bit.
https://www.facebook.com/Cubs/videos/10156019451595659/
I'm going to spend the first week of the season looking at the rest of the NL Central, starting with the Brewers. A lot of stuff today, so let's get into it.
If you read yesterday's comments section, I had a great reply from my buddy Milwaukee Matt on the Brewers' chances in the NL Central this season. Brewers fans are unsurprisingly excited about 2018, and they should be. Remember the way the Cubs surprised baseball in 2015, nearly winning 100 games and then making it all the way to the NLCS as the second wild card team? The Brewers weren't quite as successful, but they were in contention up until the penultimate game of the 2017 season. Once you get in, anything can happen.
Milwaukee made big improvements this winter, acquiring Christian Yelich from the Marlins and signing free agent Lorenzo Cain and now they boast the best outfield in the division, if not the entire NL. Their outfield is so deep — how deep is it? — that Ryan Braun will see time at first base this season. And not for nothing, the Brewers did  finish spring training with the best record in the Cactus League. There is certainly no predictive analysis to suggests that that means anything, but winning is always better than losing, no matter the stakes.
And though manager Craig Counsell would certainly love to have seen his GM add a frontline starter this offseason, the Brewers still have trade chips. With 12-15 teams already playing for the future, starting pitching will certainly be available if needed and the price may drop considerably as supply exceeds demand. The Brewers roster currently contains four first basemen, including Braun.
Questions remain, however. Many feel last year's squad vastly overachieved and that the Brewers and their fans may be in for a bit of a letdown in 2018. Can they compete with the Cubs? I just don't see it despite a number of valid points suggested yesterday. The Cubs largely underachieved last season, but were 49-25 in the second half of the season with a +127 run differential, playing at a 107-win pace. Milwaukee struggled in the second half, playing just one game over .500 with a run differential of -10.
The Brewers' chances this season hinge on three things:
Can Jonathan Villar have a bounceback season? In 2016, the second baseman hit .285 with 18 home runs and 62 stolen bases, good for about 4 wins above replacement and an OPS+ of 117. Last season was a different story. Villar was essentially a replacement-level player, batting .241 with 8 home runs and 23 stolen bases.
Can a rotation fronted by Chase Anderson, Zach Davies and (eventually) Jimmy Nelson legitimately contend? I don't believe any of the Brewers pitchers would make the Cubs' starting rotation, where any of Chicago's first four pitchers could take the bump on Opening Day for most teams. Anderson had a breakout year last year, but the rest of the rotation was middling at best. A healthy Nelson does give Milwaukee the second best rotation in the division. A pitcher to keep an eye on is Josh Hader.
Will the Brewers deal some of their outfield surplus to strengthen their rotation? Pitchers that may be available include Chris Archer, Marcus Stroman, and Michael Fulmer. Could the Giants make Madison Bumgarner available? Certainly Milwaukee could put together a package to acquire the stud lefty, though one would think any deal would have to include Hader and possibly Nelson, along with some of the outfield surplus.
Cubs News & Notes
John Kerth previews the Cubs/Marlins series.
The Cubs will start the season with Eddie Butler in the bullpen.
Evan Altman grabbed the Rundown reins late last night and added some great insight on Jon Lester, Kyle Schwarber, and backup catcher Chris Gimenez, who failed to make the Opening Day roster.
Manager Joe Maddon is emphasizing that the team get off to a better start this year. Chicago's April 2016 record was 17-5. Last year the Cubs went 13-11 in April and followed that with a 12-16 record in May.
The Lake View Patch lists six must-see Cubs games for 2018 and details the team's top six promotions for this season.
#EverybodyIn
Full speed ahead toward #OpeningDay! #EverybodyIn pic.twitter.com/n2eCrkt6PW

— Chicago Cubs (@Cubs) March 29, 2018
How About That!
In USA Today Sports' annual survey of opening-day payrolls, the average salary this season is $4.61 million compared to $4.47 million last year, a 3 percent increase.
A freak injury will cost Royals catcher Salvador Perez the first 4-6 weeks of the season. Perez sprained the medial collateral in his left knee while carrying a suitcase up some stairs in his home.
I don't normally link to articles that require our readers to peruse through a slideshow, but this one is worth it. NBC Sports looks at the individuals facing the most pressure in 2018.
Marlins Man is officially a free agent.
The Phillies are soliciting the public for a left-handed batting practice pitcher. Here's a form to apply online if you're interested.
Hot Takes & Syrup
The Dodgers did not offer refunds to fans who attended a sewage-shortened game the other evening. Instead, according to messages sent to those fans yesterday, the Dodgers offered discounts on tickets to games against the Marlins "as an acknowledgement of the inconvenience," With any luck, Jacob Turner may start for Miami that day. Yes, that's the same Jacob Turner who was a bust for the Cubs in 2014. This isn't a hot take. This is a hot mess, no pun intended.
A picture says 1,000 words but this one may go well beyond that. Here's what it looks like when you get popped in the ribs by an Aroldis Chapman fastball.
Getting hit by Aroldis Chapman in the ribs leaves a mark. pic.twitter.com/RaAQ9TTdSe

— Rob Friedman (@PitchingNinja) March 28, 2018
They Said It
"If you look at my notes from last year compared to this year — last year it was 'uncomfortable,' 'growth' and all this other stuff — I don't think I emphasized quick start enough. But I was concerned. I was concerned about fatigue. I thought if I pushed too quickly, any chance that we had to play in the latter part of the season would go away because we would just burn it out too soon. Regardless if you liked the start or not last year, it just had to be that way, I think." – Joe Maddon
"We're continuing to explore [available starting pitching]… I do think we're gaining some traction in that area. I don't know if we'll get anything done but we'll see where it leads." – Brewers GM David Stearns
"Four teams reached out to me already and said that I could become, like, the Tigers man or other teams, and they would be happy to sell me tickets on TV view for three years paid in advance with a substantial discount." – Laurence Leavy aka Marlins Man
Opening Day Walk Up Song
Drunk in the Day by Wally Dogger. You knew it was coming. Enjoy Opening Day and drink responsibly.