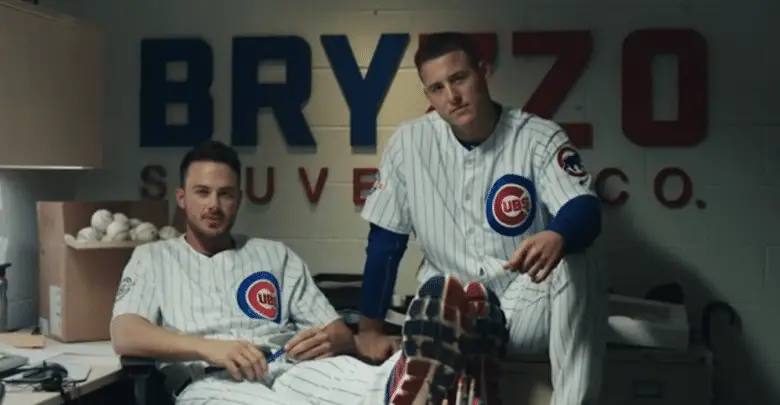 The Rundown: Competition in Central, Bryzzo Speaks, Epstein's Leadership
So long, Cactus League. The 2018 season is just about to get started and there is already dissension among the ranks in Milwaukee, while the Cardinals are trying to piecemeal a pitching staff that is led by a 36-year-old ace coming off an injury-riddled season that was the worst of his illustrious career. Meanwhile, the Cubs are clicking on all cylinders despite losing two games to the Red Sox to close out their spring training schedule.
Is it really going to be this easy?
Well, the Brewers are dead set on proving that their 2017 season wasn't a fluke. They don't have much of a pitching staff and they have far too many outfielders. At some point it would seem inevitable that they'd use part of that surplus to improve their biggest deficiency. The supply-side problem threatens to frustrate the demands of at least one player each night who believes he should be starting, and their minor leagues are teeming with major league-ready outfielders as well. So far, however, the team is content to move forward as is.
The Cardinals have missed the playoffs in each of the last two seasons — the first time that's happened in back-to-back years since 2007-08 — and many believe the Redbirds enter this year chasing the Cubs and Brewers. There is a feeling among some fans that the Cardinals didn't do enough in free agency, and their rotation has struggled this spring. Veteran hurler Adam Wainwright will start the season on the disabled list, as will new closer Luke Gregerson.
Add Michael Wacha to the team's injury watch-list list as well. His chronic shoulder problems will be an issue this season, if not for the rest of his career, and free agent acquisition Miles Mikolas arrives with almost no major league track record. This spring has been barely above atrocious for Mikolas and if that carries over into the regular season he could be a total bust.
And the Cubs? They're healthy, focused, and anxious to get the season started. The NL Central could be a dogfight if everything goes right for St. Louis and Milwaukee and if the Cubs face some unexpected adversity. More likely, however, the division race should be baseball's only one-horse affair in 2018.
Cubs News & Notes
The Bryzzo Interview: Kris Bryant and Anthony Rizzo sat with Bob Nightengale and discussed friendship, stardom, gun violence, social media, their golf games, Bryce Harper, and more.
Kris Bryant is quite the prankster and with the help of Red Bull, he victimized a bunch of unsuspecting fantasy baseball players on their Draft Day.
Theo Epstein radically changed the courses of two iconic franchises that suffered through championship droughts that lasted a combined 194 years before Epstein redefined both franchises. The World Series wins he delivered to both cities were enough to earn the Cubs president the top spot on Fortune Magazine's 2017 World Greatest Leaders list, as well as the respect of new Red Sox manager Alex Cora, who played for Epstein during Boston's 2007 championship season.
"I think he's the most powerful man in the world, or something like that?" Cora joked. For his part, Epstein is happy that things worked out well for both teams.
This could be a game-changing year for Addison Russell, who could have been dealt for pitching this offseason, with Javier Baez taking over at shortstop. Epstein said after the season he would consider dealing a member of the team's core but instead chose free agency to rebuild their staff. The Cubs shortstop suffered through plantar fasciitis, some personal problems, and shoulder discomfort last season, but an increase in exit velocity at the end of the 2017 season could mean that Russell is primed for a big year in 2018.
How About That!
Epstein is a big believer in Alex Cora and thinks the Red Sox couldn't have made a better hire, despite the new manager's lack of experience.
Athletics top pitching prospect A.J. Puk looks to be disabled-list bound and Tommy John surgery is likely for the young hurler.
The Giants are bringing former manager Dusty Baker back to the organization as a special adviser to CEO Larry Baer.
Angels two-way rookie Shohei Ohtani will make his MLB debut on Sunday.
Hot Takes & Syrup
The pace-of-play rules changes have removed all the luster and pageantry from Opening Day. The day before Opening Day should almost feel like Christmas Eve, but Rob Manfred has grinched things up a bit and makes this writer's naughty list.
Major League Baseball warned the New York Yankees on Tuesday that a plan to display images of Aaron Judge, Giancarlo Stanton and other players imprinted in beer sold at Yankee Stadium violated league policy, Newsday reported. MLB is very particular about licensing.
You can now consume @TheJudge44 in beer form. ?⚾️ #Yankees https://t.co/yXD0QE86LX pic.twitter.com/oiBlpwrjzu

— Jeff Eisenband (@JeffEisenband) March 27, 2018
They Said It
"Time flies. Things move on without ya. Happy to say it worked out well for everybody. Both franchises are in a good place. Everybody is excited about the young nucleus in place in Boston. They are one of the best teams in the American League. We have one title and we're in the middle of a competitive window." – Theo Epstein
"It's really cool to see this whole thing come together. You see Cubs fans go from losing, losing, losing to winning, winning, winning. And now they're calling on (2018-19 free agent) Bryce Harper to turn our organization around. I tell them, 'If you're counting on Bryce to turn us around, you've got real issues.' We're really good right now. He would help us, but if that's who you're banking on, that's when you know we're in a really good spot right now.'' – Anthony Rizzo
Wednesday Walk Up Song
Let The Good Times Roll by Shirley & Lee. Happy Baseball Eve!