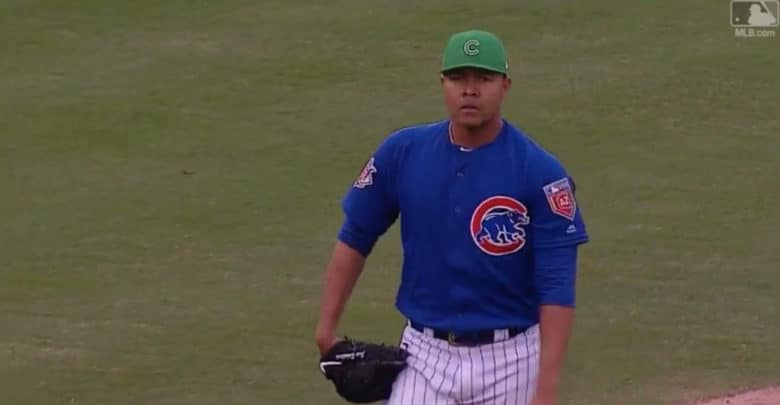 The Rundown: Quick Spring Training Thoughts, Contreras and Q in Beast Mode, Almora Cubs Secret Weapon, MiLB Labor Issues
Some stream-of-consciousness randomness with nine days until the season opener in Miami:
The Cubs are playing so well right now one can only hope the team doesn't start the season with some kind of spring training hangover.
Jose Quintana looks to be in midseason form after mowing down the Indians the other day. Quintana's final line: Eight strikeouts and one hit allowed in six innings. No reason not to expect those types of outings from Q this year. People tend to forget he was in as much demand as Chris Sale was last spring. The front office may regret giving up Eloy Jimenez and Dylan Cease. Then again, they may not.
Is Quintana really the Cubs' No. 4 starter? I did some quick research and I believe the last No. 4 starter to win the Cy Young Award was Steve Stone in 1980 with the Orioles. Please correct me if I am wrong.
Every time Jon Lester takes the mound with a runner on first, I dread the bounce pass in what is one of the lamest pickoff moves ever. I actually can't stop thinking it is coming whenever he looks at first base. Then again, maybe that's the point. If it is in my head, it's bound to be in the heads of the Cubs' opponents.
We haven't heard much regarding Addison Russell this spring and that's probably a very good thing.
Willson Contreras is a beast. His spring training alone has been worth his $604,500 salary for this season.
That Willson Contreras bat flip tho!! pic.twitter.com/e8wLoi5anM

— Cubs Insider (@realcubsinsider) March 16, 2018
Anthony Rizzo is destined to hit 32 home runs with 109 RBI this season right? Those are his numbers from 2016 and 2017.
I'm hoping Jason Heyward will strike out more so that he grounds out to second base less. In the two seasons he posted an OPS above .800 he struck out over 100 times. Those two seasons led to Heyward's best power production as well. Translation? When he swings for the fences he is a better hitter, despite the K's.
Prediction: Kyle Schwarber, Anthony Rizzo, and Kris Bryant will combine for 105 home runs and 325 RBI this season, but Contreras will earn the most MVP votes.
Albert Almora, Jr. will be the team's secret weapon and Theo Epstein guaranteed it. He destroys lefties so he'll see time in place of Heyward often and Schwarber sometimes. "You will have more responsibility," Epstein told the young hitter at the end of last season. "You will have more of a role than you had this year. We'll see how much more that is, and what you can grow into."
Lester/Darvish/Hendricks/Quintana/Chatwood. Oh my.
Cubs News & Notes
Brandon Morrow enters the season as the fourth Cubs closer in four years. How the rest of the bullpen lines up may be a work in progress as the 2018 campaign starts.
When I played Little League our uniforms always had an American Flag patch on the sleeves, so I dig the Cubs Fourth of July jerseys for this season.
Speaking of Little League, Joe Maddon wants to approach the 2018 season in the same way that he coached in 2016. That is to say, he'd like get the guys thinking in that manner, maybe even moving them around a little more. There was a staleness to the team last season so maybe something tried and true is a necessary way to liven up the lineups.
In his second full spring training working with Jon Lester, Contreras is drawing high marks from the veteran left-hander, Gordon Wittenmyer of the Chicago Sun-Times reports. "He's not afraid," Lester said. "As a young guy, he calls people out when he needs to. He's obviously not scared to get in an umpire's face, which I think is great." And we can't forget the backstop's quote from CubsCon '18 (NSFW).
How About That!
New White Sox catcher Welington Castillo says team is further along than Cubs were a year before their 2014 breakthrough season. Castillo: "I would like to be here when this team wins the World Series. It won't take long."
Dodgers 3B Justin Turner has a broken right wrist and will be out until mid-May.
Jon Tayler of Sports Illustrated grades the offseasons of the NL Central Division.
A-Rod says the 2018 Yankees have a potentially record-breaking lineup.
Trevor Cahill signed a one-year deal to return to the Oakland A's and that's a good veteran signing for the team.
David Ortiz says that Boston gets a bad rap when outsiders target the team's fan base as racist. "I don't think it's fair to blame the whole city of Boston when a couple of knuckleheads go out there and do something stupid," Big Papi responded when asked about Boston.
Hot Takes & Syrup
MLB is reportedly lobbying to keep minor league ballplayers beneath the minimum wage established by the Fair Labor Standards Act.
Four minor league players are attempting to engage in a class-action lawsuit against MLB. It seeks to apply the terms of the Fair Labor Standards Act — i.e. minimum wage — to minor league players, who earn as little as $1100 a month at the rookie level, only get paid during the season, and do not receive overtime pay. Yes, these guys are fighting for minimum wage.
Kris Bryant has vowed to fight for players' rights in the next Collective Bargaining Agreement negotiations. Bryant was sent to Triple-A for the first two weeks of the 2015 season, ensuring the club would get another year of control by by preventing the slugging third baseman from accruing enough service time.
Facts & Figures
About 10 percent of all minor league baseball players accrue service time in the major leagues.
As of May 2017, according to Forbes, minor league baseball's 20 most valuable teams are worth an average of $37.5 million, up 35 percent from 2013. Minor league paid attendance exceeded 42 million fans in 2016.
The annual earnings for a full-time minimum-wage worker is $15,080 at the current federal minimum hourly wage of $7.25.
They Said It
"While the other team's hitting, you take an hour and you get a sandwich that (the club) pays for and you eat it. Are you working?" – Minor League Baseball President Pat O'Conner.
"The only way to get what you want here is to fight for it. And I think you're going to see a lot of that." – Kris Bryant
Tuesday Walk Up Song
Get Up, Stand Up a collaboration by Playing for Change