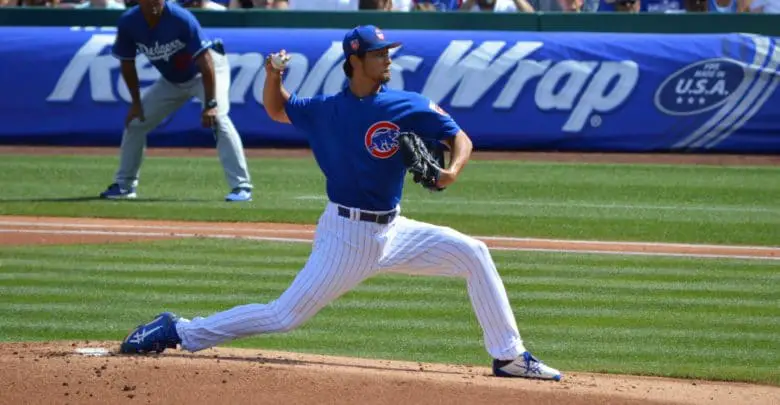 CI Recap (3/6/18) – Cubs 9, Dodgers 5: Happy Yu Day!
Yu Darvish finally made his first start of the spring and it was an eventful one. The Cubs offense started hot, while Albert Almora Jr. had adventures of his own. (Box Score)
Why The Cubs Won
The Cubs jumped all over Dodger starter Willmer Font in the 1st inning. By the time Font left the mound Chicago had a 6-1 lead.
Key Moment
Albert Almora Jr. took Font deep to left field for a two-run home run. The blast was Albert's first hit of the spring and put the Cubs ahead by five runs.
Stats That (Don't) Matter
Yu Darvish began his outing a little wild, but he settled down nicely. Two walks and two wild pitches put a run on the board. After that he didn't allow a hit, and had four strikeouts while consistently hitting 95 MPH on the radar gun.
In addition to his homer, Almora had an amazing diving catch in the 3rd inning. After a Logan Forsythe double in the 4th he had to leave the game with a bloody nose, not exactly sure what happened to him.
Brandon Morrow (1 IP, 2 H, 1 R) and Ben Zobrist (0-for-3) also saw their first action in the Cactus League.
Bottom Line
Yu Darvish is officially playing tor the Chicago Cubs, at certain points this winter it seemed like that wouldn't happen. So that alone is a very good thing.
On Deck
Jose Quintana makes his second start of 2018 Cactus League play as the Cubs head to Goodyear for a Wednesday evening rematch of the 2016 World Series with the Cleveland Indians. The 7 pm CT game can be seen on WGN and the audio feed is available at cubs.com.