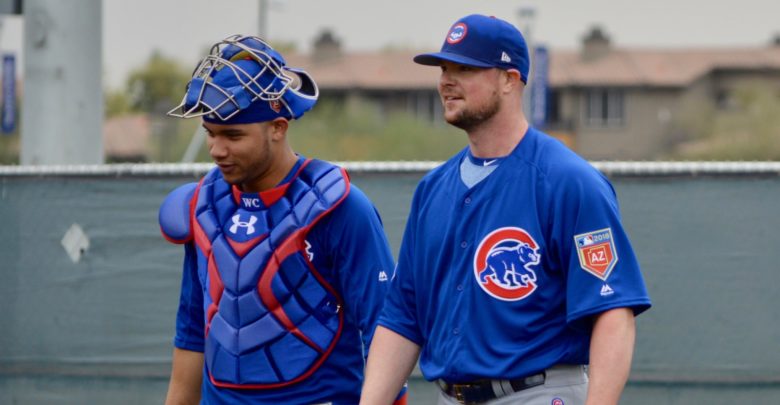 Cubs Set Spring Rotation, Lester Strong Possibility for Opening Day and Home Opener
The Cubs have announced the order in which their starters will debut this spring and it's possible Jon Lester could be set up to start both Opening Day and the home opener. There's a boatload of wiggle room in there, though, so we'll need to see how everything plays out.
Tyler Chatwood will be the first of the regular starters to take the bump when he faces the Mariners on Monday. Lester will pitch Tuesday against the White Sox, followed by Kyle Hendricks on Wednesday against the A's, Yu Darvish Thursday against the Rockies, and Jose Quintana Friday against the Angels.
A quick visual with the starting rotation's Spring Training debut dates. Montgomery to follow Hendricks on Wednesday. pic.twitter.com/9l2CekXJOq

— Cubs Insider (@realcubsinsider) February 24, 2018
Then you have to factor in Mike Montgomery, who is slated to piggyback with Hendricks and who the Cubs have said will work as a starter this spring. Between three off-days and four split-squad affairs scheduled after that first break on March 12, there are plenty of opportunities to space things out and set up the rotation. However, it could be as simple as using a six-man crew after the first time through.
If the Cubs elect to use six primary starters beginning with Chatwood's turn on March 3 — and if they don't double up on any split-squad days — it looks as though Quintana would close out the spring on March 27. Though it would require skipping Chatwood's spot in the rotation, Lester would then be able to start the opener against the Marlins on five days' rest.
The veteran southpaw would also be in line to take the bump for the Cubs' home opener on April 9 against the Pirates. Bear in mind that this is all highly speculative and is dependent upon everything going smoothly with Lester and the rest of the starters.
It should also be noted that I worked these possibilities out in a notebook, scribbling down various iterations and counting rest days by hand. Then there's my (pretty safe) assumption that Montgomery slides back into the bullpen once the regular season starts. All we know for sure is how these guys will open the spring, after which your guess is as good as mine. Probably better.