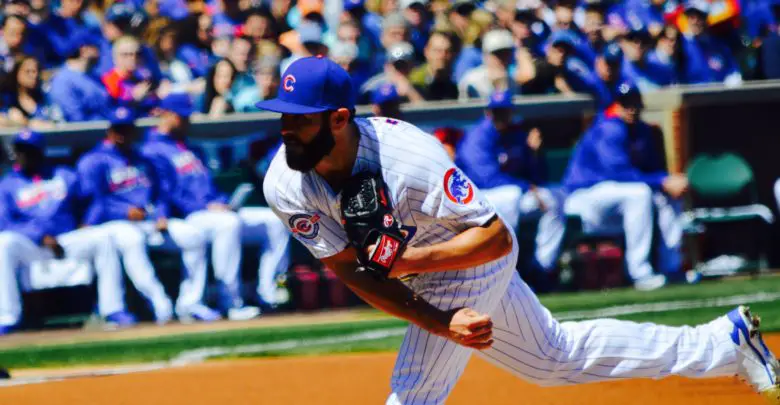 Jake Arrieta Continues to Draw Interest from Phillies
Throughout the ongoing saga of Jake Arrieta's free agency, the Phillies have been quietly biding their time in the background. And with the former Cy Young winner's market basically vanishing over the past month, they may be the last team left standing. Jon Heyman of FanRag Sports is reporting that Arrieta and the Phils are "having dialogue," though he cautions that there's still a gap in terms of the length of the proposed deal.
That fits with what we'd heard previously this winter, which is that teams had been willing to pony up a little more in AAV over a shorter period of time for the bearded righty. Arrieta, however, has been adamant that he get at least five guaranteed years, with six or seven being mentioned. Given the limited number of suitors and what we've seen from other deals, though, that appears unlikely.
When Ken Rosenthal had initially speculated that Philly might be willing to offer something in the neighborhood of $90 million over three years, it seemed like some Arrieta and Scott Boras would simply laugh off. Now, however, that $30 million average might be more enticing. Then again, we're still dealing with a very limited contract length. And as we've seen with Yu Darvish and others, it's important to spread that guarantee out over more years, even if the total value remains virtually the same.
That strategy would actually be much smarter for a team as well, since it'd lessen the impact of the annual salary on luxury tax payroll. Then you've got the idea of a front-loaded, option-laden deal to capitalize on the early years of a deal while perhaps making it more likely the player will bolt before his production starts dropping off. But when you're talking about a Philly team that is an estimated $112 million below the CBT threshold, the last thing they really need to worry about is getting creative for a few million here or there.
All things considered, at least from a financial standpoint, the Phillies seem like a pretty good fit for Arrieta. One possible red flag there, however, is that Philly's baseball operations department is heavily populated by folks who used to be with the Orioles. Whether and how much any of them were responsible for the culture and philosophy that contributed to Arrieta's struggles in Baltimore could play a role in his willingness to get a deal done.
Philly would also be a really good fit as far as Cubs fans are concerned since it keeps Arrieta out of the division and with a team that isn't likely to be a serious playoff threat over the next two seasons. He gets paid and he doesn't come back to haunt his old team. Now let's get this done before the Nationals decide they want to have an all-Boras trifecta at the top of the rotation.
Oh, and just in case you're wondering: No, the Cubs aren't going to wave a one-year pillow deal at their former ace. Nor would he consider taking such an offer.