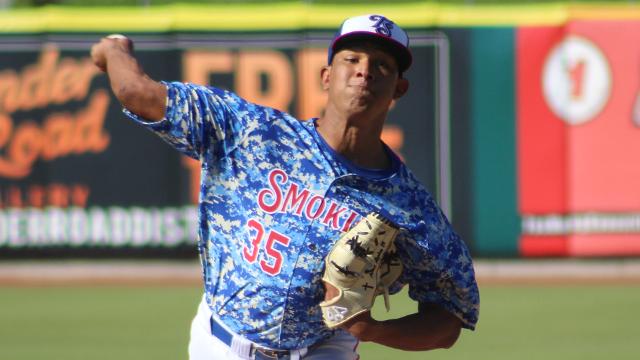 The Rundown: Pace-of-Play Changes, Adbert Alzolay Potential 5th Starter, Evil Empire Strikes Back
"Now is the winter of our discontent."
-Richard III
Looking back at the start of free agency, there was so much optimism. The hot stove helps us forget about the doldrums of winter. Not this year. Subtle changes in the latest CBA have been more of a deterrent to player movement than many of us anticipated. Raise your hand if you're as frustrated as I am.
"I am sir Oracle, and when I open my lips, let no dog bark."
-The Merchant of Venice
Rob Manfred is doing his part to divert attention from what is now an absurdly slow offseason. While saying he prefers to negotiated a settlement, the commissioner may introduce a pitch clock for the 2018 season whether the MLB Players Association accepts it or not, and he has the backing of team owners. How can baseball's commissioner do this without the players' approval?
Under the terms of baseball's latest collective bargaining agreement, Manfred can force implementation of a proposal he made that was rejected last year if his rules change proposal for the current season is also rejected. I don't want to get into how that gives the commissioner and owners a lot more unilateral authority than they should have — MLBPA doesn't have a similar clause — but the obvious point is if he's holding a grudge because he was kicked to the curb in 2017, all he needs to do is come up with something completely absurd this season, knowing it will be rejected, to finally get his way the next season.
His proposal for this season has yet to be revealed, but apparently it raised a number of concerns with the union. With players already feeling pressure in a market that remains flush with a number of unsigned free agents, Manfred isn't acting the part of liaison or moderator between owners and players. This feels more like putting the screws to the union knowing that the current CBA is good through the next four seasons. Though the players are not opposed to pace-of-play improvements, and aren't entirely against a pitch clock, they'd rather see baseball address delays caused by instant replay or dead time between innings.
I suppose we could add that purists of the game will resent the change, but those same purists are still lamenting the designated hitter rule which is now entering it's 45th American League season. Since then, we've seen the implementation of interleague play, television replay, games played almost exclusively in the evening, player protection rules, luxury taxes, realignment, new divisions, and six new franchises. Baseball evolves, for better or worse, and fans eventually adjust. Deploying a pitch clock is a radical move, but every change seems radical at first. Still, you have to wonder what's next. Why not change the diameter of the ball to sixteen inches and put a kegger behind home plate?
A quick note on free agency. As the Steroid Era in baseball came crashing down, I speculated on another Cubs-exclusive site about what I thought was an obvious side effect of eliminating PEDs from the game: baseball was also eliminating its players' abilities to extend their careers. There had to be a sense of absurdity among owners that the San Francisco Giants were paying Barry Bonds $75 million dollars to play baseball during his age-39 through 42 seasons. Bonds retired in 2007 having made just over $188 million dollars, $125 million of which came after he turned 35.
As baseball soared in popularity beginning with the 1998 season, the owners hid from their dirty, not-so-little secret. After a decade of paying top salaries to its eldest players, the cease and desist came in the form of terminating those types of contracts. Bonds, who wanted to play in his age-43 season, found no teams interested in his services. The Giants outfielder had an OPS of 1.045 in 2007, third best in all of baseball. In 2008 he was unemployed. Collusion? Maybe.
This winter there has yet to be a free agent signing of longer than three years. Collusion? Again, maybe. Perhaps the pace-of-play rules are truly about speeding up the average time it takes to complete a baseball game. Then again, it could be an attempt to take the spotlight off of the fact that 166 players are still without a contract with the start of spring training 25 days away.
Cubs News & Notes
Lance Lynn may be a free agent the Cubs could pursue if they fail to land one of Jake Arrieta, Yu Darvish, or Alex Cobb. Though Lynn has been connected to the Cubs by little more than whispers, he'd be a much less expensive option to fill the void of fifth starter, assuming the team keeps Mike Montgomery in his current role.
Then again, Patrick Mooney thinks the Cubs may already have their fifth starter in-house in Aldbert Alzozay (subscription required/recommended).
"Be not afraid of greatness. Some are born great, some achieve greatness, and some have greatness thrust upon them."
 – Twelfth Night
As baseball bifurcates into the haves and have-nots, Evan Altman looks at the strategy of tanking in order to build sustainable success for the future. Sounds like something Theo Epstein created.
The Cubs are one of five potential landing spots for Marlins OF Christian Yelich.
Thursday Stove
The Yankees are once again baseball's most hated team, and that makes CC Sabathia quite happy. Imagine how evil they'd be were the team able to land both Manny Machado and Bryce Harper.
"To be, or not to be – that is the question."
 -Hamlet
How Pittsburgh went from a 98-win team to 100-loss team in two short seasons.
If the MLBPA wants to fix baseball's salary structure, it should find ways to get more money to its younger stars.
Red Sox OF Jackie Bradley wants to steal more bases this season, and the team is on board with that strategy. Bradley's success rate sits at 85.71% for his career.
Baseball's three 100-win teams from 2017 could be even better this season.
Cardinals president John Mozeliak offered this under-the-radar quote during last weekend's Winter Warm-up: "I am against the DH in the NL. But, I could see it happening. I do feel there is more momentum going into that for the future.''
Friday Walk Up Song
Hole Hearted by Extreme. "If music be the food of love, play on." I'm on a William Shakespeare kick this morning, and I won't apologize for that.