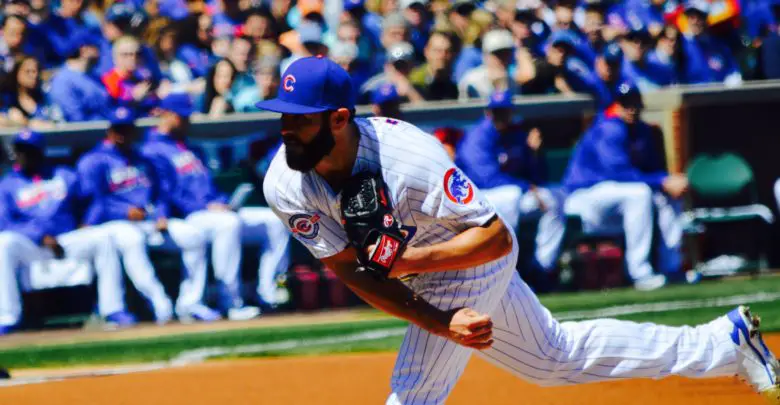 The Rundown: Duensing Returns, Phillies OF Recruits Arrieta, Bryant Launches LV Baseball Camp, Russell Comp
Good morning, and to those of you starving for breaking Hot Stove news, baseball is currently out seeking firewood and some kindling with which to stoke it.
Cubs News & Notes
Barring any trades, the Cubs completed their offseason bullpen makeover by re-signing Brian Duensing to a two-year deal for $7 million. After signing as a free-agent last winter, Duensing pitched 62 1/3 innings of solid relief, earning the trust of manager Joe Maddon with a 2.74 ERA that included 8.8 K/9 and 2.6 BB/9. A change in pitch usage helped the lefty find a fountain of youth of sorts at an age when most pitchers begin to regress. With this move, it looks like Brandon Morrow will break camp as the team's closer.
Jake Arrieta has been working out this winter with young Phillies outfielder Nick Williams, who is constructively using that time to recruit the Cubs' former ace. "He has told me he likes working with young guys," said Williams. "I'm like, 'All right, come on up.' But I'm not writing the check. I don't know what he wants. I don't really dig into that because I'm not really in his position."
Like everyone else looking for starting pitching, the Phillies would consider either Arrieta or Yu Darvish, or both, if their demands drop into the three- or four-year range rather than the six or seven each is allegedly seeking.
Of note: through his first three seasons, Addison Russell's offensive output lines up similarly to former Cubs shortstop Alex Gonzalez. Like Russell, Gonzalez was a low-average hitter with solid power who was lauded for his defensive play.
Looking at 162-game career averages, the players are nearly identical offensively. Gonzalez averaged 140 hits, 32 doubles, and 16 home runs while slashing .243/.302/.391 through 13 seasons. Meanwhile, Russell has slashed .240/.312/.408 while averaging 130 hits, 30 doubles, and 18 home runs across his three-year career. And while Russell is remembered for his big hits and spectacular defensive plays during the Cubs 2016 World Series run, most fans now remember Gonzalez for his error in Game 6 of the 2003 NLDS.
Instead of taking a few days off after last weekend's Cubs Convention, Kris Bryant scooted back home to sunny Las Vegas to host the inaugural Adidas Kris Bryant Elite Camp. Not sure if Chicago-style deep dish pizza is on the lunch menu for camp attendees. If Bryce Harper attends, look for a ton of tweets on Harper-to-Cubs rumors.
I still can't believe Kris Bryant ordered pizza during a press conference and gave it to a kid. ? pic.twitter.com/zcjforiF2g

— Cubs in 7 … Months (@RizzoIsCaptain) January 15, 2018
The Cubs Insider staff has had Harper on their wish lists all winter, and though the All-Star outfielder won't be a free agent until after this season, the Cubs could field a championship team in 2018 and still get their guy next year by avoiding impulse purchases at inflated prices this winter. This mirrors an analysis posted by Evan Altman earlier this winter.
If Evan is looking to add writers to the Cubs Insider staff, may I suggest Springfield's Ray Ackerman?
Wednesday Stove
From Jeff Passan on baseball's broken offseason: MLB agents are logging discussions with teams and the union hunting for patterns to explain why clubs, whose franchise values have exploded from $18.1 billion to $46.1 billion over the last five years, will propose top players contracts with average annual values in excess of $20 million or deals for more than three years but are loath to [officially] offer both.
If that's not an indication that collusion is on the minds of players and their agents, it's awfully close.
Nationals GM Mike Rizzo is entering the final year of his contract. A decision on whether to extend him or not may be an indicator of the team's future direction, including whether or not to sign Harper.
Meanwhile, the Red Sox's offer to J.D. Martinez is said to be in the five-year $100M range.
Brian Cashman has no problem starting the season with Gleyber Torres and Miguel Andujar as infield fixtures.
Bleacher Report ranks the top 10 MLB pitching staffs of 2018.
A tale of two cities: Baseball's worst teams of 2017 have showed different approaches this winter. The Tigers are rebuilding while the Giants are still spending.
MLBN aired a segment yesterday listing good and bad $100M contracts. Mike Gianella of Baseball Prospectus took exception.
imagine how gross it would be if a corporation with $10B in revenues called out their "bad" employees on a TV network it also owned.

oh wait guess we don't need to imagine it https://t.co/egCQLtwF1i

— Mike Gianella (@MikeGianella) January 18, 2018
Thursday Walk Up Song
Keeping the Faith by Billy Joel. Wrigley summer concerts are indeed a beautiful thing.