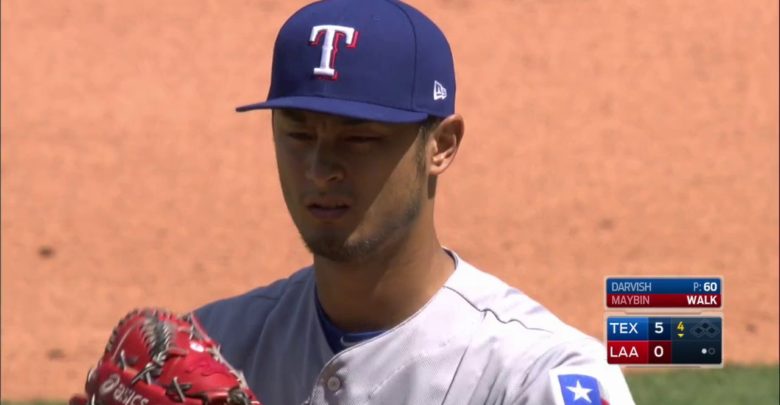 Yu Aren't Gonna Believe This, but Darvish Reportedly Turned Down 7 Years, $160 Million from Yankees
What's a stronger word than "dubious?" Maybe "incredulous" or "hella skeptical" or, if we're going with more Millennial parlance, "lol wut." However you choose to label them, those were my thoughts upon hearing the report that Yu Darvish had turned down a very sizable contract offer from the Yankees.
Take a look at the following tweets that describe the reported deal, as put forth by YES Network's Michael Kay, and we'll reconvene on the other side to chat about it further.
Wow: Michael Kay is reporting the #Yankees offered Yu Darvish a contract around seven years and $160 million. But when Darvish didn't accept within 48 hours, they pulled the deal.

— Dan Federico (@DanJFederico) January 11, 2018
In terms of how they'd fit him under the salary cap, Kay speculated David Robertson would have been traded if Darvish accepted.

— Dan Federico (@DanJFederico) January 11, 2018
Like the lunch room when the world's worst coworker microwaves last night's broiled tilapia, this whole thing smells fishy af. The first thing we need to point out is the source, who just happens to be the Yankees' television play-by-play man. He is quite literally the mouthpiece of the organization and makes a living based on the team. As such, it's in his best interest to keep both the Yankees and his viewers happy.
Though they were one of the six teams reportedly in on Darvish, signing him would shoot them past the competitive balance tax threshold owner Hal Steinbrenner has firmly vowed to stay under for the first time in the CBT's history. But because it's not a great PR move for them to act like a smaller-market team, they need to keep up appearances. You see where I'm going with this?
A report of this mythical 48-hour window sets the Bronx Bombers up to be the good guys in the eyes of the fans. Hey, we gave him a great offer and he just turned it down. We didn't want him anyway! Okay, brotato chip, whatever helps you feel better. Just for that reason alone, I'm calling BS on this whole thing.
What makes it even more implausible is the idea that Darvish turned it down. I have a hard time believing he'll get $160 million and an even harder time believing he'll get seven years. And while a combination of the two would mean lower AAV than the projected 6/$160M by MLB Trade Rumors, the length of the deal is really the most important part of this.
A vast majority of the free agent class remains unsigned and no one — at least I think this is still the case, but Jerry Crasnick questioned whether I've actually been following the offseason — has signed for more than three years. You could combine the contracts of Carlos Santana (3/$60M), Wade Davis (3/$52M), and Jay Bruce (3/$39M) and still not equal what Darvish was supposedly offered. C'mon, that's crazy talk.
Actually, I guess Justin Upton got $106 million over five years in Anaheim, but that already seems like forever ago in a different dimension.
I think this situation is best addressed by paraphrasing the great Winston Zeddemore: "When someone offers you $160 million for seven years, you say 'Yes!'" Not only is the amount sure to the be one of the two highest deals this offseason, but the years are more than anyone would have expected. And it's length of deals that has been the biggest sticking point this whole time.
Until Brian Cashman calls me to say this was legit, I'm tossing it into the spin bin (I don't really have one of those, of course, it's just metaphorical). The Yankees were never going to pony up this big for Darvish, but they put the report out there so they won't lose face when he signs elsewhere for less money.
***Update***
Hey, would you look at that…
They don't give me offer yet🤔 https://t.co/Zlp4KPLdzr

— ダルビッシュ有(Yu Darvish) (@faridyu) January 12, 2018