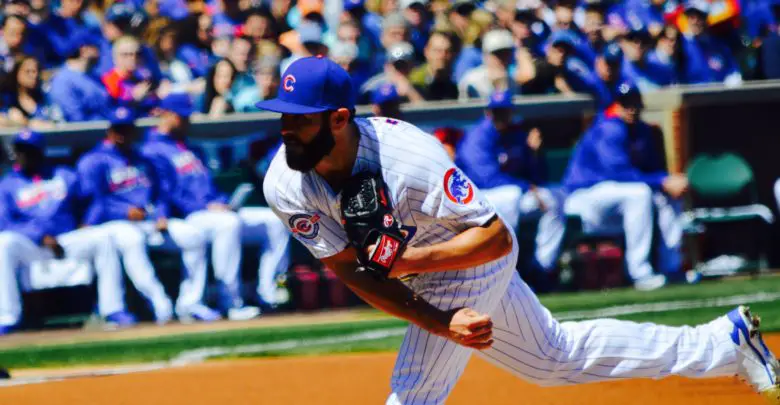 Levine: Cubs Showing 'Renewed Interest' in Arrieta, Cards Also in Mix
I've been saying for at least the last year that Jake Arrieta was not going re-sign with the Cubs, even going so far as to write last January that he already had one foot out the door. That seemed like even more of a sure thing when Bruce Levine reported that Arrieta's expectation for a new contract was six years and $160 million. But in spite of the pitcher's rhetoric and asking price, it now appears that the Cubs might be in on him after all.
That comes via a recent report from Levine in which sources tell him the Cubs "have a renewed interest in bringing back Arrieta" and that they're one of two teams that has shown the most interest in the pitcher. The other, as you may have deduced from the title, is the Cardinals. The Brewers have also been sniffing around the top end of the market, though they don't seem too keen on venturing into nine-figure waters.
While the Cubs keeping tabs on Arrieta isn't at all revelatory, the whole "renewed interest" thing does perhaps change the optics on the situation. Now, it's entirely possible that that's all this is, a matter of changing lenses just a bit and getting a fresh perspective on the situation. Or maybe it's a matter of putting a little heat on Yu Darvish and/or Alex Cobb as the market for those players continues to drag as well.
In the end, it's probably a combination of all of the above. The Cubs had seemed like a logical destination for Cobb until his asking price got too high. Pushed beyond their comfort level where the former Ray was concerned, they pivoted to Darvish. And if they're already breathing rarefied air, it makes sense to pay a visit to Scott Boras's mansion in the clouds above Playoffville.
Rather than plant their flag at the market's summit, however, it feels as though the Cubs are content to hang out at Camp IV and wait for the climbers to tire out and come back down to them. They could even fall back to Camp III and wait for Cobb, who figures to come down much lower (and perhaps sooner) than his more accomplished colleagues.
Simply put, this is all a matter of due diligence and keeping tabs on all the available options to find the best possible solution. And that includes exploring trades for starters like Gerrit Cole or Chris Archer, signing a big-time reliever like Addison Reed or Greg Holland (who would be a fitting replacement for Wade Davis), or adding a leadoff-hitting outfielder like Christian Yelich or Lorenzo Cain.
You'd have to figure that signing Darvish or Arrieta would preclude the Cubs from adding any other significant salaries, so a trade would be necessary if they want to add to the 'pen or outfield. Cobb might leave room to sign a reliever. A trade for Cole or Archer would leave room for other moves as well, though the cost in terms of talent might be greater than any payroll savings. With all those moving parts, it's no wonder things are moving slowly.
No matter what the Cubs choose to do, they're going to have to do it soon. Pitchers and catchers report in about six weeks, but they've got less than two weeks to go before Cubs Convention and its demand for big announcements.