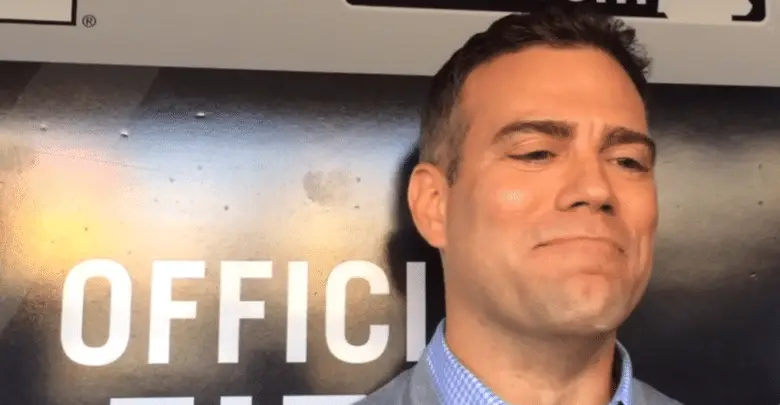 Ryan Says: Epstein Always Gets His Man, #fakenews, Remembering Ryan O'Malley
I apologize for my absence of late, but life happens sometimes. The offseason has mostly been a snoozefest, but things promise to pick up a bit once we get through the holidays . Here are my notes on recent events as they relate to the Cubs.
• Can you think of a star MLB free agent Theo Epstein seriously pursued who didn't sign with the Cubs? In the 2015 offseason, Epstein went hard after Joe Maddon, Jon Lester, and Jason Hammel. Got all three. The next offseason, he wooed Jason Heyward and John Lackey while Ben Zobrist practically came to him asking for a deal. Last offseason was quieter on the free-agent front, but this year the front office tandem of Epstein and Jed Hoyer flew to Dallas to meet with starting pitcher Yu Darvish.
It's certainly possible that Darvish ends up elsewhere. The Rangers, Yankees, and several others are interested, and one might wonder how much Darvish's home in Dallas and comfort with the Rangers organization might play into his decision. But it's hard to bet against Epstein.
The expectation is that a decision could come shortly after Christmas, and my money is on Darvish ending up in Chicago. With Alex Cobb's asking price reportedly around $20 million per year, the Cubs would be foolish not to cough up a few extra million in AAV to pay for a pitcher of Darvish's quality. That would give the Cubs a top four of Kyle Hendricks, Jose Quintana, Darvish, and Lester, which would be a fearsome quartet heading into a five-game playoff series.
• Speaking of Darvish, allow me to share a quick lesson in how not to break news. While I don't pretend to be #BigTime enough to have dozens of sources all feeding me legit info, those of us who have written enough to get close to any MLB team have made at least a handful of contacts. Those contacts will give you information, some of which turns out to be true. But the thing that so many of us understand – and so many don't – is that it's not always in our best interest to share that info publicly.
Take the example of Barstool Carl, who is apparently one of the dudes employed by the sports site voted "Least Professional" among its peers. He tweeted that the Darvish deal to the Cubs was done and the pitcher was being evaluated by team doctors. When Darvish himself quote-tweeted BS Carl with "#fakenews," the dude actually doubled-down with "That's not what your doctor said."
#fakenews https://t.co/he5qmoqhcx

— ダルビッシュ有(Yu Darvish) (@faridyu) December 21, 2017
That tweet was later deleted and Carl took his lumps for being wrong, but the lesson is clear. This is why you don't try to break news unless you're 100 percent certain of what you're doing. And that doesn't even touch on the fact that once Darvish called him out, Carl actually argued with him about it. In the process, he apparently outed his source and may have even revealed a HIPAA violation. Just outstanding work, all around.
• Shameless plug time! I wrote for Sporting News about Ryan O'Malley, the kid who tossed eight shutout innings in his MLB debut back in 2006. For a little bit of a prologue, O'Malley grew up in my hometown and we went to high schools about a mile away from each another on the same street. He graduated about six years ahead of me, so we never crossed paths, but I watched his minor-league career with great interest nonetheless.
It was pretty exciting for me – and the town of Springfield – when O'Malley made it. We were devastated when he hurt his elbow against the Phillies in his second start, which ended up being his last appearance in the big leagues. I spoke him on the phone for about 40 minutes for the piece and he was a wealth of information. Len Kasper also contributed from his extremely unique vantage point. If you're interested, give it a read.
• Merry Christmas, Happy Hanukkah, Joyous Kwanza, Happy Honda-days, and a Celebratory Toyota-thon to all of you who read our work at Cubs Insider. We couldn't do it without you. Okay, we actually could, just nobody would be reading and our wealth and prestige would not be quite as immense.