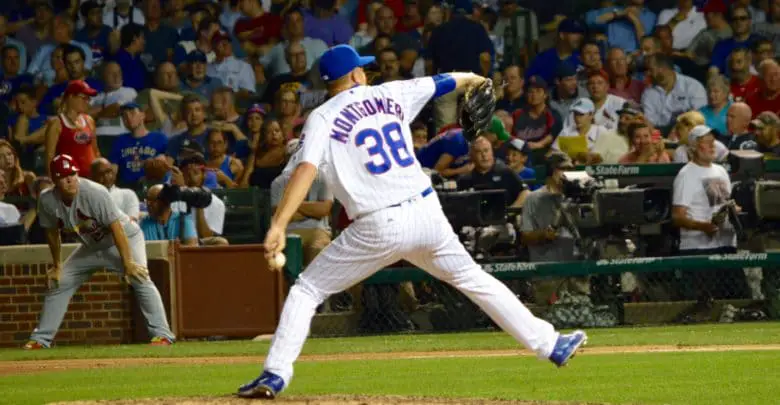 The Rundown: Montgomery's Increased Value in New Paradigm, Darvish and Machado Updates, Jeter Roasted By Marlins Man
Let's discuss Mike Montgomery. He's good, right?
Though the Cubs have signed Tyler Chatwood and are one of two or three teams pursuing Yu Darvish, the most notable free agent signings across all of baseball so far this winter have been relief pitchers. The school of thought among many front offices is that starting pitchers fatigue once they've gone through a batting order twice, or at least that hitters have picked up on enough tendencies that they are better prepared to attack.
As point of fact, major league hitters posted a .724 OPS against starters during the first time through the order in 2017. That OPS jumped to .783 the second time through then to .801 the third time through, according to Statspass (you have to trust me, there's a paywall to access this information).
Indeed, complete games are relatively rare occurrences. James Shields (11) was the last pitcher to start and finish more than 10 games in a season back in 2011. Before that, you have to go back to 1999, when Randy Johnson finished 12 games for the Diamondbacks. Prior to 1987, good starting pitchers would often finish 20+ games per season. in the 1970's, a marquee matchup featuring Fergie Jenkins and Steve Carlton or Bob Gibson usually meant that every other pitcher on either squad could qualify for one day of paid time off.
Times have changed in dramatic fashion. Depth is the new norm when constructing a staff.
On their way to their first World Series appearance in 29 years, the 2017 Dodgers posted the lowest ERA among starting rotations in Major League Baseball. Additionally, their starters ranked 17th in innings pitched and dead last in starts of 100 or more pitches. Only Clayton Kershaw and Rich Hill completed games, and each did so only once. The Cubs, likewise, had starters complete games only twice, one each by Jon Lester and Jose Quintana.
I'd love to further support this fact with statistics on games missed due to injury from last season, but I am of the mindset that the 10-day DL makes that statistic less reliable. But, when we talk about many teams potentially moving to six-man rotations, certainly the liberal use of the reduced minimum-stay requirement factors into that way of thinking. Pitchers can get a 10-day break to rest and recover, and a sixth rotational piece or swingman can pick up two starts during that time.
That represents extreme value for a guy like Montgomery, who started 14 games in 2017 among his 44 appearances. He also finished 11 games out of the bullpen, earning three saves. He performs above average in either role as represented by his 2.2 WAR, and his RAR of 24 was second best on the entire staff. As a sixth starter, he is likely to perform better than whomever fills the fifth starter role in 2018.
That's probably why the front office refuses to commit to a single role for Montgomery. He's arguably the best swingman in baseball, and he will cost the team only $515,000 this season. It's no wonder he'd be so coveted were he made available. But unless he actually gives the Cubs an ultimatum, the team would have to be insane to move him. No way this guy could be a throw-in, as has been mentioned by Ken Rosenthal, in any potential deal for Manny Machado.
Cubs News & Notes
Yu Darvish is playing hard to get. The free agent starting pitcher met with the Astros yesterday and is having dinner this evening with Rangers GM Jon Daniels, though some are interpreting that as a rain check on the exit interview Daniels promised Darvish after he was traded to the Dodgers in July. For all the comments made here and across social media regarding the right-hander, it's interesting to note that the Cubs have not offered an official comment on their Monday meeting with Darvish.
A report out of Japan says that Darvish will make a decision on his new team before Christmas.
The Cubs are still engaged with the Orioles for SS Manny Machado but the asking price is legitimately ridiculous.
There has been virtually no new news regarding Alex Cobb since his reported contract demands were made public. Though free-agent signings so far represent about a 10 percent increase over MLBTR's November projections, Cobb is said to be looking for an AAV that is nearly 25 percent higher than predicted. It has also been reported he is looking for five years. Hard pass.
Nothing new to report on Wade Davis, either. In fact, three big free agent closers — Davis, Greg Holland, and Addison Reed — remain available. As with starting pitching, it appears that GMs are waiting for prices to return toward value.
Tuesday Stove
Former Cubs lefty Travis Wood was DFA'd by the Padres after the team signed Jordan Lyles to a one-year deal.
The Mets are interested in free agent 1B Adrian Gonzalez. Gonzalez was recently released by the Braves after being acquired from the Dodgers over the weekend.
Derek Jeter hosted a Town Hall Meeting for Marlins fans yesterday and was ripped by most of the fans in attendance. Marlins Man, who has been a season ticket holder since 2003, is pretty disgusted with the team's offseason moves. So far this season Jeter has:
Dumped front office personnel Jack McKeon, Andre Dawson, and Jeff Conine.
Traded stars Giancarlo Stanton, Marcell Ozuna, and Dee Gordon.
Skipped the Winter Meetings completely except for a single conference call after trading Stanton.
Hung out at the Dolphins-Patriots football game on the opening night of this year's Winter Meetings.
I completely understand Marlin Man's wrath.
A picture of Tim Lincecum made the rounds on Twitter and Instagram yesterday. I probably saw the photograph 100+ times in my feed. Nobody needs that kind of torture. Anyway, the former two-time Cy Young winner now looks like a shredded version of Greg Maddux and is reportedly eyeing a comeback.
The Dodgers got hit with baseball's highest luxury tax yesterday. The team owes $36.2 million, according to final figures compiled by the commissioner's office and obtained by The Associated Press. That raises their five-year tax total to nearly $150 million
Wednesday Walk Up Song
Take On Me by A-ha. #EarwormWednesday