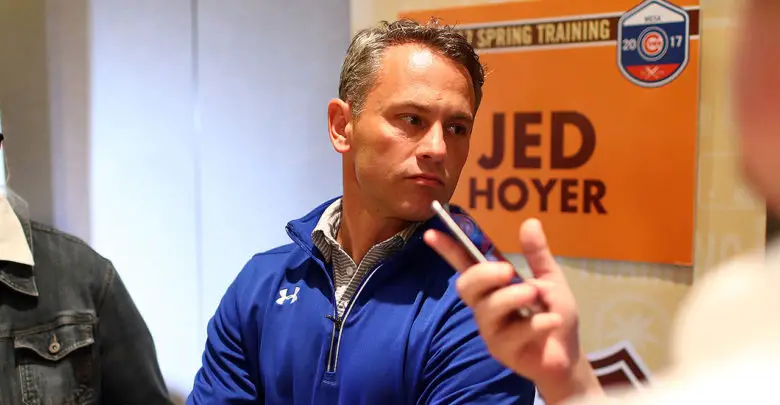 The Rundown: GM Meetings Kick Off 2018 Calendar, All the Weekend Rumors
Baseball's GM Meetings open in Orlando today, and that means increased player movement chatter as GMs perform their due diligence on available players ahead of next month's Winter Meetings. There could be a few actual deals, not to mention the major award winner announcements.
The purpose of the GM Meetings is normally to cover off-field matters, but you can't put dozens of baseball execs in the same hotel and not expect some player movement. Agents will be there lobbying for their players, and though it is unusual for free agents to sign this early in the offseason, it is certainly not unprecedented. Anything can happen if the right proposal floats past a player and his agent.
These meetings were once little more than a formality, a chance for general managers to unwind after the long grind of the recent baseball season. Movement was restricted to new front office or manager/coaching hires. But it's not 1976 anymore and the baseball season is a yearlong cycle now. Our appetite for news and rumors is insatiable, so this is really the traditional start of the 2018 baseball calendar.
I'm sure we'll hear plenty about Giancarlo Stanton, and with some of the rumors gaining traction, it is entirely possible we see the big Miami outfielder moved this week, possibly to Boston or St. Louis. 
If we're lucky, we'll hear a head-scratching quote from Scott Boras, like this one: "Drew is a player that comes along once every 20 years. Not even Barry Bonds can be compared to J.D. Drew."
Or this gem: "People call me all the time and say 'Scott, your players aren't signed yet.' Well, it doesn't really matter what time dinner is when you're the steak."
You can surmise that we won't likely see a Boras client signing a deal this week. The super-agent represents "King Kong of Slug" J.D. Martinez, Greg Holland, Jake Arrieta, Eric Hosmer, and Mike Moustakos. I am sure we will also hear quite a bit about Shohei Otani, the San Francisco Giants, Miami Marlins, Chicago Cubs, Boston Red Sox, Los Angeles Dodgers, St. Louis Cardinals, and the New York Yankees.
Perhaps the Yankees will name their new manager. There may be something interesting to keep an eye on this week and next month: General managers attempting to decrease payroll in an attempt to have more money available for next year's banner crop of free agents.
Weekend Stove
The Nationals may have Jake Arrieta on their radar.
The Braves hired Alex Anthopolous as their next general manager
For the Cardinals, trading for Giancarlo Stanton or signing J.D. Martinez may not be enough to solve all of the current roster problems.
The Brewers expect to have their busiest offseason ever. 
Could the Pirates move Andrew McCutchen and/or Gerritt Cole?
The Twins may be interested in Reds closer Raisel Iglesias.
The Dodgers believe they can offer Shohei Otani the two-way role he covets and a chance to win immediately. Otani nearly signed with the Dodgers out of high school, for what it's worth.
The Giants are interested in Jackie Bradley Jr.
Roxpile at FanSided thinks Charlie Blackmon would bring a decent return from the Cardinals.
The Padres will likely have a relatively quiet offseason.
On the flip side, the Phillies expect to be very busy. The Rays are in a similar situation. 
Todd Frazier would be a good fit for the Mets.
The Blue Jays have some tough decisions to make.
The Red Sox are making a strong push to acquire Giancarlo Stanton.
The Orioles and Twins may match up well in potential trade talks.
Both the Cubs and White Sox are ready to deal, though perhaps not with each other. 
The Indians could target Jay Bruce. The Mariners are connected to Bruce as well.
Climbing Tal's Hill makes strong case for the Astros to sign Arrieta.
The Tigers are likely shopping Ian Kinsler.
The Athletics will probably keep their offseason moves limited to under-the-radar acquisitions.
The Angels may bring back Howie Kendrick.
The Rangers may be in play for Giancarlo Stanton.
Monday Walk Up Song
Climb To Safety by Widespread Panic.