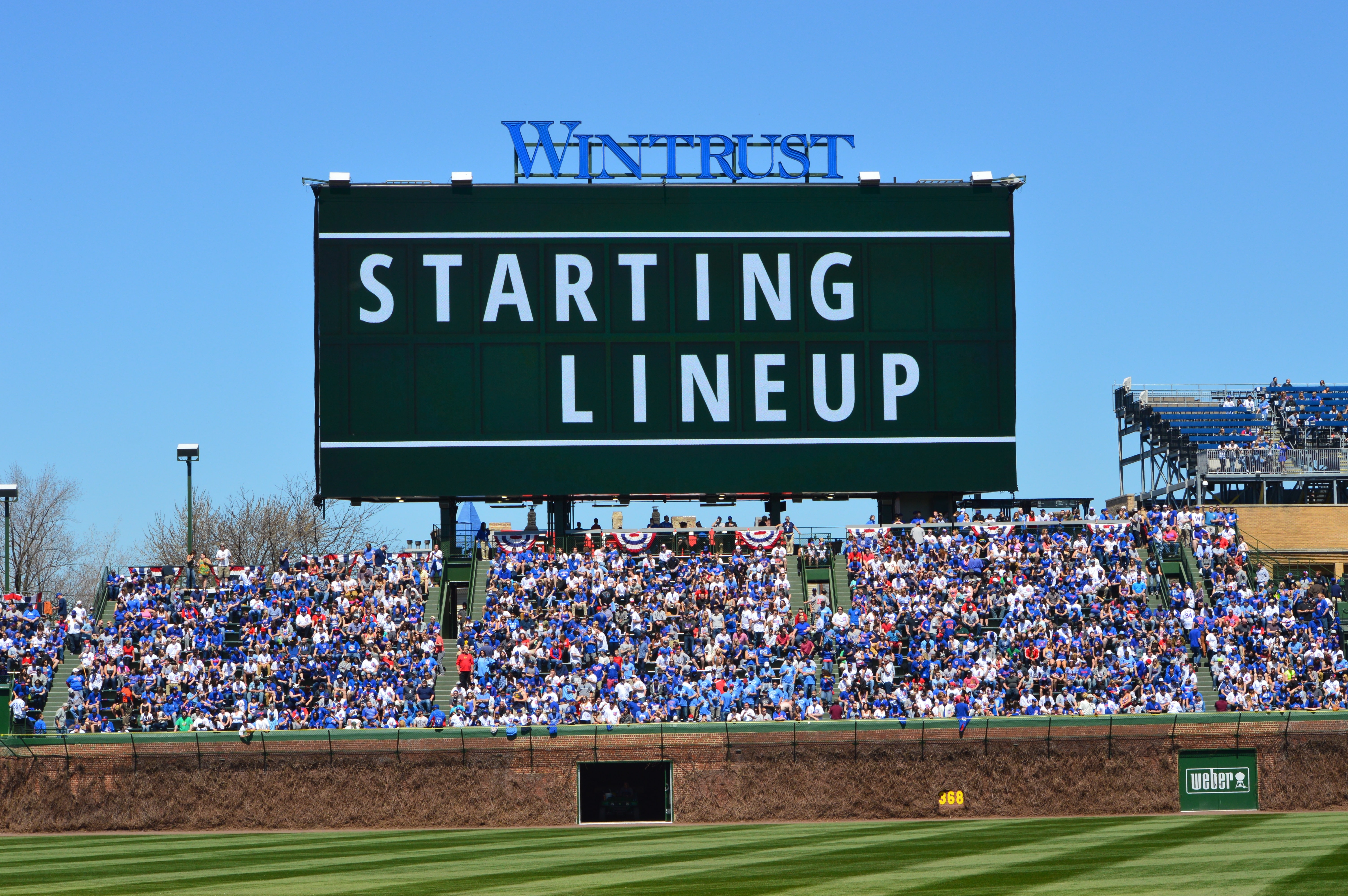 Chicago Cubs Lineup: Jay Leads Off, Almora Fifth, Schwarber Seventh Against Kershaw
It feels like just a year ago we were watching this same matchup unfold. Oh yeah, that's because we were. Some of the names are a little different this time around, but the Cubs and Dodgers are back at it with a trip to the World Series on the line.
Jon Jay is going to be leading off in right, followed by Kris Bryant, Anthony Rizzo, and Willson Contreras. Albert Almora Jr. gets the start in center against a lefty, with Addison Russell, Kyle Schwarber, and Javy Baez rounding things out. That's a pretty solid lineup and a little different from how most opposing managers might set things up.
Rizzo's a given and Jay has pretty negligible splits, but Joe Maddon has been platooning Schwarber against lefties. So what's he doing in there against the best in the game? Well, left-handed batters have actually slashed much better against Clayton Kershaw this year and have a higher wOBA as well. I'm talking an OPS that's 164 points higher and a wOBA that's 63 points higher.
Jose Quintana will take the bump for the Cubs after throwing only 12 pitches in Game 5 of the NLDS. He was very solid in his Game 3 start against a brutal Nats lineup, and he's facing a Dodgers team that is without star shortstop Corey Seager.
What can you really say about Clayton Kershaw, other than he's pretty much the best pitcher of his generation. If he can stay healthy — which is far from a guarantee given his history — he could easily go down as one of the best of all time. He may even be there already.
Kershaw possesses a wealth of plus pitches, but his best is actually his…changeup? That's the case according to weighted value, though he doesn't throw the change often enough to really make that information valid. Then again, he might just go all changeups all the time after seeing how Stephen Strasburg shoved the Cubs with his.
But anyone who's followed Kershaw even from a great distance over time knows that the slider is really his best pitch. Wait, really? Though it hasn't always been the case, it's true since about 2014 when he started leaning more heavily on the slide piece. Thrown with high-80's velo with a little less sweep than some sliders, it's higher in terms of both aggregate and weighted value in that time and sits in the top four of MLB in both areas this year.
Knowing that makes lefties' better numbers against him sound even more strange, but he doesn't actually throw it as often to them. We're talking about a super nominal difference, though. While lefties only comprise 21 percent of the batters Kershaw faces, sliders to lefties make up only 18 percent of his overall pitches.
The curve (which is thrown with nearly the same relative frequency as the slider to lefties) is still wicked and the mid-90's fastball is still being dotted with surgical precision, so it's not as if the rise of the slider is the product of the diminution of other pitches. Kershaw didn't have quite as dominant a season as we're used to seeing from him, which is crazy to say of a guy with a 2.31 ERA and 3.07 FIP. The former mark was his highest since 2012 (2.53) and the latter since 2010 (3.12).
I'm not trying to be all doom and gloom, but pretty much the only way the Cubs win this one is if Kershaw is off his game. That's just the reality of it. I don't want to sell the Chicago staff short, but the fact of the matter is that it's super difficult to beat great pitching. Or maybe they've got some of that magic left over from the last series.
Of course, we've seen the Cubs get to the legendary lefty in the past, namely in Game 6 of last year's NLCS. And while we can throw out the fallacious idea that he's bad in the playoffs, the man isn't a robot and he's not always perfect. The degree to which he's imperfect tonight may well determine the outcome and it is my most sincere hope that both Almora and Schwarber go to work in this one.
First pitch is set for 7pm CT on TBS, so let's just hope there's no rain in the forecast.
Here is tonight's #Cubs starting lineup!

NLCS Game 1 preview: https://t.co/i1XyF9jmGB #FlyTheW pic.twitter.com/mp8UTc5C3C

— Chicago Cubs (@Cubs) October 14, 2017