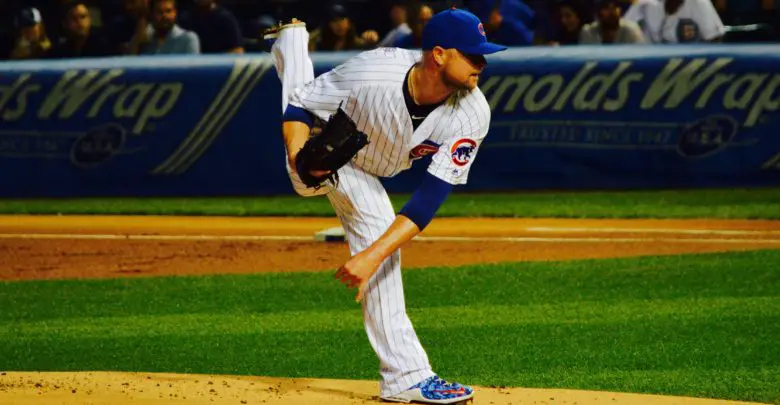 The Rundown: Getting Hot at Right Time, Playoff Rotation Takes Shape, Dingers
It took some doing, but the 2017 Chicago Cubs are finally starting to look like…well, they look like the 2016 Chicago Cubs. This iteration has actually scored more runs than last year's, albeit on a more inconsistent basis, and they're getting players back to health and high levels of productivity.
Jason Heyward is about to complete his first month of above-average offensive production as a Cub, Kyle Hendricks is throwing with greater velocity and getting familiar results, and they'll finish with at least 92 wins after being a couple games under .500 at the break. Since that ugly sweep at home to the Brewers that dragged them back to the pack, the Cubs turned it on and went 15-3 (Sunday results pending).
This team is hot, confidence is high, and they've got the experience to do all kinds of big things. Not bad when you consider everything being said about them through much of the season.
Playoff rotation could be set
We wont know for sure who will pitch when, but recent developments give us a pretty good idea of how Joe Maddon will set up his NLDS rotation. Hendricks will be getting one of the first two games, that much we can guarantee. I think he should take the bump in Game 1, but we'll see.
After a resurgent performance Saturday against the Reds, Jon Lester will certainly take the other start in Washington. In addition to their own merits, the early starters have more or less been determined by the status of their colleagues.
Jake Arrieta and Jose Quintana will be pitching against one another in a simulated game Wednesday, which effectively rules both out for either of the first two games. Even should they throw fewer than 50 pitches with less than max effort, going on two days of rest is probably inadvisable.
That said, it'll be important for Arrieta to push things pretty close to the redline just to see how his hammy reacts. If there's still a little tightness or weakness, he needs to back off and slide to Game 4, if he can go at all. Should he feel strong and normal, Game 3 is a possibility. I'm pushing him back to the if-needed game no matter what.
More news and notes
• With his monster home run Saturday, Kyle Schwarber joined Anthony Rizzo in the 30-dinger club. Believe it or not, that's the the first time in Cubs history that two lefties have reached that mark in the same season. Rizzo has been a little sluggish lately, but that could signal one of his patented hot streaks. Schwarber, on the other hand, has been loudly shushing all those who doubted him.
• With their latest win, the Cubs moved to 192-92 (the dummy who wrote this initially had 100 more win seats and losses in there, but he corrected it after a cup of coffee) in Maddon's tenure. Yes, that's 100 games over .500 in three seasons, which I think might be good.
• All-around super-good dude Ben Zobrist stopped by the ol' sandlot to hang out with some kids on his way to Wrigley Saturday.
.@benzobrist18 made a quick pit stop on his ride to work. #ThatsCub pic.twitter.com/dmTzz0hSyv

— Chicago Cubs (@Cubs) September 30, 2017