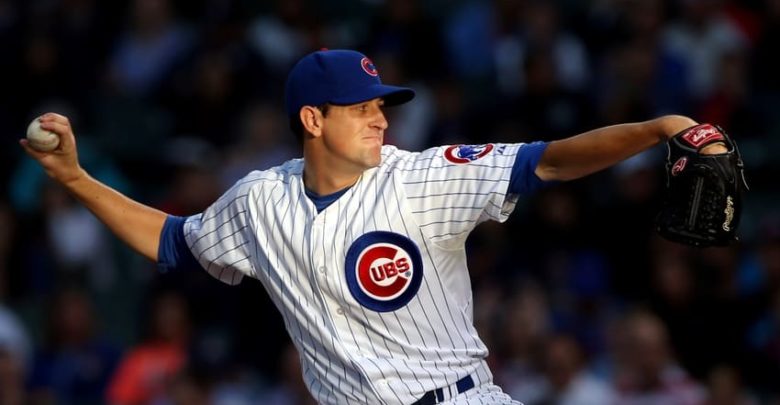 Kyle Hendricks Looking Like an Ace Again
After starting the 2017 season throwing with disconcertingly lower velocity, Kyle Hendricks cemented his 2017 season by finishing with a phenomenal 3.03 ERA. Our previous analysis on Hendricks revealed that his velocity was directly assiociated with release point.
The higher his release point, the slower he threw, an observation Hendricks himself confirmed when talking with Ryan Davis. As Washington prepares to face the Cubs' consistent righty, their notes will likely indicate that the Professor is looking like his normal self once again.
Velocity back up
That early anxiety over Hendricks' velocity has quickly dissipated. Prior to September, last year's NL ERA leader was throwing his trademark sinker only at roughly 85.5 mph. But since the calendar turned, his sinker velo sits a little over over 87 mph, which is roughly in line with his 88 mph career average.
It comes as no surprise that Hendricks' best month coincided with that spike. Batters only hit for a .255 xOBA (20 percent below league average) in September, and the sinkerballer's scFIP (Statcast FIP) is only 2.93 this month, his best stretch of the 2017 season.
Release point looks familiar
Since we found that Hendricks' release point gave us insight into why he was throwing slower, let's take a look at the data again. Remember, the higher Hendricks let go of the baseball, the slower he was throwing.
In keeping with our findings, Hendricks' rise in velocity corrensponds with a lower release point, as illustrated by the below graph. The data points on the left before the gap are Hendricks' release points in 2016, whereas the data points on the right after the gap are games from this year.
Notice how the righty's release point was much higher and was inconsistent game-to-game here at the beginning of the season. Then, just before his bout with tendinitis, his release point trended lower, which has ultimately led to the readings we are seeing this September.
Final thoughts
Of course, there is more to pitching than just release point and this isn't to say that the reason Hendricks is pitching better is due solely to a normalizing said aspect of his delivery. Reasons for success could include improved health, other mechanical changes, pitch mix, etc., all of which could be indirectly affecting the release point data we are seeing. This could also just be a random coincidence, although the stats I ran a few months ago showed the chances of the release point/velocity observation being a fluke are next to none.
This Kyle Hendricks is the one you and I have wanted to see all year. Fortunately, his return comes just ahead of the NLDS.