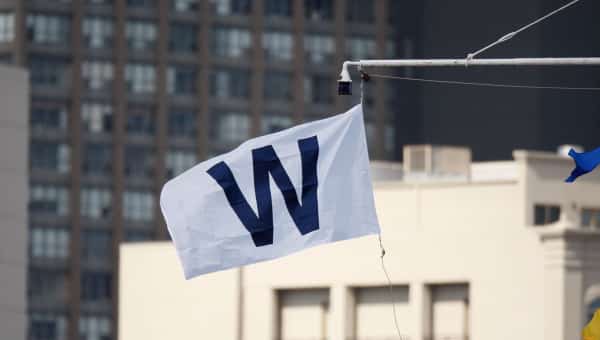 CI Recap (9/29/17) – Cubs 5, Reds 4 : Three-Run Bomb Magic
After a four-game series in St. Louis where the Cubs clinched the division and knocked the Cardinals out of playoff contention, the Cubs returned home for their final regular season series of 2017 – a three gamer with the Cincinnati Reds.
Why The Cubs Won
Three-run home runs seem to be the Cubs' favorite form of ammo in come-from-behind victories. Addison Russell did it on clinch day in St.Louis, and Ian Happ did it again today to steal one away from the Reds. With one out in the 8th inning, Tommy La Stella and Taylor Davis both singled. Kyle Schwarber followed and struck out. Next up was Ian Happ who launched his 24th home run of the season to put the Cubs up 5-4.
Key Moments
Ian Happ's three-run homer in the 8th inning of a "meaningless game" gave the crowd something to cheer about. That was his 24th long ball of the season. If he gets two more, he will surpass Kris Bryant for most home runs by a Cub in their rookie season.
The Cubs' bullpen really held it together. Felix Pena, Hector Rondon, Brian Duensing, and Justin Grimm combined to give up only two hits, and held the Reds scoreless over 4.1 innings.
Stats That Matter
Brian Duensing, who has been the Cubs' go-to bullpen guy this season, recorded his first win of the season today after pitching a scoreless 7th inning.
Hector Rondon got in on the fun with his first career hit – a single – and is now a career .333 hitter. It was originally ruled an out, but thanks to the power of replay, the call was overturned.
Bottom Line
The Cubs have won 14 of 17 and they've done it in a variety of ways. Some days it's an extra innings homer, other days it's a bases load walk, and sometimes, they even do it by playing small ball. The Cubs have proven that they know how to win late in ballgames, even without their "big-guns" like Kris Bryant and Anthony Rizzo. The Nationals shouldn't take them lightly.
On Deck
Jon Lester will make his final regular season start against Reds right-hander Jackson Stevens tomorrow at 3:05 p.m. on CSN.