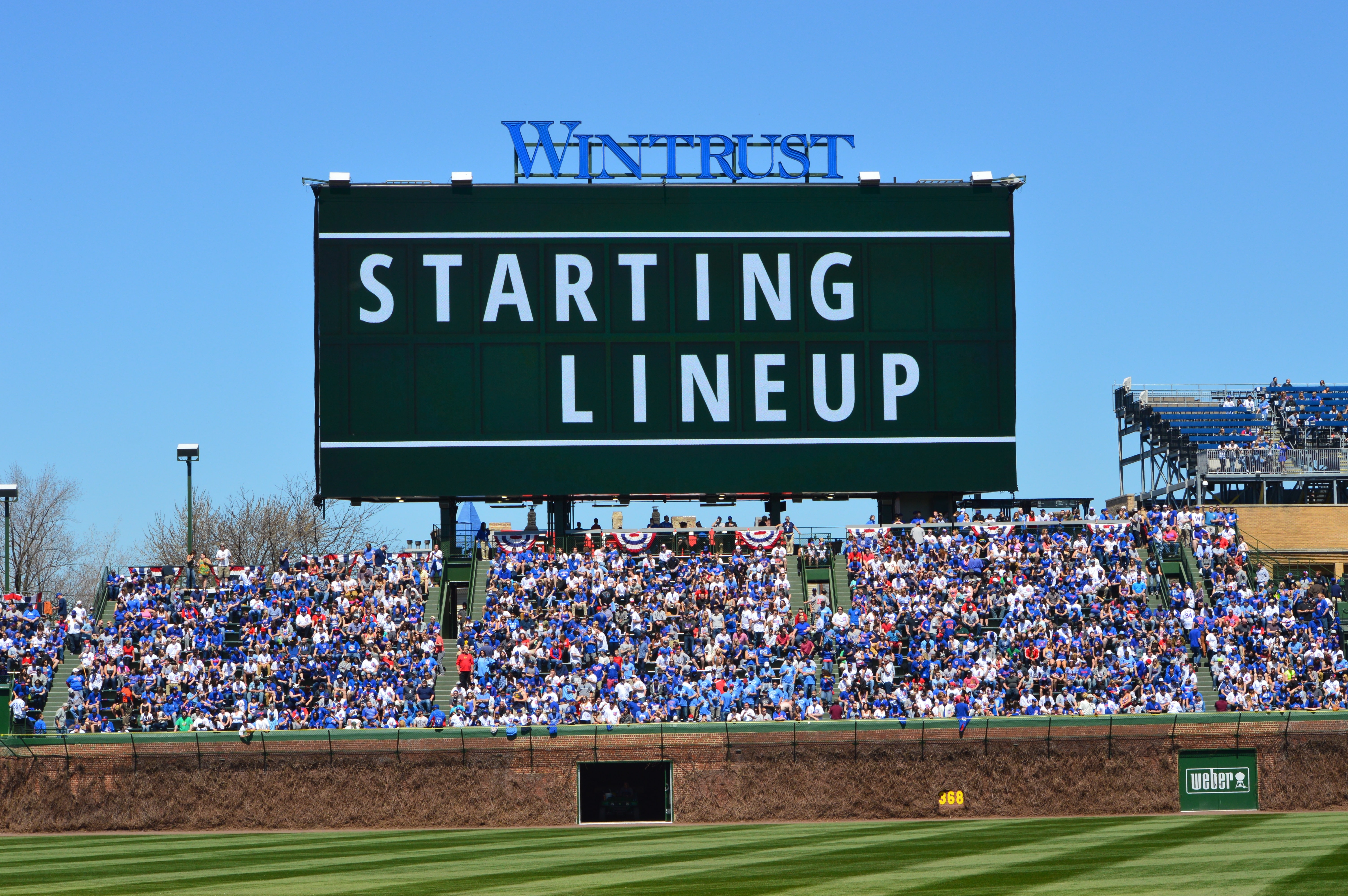 Chicago Cubs Lineup: Jay Leads Off, Zobrist Plays 2B, Almora in CF Against Anderson
The Cubs and Brewers have had to go 10 innings to decide each of the first three games, none of which saw the winning team score more than five runs. That could well be the case again, as Jose Quintana and Chase Anderson are on the mound for their respective teams.
Jon Jay will once again open things for visitors as he looks to extend a streak of four two-hit games. He's batting .394 with a .914 OPS over the last nine games (36 PA), but I feel obligated to derogate his presence in the lineup since that's kinda become my thing and I feel like there's some reverse mojo going.
No need to wonder about the next three spots, as Kris Bryant, Anthony Rizzo, and Willson Contreras once again make up the three primary chambers of the heart of the order. Ben Zobrist bats fifth, playing second and hit from the left side, while Addison Russell acts as his double-play partner. Jason Heyward bats seventh and plays right, with Albert Almora Jr. filling the eighth spot.
This is another start against a righty for Almora, though he faced the reverse-splitting Anderson a couple weeks ago and went 0-for-2 with a strikeout and groundout.
Jose Quintana will be on the mound to finish the series as he tries to push the Cubs one game closer to the playoffs. We've seen enough of Q by now to know what he can do, so the only mystery will be how well he can go out and execute. If he can locate the fastball and get the curve working for strikes, he'll give his team a great shot.
Anderson has had some interesting results in three games against the Cubs this season, allowing two, six, and zero earned runs. Perhaps he can pitch today like he did back on May 21, when he gave up two home runs to Bryant and one to Zobrist in a Cubs blowout.
Anderson has a four-seam/cutter/sinker combo that he'll throw in the low-to-mid 90's, setting it off with a change that he's been using more after really struggling with it in his first two games back from the DL. He uses a circle grip and throws it primarily against lefties to generate a .497 OPS against (that's down about 40 points from his last start against the Cubs) and a nearly 15 percent swinging-strike rate. The pitch has arm-side run and will often stay up in the zone rather than tumbling, which means less groundball contact than you might otherwise expect.
The Brewers starter also has a pretty nasty curve that snaps downward and gets a ton of grounders. The key to the game for the Cubs may be trying to chase Anderson early (get it), making him work to get outs. He's only completed six innings twice in seven starts since coming back from an oblique strain, including that shut-down effort against the Cubs in which he allowed a since hit.
Anderson has been better overall at home, though he's more susceptible to the longball at Miller Park. Eight of the 12 homers he's allowed have come there and five of those were hit by righties.
Find out if the Cubs can shave a game or two off the ol' magic number when they get started at 1:10 CT on ABC-7.
Here is today's #Cubs lineup for the regular season finale vs. the #Brewers.

Game preview: https://t.co/aLujKQ6KCm pic.twitter.com/KvCDbHpEVk

— Chicago Cubs (@Cubs) September 24, 2017