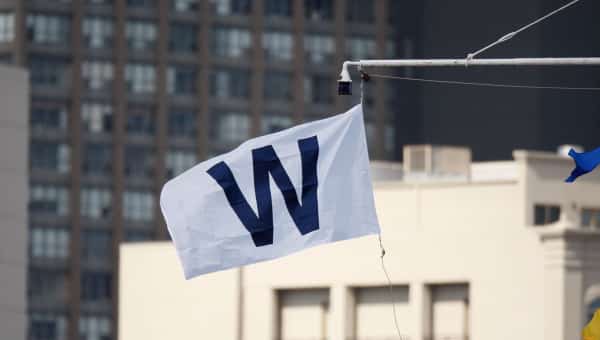 CI Recap (9/12/17) – Cubs 8, Mets 3: It All Started With A Bunt
After a terrible and borderline infuriating weekend series against the Brewers, the Cubs were able generate some offensive magic and back Jose Quintana for a 8-3 win. Despite squandering some early inning scoring chances, the Cubs were able to capitalize with four runs in the 4th inning and never looked back.
Why The Cubs Won
Home runs. Kris Bryant, Kyle Schwarber, and Ian Happ all connected with the Bleacher Bums on Social Media Night. Bryant hit a three-run blast, while Schwarber and Happ both had solo shots. All of the Cubs homers came with two outs.
Quintana was impressive as he surrendered only two runs on six hits over seven innings. Despite hitting a few batters, the lefty struck out seven and walked only one, maintaining command throughout his outing.
Key Moment
The Cubs' four-run 4th inning started thanks to their starting pitcher. With Kyle Schwarber on third base, Q executed a perfect bunt toward first. The throw went home, but Schwarber slid in safely and Quintana was also safe at first. He eventually came home on Bryant's bomb.
Stats That Matter
Kyle Schwarber had his fourth three-hit game of the 2017 season tonight. Along with his 26th home run of the year, he had two singles. Since his return from the minors, Schwarber has a slash line of .258/.352/.566 with 14 home runs in 51 games.
Kris Bryant's home run was his 26th and also the Cubs' 200th of the season as a team.
Bottom Line
The Cubs need to hit, and they need to do it consistently. In the disastrous series against the Brewers, the Cubs scored a total of three runs over three games. Tonight, they scored eight runs on 11 hits. We have seen so many instances this season where the Cubs will score multiple runs one night and get shut out the next. Consistency has been their biggest struggle, and with the Brewers and Cardinals right on their tails, it is crucial that it happens now. They have the tools, they just have to get them all going at the same time.
On Deck
Two veterans will duke it out on the mound Wednesday night. It'll be Jon Lester for the Cubs and Matt Harvey for the Mets at 6:05 CT and you can catch it all on WGN.