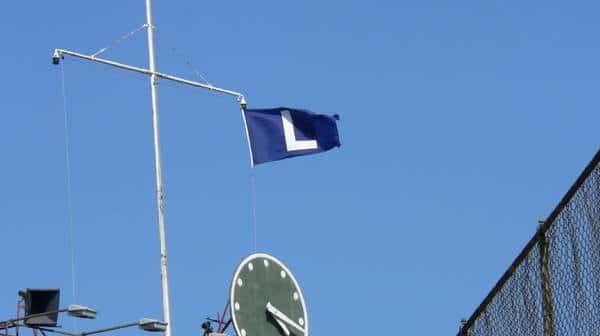 CI Recap (9/10/17) – Brewers 3, Cubs 1: Opportunity Lost
The Cubs closed their weekend the same way they began it, by doing next to nothing on offense. This lack of production spoiled another in a string of solid outings from Kyle Hendricks, who made one big mistake that ended up costing him the game (box score).
Why The Cubs Lost
Just as they did all weekend, the Cubs struggled to get anything going against the Milwaukee pitching staff, as the trio of Zach Davies, Anthony Swarzak and Corey Knebel effectively silenced the Cubs' bats. Although Chicago did have eight hits in the game, all but seven were singles and just one came with a runner in scoring position. All in all, a rather lackluster performance.
Key Plays
Ian Happ walked to lead off the bottom of the 2nd and advanced to second on a Javy Baez bunt. One out later, Rene Rivera hit a liner to right that right fielder Hernan Perez misplayed into a run-scoring double, giving the Cubs their first lead of the series, 1-0. The didn't last long, however, as the Brewers tied the score in the 4th with an RBI groundout.
After trading zeros in the 5th, Neil Walker led off the Milwaukee half of the 6th with a walk and came around to score one out later on a Travis Shaw home run that just cleared the basket in right. That gave the Brewers a 3-1 lead and all the runs they would need.
Stats That Matter
Kyle Hendricks didn't have his best command, but had solid movement on his pitches and generated a fair number of swinging strikes. Of his seven strikeouts Sunday afternoon, four were of the swinging variety. Overall, Hendricks went six innings, allowing three runs on four hits and two walks to go along with the seven strikeouts.
The Cubs had trouble making solid contact all series long and that continued on Sunday. Chicago hitters struck out 11 times Sunday afternoon, which came on the heels of 12 strikeouts Friday night and nine on Saturday. Ugh.
Bottom Line
This was a wasted weekend for the Cubs. Instead of pushing the Brewers out of the picture in the NL Central, they got swept at home and allowed Milwaukee to get right back into the race. With 19 games remaining, including four more with the Brewers and seven with the Cardinals, Chicago sits just two games up on both clubs in the division. Things suddenly don't feel as comfortable as they did three short days ago.
On Deck
The Cubs will have Monday off before resuming their homestand with a three-game series against the Mets. Jose Quintana will try to right the ship for Chicago, while New York will counter will right-hander Robert Gsellman. First pitch is set for 7:05 p.m. CT and will air on CSN.