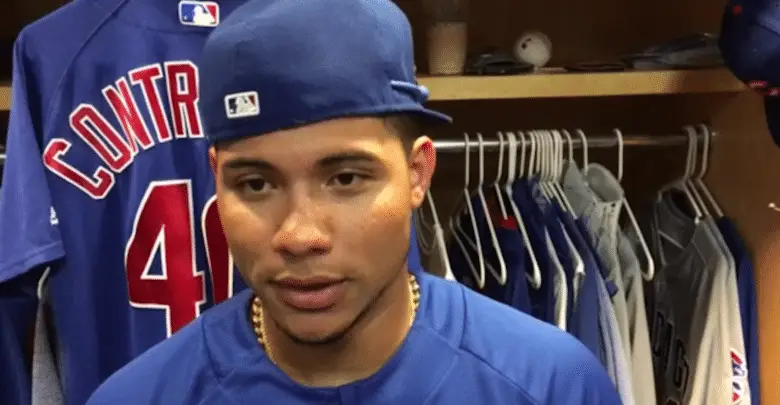 The Rundown: Contreras Gets Good News, Arrieta Gets Bad News, Bullpen is Old News
Tuesday gave us a procession of some of our favorite tropes from the 2017 season, but let's start with the good stuff. Ever since he was lost to a hamstring strain nearly a month ago, Willson Contreras appears to have been ahead of schedule when it came to his rehab. In the wake of the craptastic crapfest of the Cubs' loss to Pittsburgh, we learned that the convalescing catcher would be heading to Myrtle Beach to rehab for a couple playoff games with the Pelicans.
With those games set for Thursday and Friday, this should mean a return to the active roster as soon as this weekend in Chicago. That's assuming everything goes well, which I think we all know is an ironclad guarantee. Right?
The Cubs have been fortunate that Alex Avila and Rene Rivera have been performing so well in WillCo's stead, but it felt a little like fool's gold the whole time. Avila's good season at the plate in Detroit had been inflated by a scorching first half and Rivera isn't known as an offensive force, but it's telling that the latter would be getting so much run against lefty pitchers since his acquisition.
Getting Contreras back gives the Cubs an immediate boost on the field and in the clubhouse, where he's one of the emotional leaders of this team all season. While he's been present throughout his time on the DL, it's a whole 'nother deal when he's actually in uniform and getting all kinds of demonstrative out there.
Not a cramp
First it was bad, then it was nothing, now it's…kinda in the middle. Jake Arrieta and Joe Maddon both addressed the pitcher's injury as a cramp in the hours after he suffered it, but a subsequent MRI revealed a Grade 1 strain. That will keep Arrieta out of the rotation for at least one turn through the rotation and could keep him out for a second.
More than just the time he'll miss, I'm a little concerned with this as another entry in a series of injuries we've seen this season that were handled with what seems like less than the utmost concern. That is very much my distant, unprofessional assessment of the situations, but it seems that there has been a tendency to let the players determine their own fitness and to let injuries play out for a while before the DL becomes an option.
We heard talk that an MRI might not be necessary in Arrieta's case, which seems to have been based on the pitcher's assertion that he felt fine. There's also the matter of trainers "working on" the right leg following Arrieta's exit from the game, indicating that they were treating it like a cramp. Which, you know, maybe they thought it was and maybe Arrieta told them it was. Or maybe that's what they wanted it to be.
Thing is, working on/massaging/whatever a strain can actually increase bleeding in the area and can prolong the healing process. Again, I don't know what was said and done within the scope of "working on," so maybe the training staff was simply applying ice and whispering sweet nothings to Arrieta's hammy.
These guys are top-notch practitioners of their craft, so I'm loath to cast aspersions on their motives and methods here. And in all likelihood, they didn't exacerbate the issue in any measurable way. In fact, they may very well have been doing everything exactly according to the book. On the whole, though, these injury situations haven't been handled as deftly as you'd like to see from an organization that prides itself on being forthright and forward-thinking.
8th inning and no offense
Weak sauce. That's about the only way to describe what happened in the latter half of Tuesday's game, particularly the 8th inning.
The Cubs had already scored two runs in the 3rd inning, after which they loaded the bases with one out. But a shallow fly and a groundout ended the threat and left them with three runs. Then they managed to put two men on with two outs in the following frame to no avail. Those were the last two baserunners they'd have for the remainder of the game, which is how the Pirates were once again able to leverage the 8th Inning of Death to score a pair and take the W.
Kyle Hendricks had been cruising since the 2nd inning, but was up over 100 pitches and was pulled after a two-out single by Elias Diaz. Carl Edwards Jr. came on and struck out Jordy Mercer after going 2-0 on him, thus ending the threat and moving on to the next frame.
Though he'd walked only two men over his previous nine innings of work, Edwards handed a four-pitch free pass to the symbiotic relationship between man and hair creature that is John Jaso. It was the first time he'd walked a man to lead off an inning since August 4, and it immediately had fans on edge. Even Jim Deshaies noted on the Cubs broadcast that Edwards seems to be all or nothing when he's out there.
It's been all for the most part, but we got a whole lot of nothing Tuesday night. While I know it's not common practice to lift a guy like Edwards after one batter, and I've not done the full research to bear this out, I kinda feel like you know what you're going to get from him when he walks the leadoff man. Such a misstep is bad enough in general, but it just feels like an absolute death knell for Edwards.
Sure enough, a pair of singles, an intentional walk, and another single pushed two runs across and gave the Pirates a lead they would maintain. Those tallies bumped the Cubs' average runs allowed in the 8th inning this season to 0.66, only one hundredth of a run better than the Tigers for worst in baseball. So that's awesome.
This game was lost as the result of a combination of bad choices and poor execution, though the overall failure was at least somewhat mitigated by the Brewers losing to the Reds. Because, hey, it's always good to have to rely on other teams to lose.
More news and notes
The Red Sox are facing penalties for using Apple Watches to steal and subsequently relay signs from the Yankees to the Boston players on the field. The Red Sox have lodged a complaint of their own against the Yankees, alleging that New York used a YES Network camera to steal signs. This is some next-level stuff, folks. While sign-stealing is not against the rules in and of itself, both teams could be penalized for the illegal use of technology in the dugout.
The Dodgers have lost five straight and are 2-10 in their last 12, while the D-backs have won 12 straight. What's crazy is that, despite the 10-game swing in that time, LA still holds an 11.5-game division lead. They're not looking like the invincible juggernaut of old, though, and they'd have to play Arizona in the first round of the playoffs should things hold. Interesting.