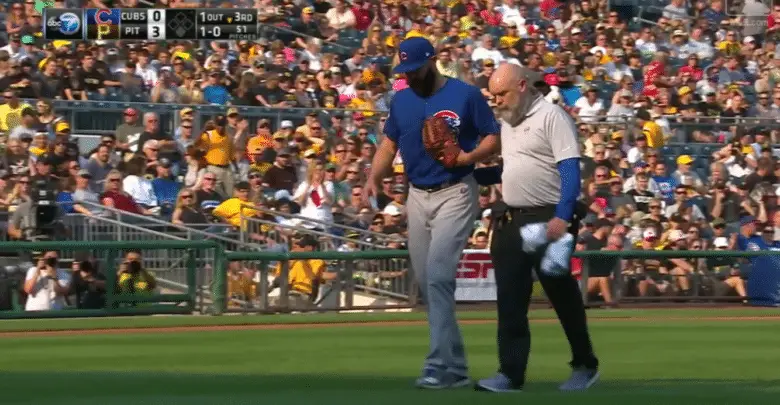 The Rundown: Arrieta's Cramp Lowlights Familiar Frustration, Cubs Have No Plans to Slow Javy Down
His left foot caught on the mound just before he was about to stride forward to deliver a pitch to Josh Bell, a sinker that sailed well up and out of the strike zone. Then Jake Arrieta hopped awkwardly and was immediately surrounded by Joe Maddon and the training staff. Things got really ominous when he cut short a warmup toss with a scowl of pain twisting his face.
Arrieta walked off the mound with a noticeable limp, supported by trainer Ed Halbur as he headed back to the clubhouse. Given the nature of hamstring injuries, many feared they'd seen the last of the former Cy Young winner this season. And probably in a Cubs uniform, period.
But reports that the training staff was "working on" Arrieta's right leg offered very promising insight into the severity, or lack thereof, of the injury. Were they concerned with a strain or tear, they would have wrapped and/or iced it and left it alone. Massage during the acute stages (which can last from 48 hours to a week depending on severity) of a tear can actually increase bleeding in the area, thus prolonging recovery.
Word from the clubhouse after the game offered further good news.
"There's no tests right now scheduled, we're just gonna wait and see how it plays out," Joe Maddon said after the game. "He felt pretty good afterwards. He came inside, worked with PJ (Mainville, Cubs head trainer) for a bit and started to loosen up. He was actually able to go through the delivery motion like he was unable to out on the field."
Arrieta was checked out by the Pirates' team doctor and said that an MRI was still a possibility but that he doesn't believe it was anything serious.
"(I'm going to) keep icing it 20 minutes every hour and see how I feel in the morning," Arrieta said. "But as of now I don't foresee it being much of an issue. As I started my drive toward the plate, really grabbed pretty good. And then obviously tried to throw a warmup pitch and it just wasn't gonna happen."
The pitcher went on to say that he's never really had any hamstring issues in the past and that what he experienced Sunday was a foreign feeling. That makes sense, what with his infamous devotion to pilates and overall physical fitness. But that doesn't mean a whole lot when your body does something it's not supposed to, like when your cleat catches the mound during your delivery.
In a weird way, Arrieta's injury scare is an allegory for the season on the whole. It directly follows similar near-misses involving Kris Bryant (both ankle and finger) and Javy Baez (head/eye), but sort of mirrors the not-quite-right performance we've seen from the Cubs here and there. Though they've made up nine games in the standings in the second half, there always seem to be these little stumbles that have people worried they're going to fall over.
But then it turns out all the fears were unfounded and everything ends up working out. And with Willson Contreras "really close" to returning, things could be getting even better. There are obviously some other outstanding items in terms of health and overall performance and whatnot, so it's not all perfect. Is anything ever, though?
Javy's gonna keep being Javy
We can't talk about being good in the face of flaws without talking about Javy Baez. The do-everything infielder's engine is constantly at red-line level and you sometimes wonder whether that borderline recklessness will cost him. That was the fear when he slid headfirst into Ozzie Albies' knee and came up shaking his head, though he managed to avoid any serious injury.
Despite all the inherent dangers, the Cubs have no plans to tell Javy to slow down.
"I would never ask him to hold back at any time," Maddon said Monday. "He's wonderful. He's getting better on a daily basis. You can see how important he is to us right now."
It's perhaps important to differentiate between what Maddon's saying and the idea that they Cubs are being completely hands-off. After all, there's a point at which being aggressive is a detriment to both the player and the team. So it's more a matter of making sure El Mago channels that hyperactivity the right way.
"I'm just going to do what I do," Javy told the media. "Obviously, play hard. And if anything happens, there would be a reason for it."
That's all good, Javy, just please make sure that what you do no longer involves smashing your face into other players' knees. Thank you.
More news and notes
J.D. Martinez hit four home runs in a 13-0 win over the Dodgers in which LA had only three total hits, which is pretty crazy.
Clint Hurdle received a four-year extension to remain the Pirates manager.
Mark Melacon will require surgery to relieve chronic compartment syndrome in his right forearm pronator muscle, which sounds fun. My college girlfriend had similar surgery on both calves down near her ankles, though that was to play D-III field hockey and not to pitch at the MLB level.