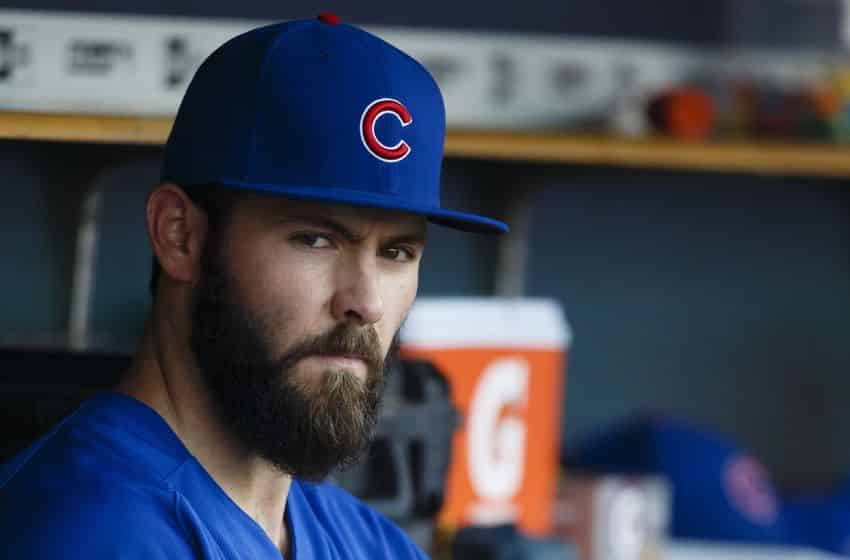 Cubs Injury Update: Arrieta Exits with Apparent Hamstring Issue
It was evident something was wrong as soon as Jake Arrieta let fly with a sinker that sailed about three feet high of the zone on his first pitch to Josh Bell in the 3rd inning. Sure, he'd been elevating everything and had been giving up very hard contact, but this was was obviously much worse. Trainer Ed Halbur came out to check on the pitcher, who looked to be favoring his right hamstring during a conference on the mound.
After a little conversation and brief kneeling of the muscle, Arrieta attempted a warmup pitch and unmediately stopped short as his face screwed up in obvious agony. You could see him pull up lame as soon as he began the push off of that right leg. Not good.
The hope right now is that it was a cramp or charlie horse, but the fear of something much worse is quite strong. We'll update with further information as it becomes available.
Update #1
Cubs trainers are working on the back of Arrieta's leg, what appears to be his hamstring. That would appear to be positive news, as it seems to indicate cramping issues. Because it can lead to increased bleeding, thus prolonging recovery, massage would not be performed in the acute stage of a hamstring tear or strain. But that's just my highly inexpert understanding.
More to come.
Update #2
Arrieta was walking around the visitors clubhouse without a limp after being examined by the Pirates team doctor. He will ice the leg tonight and it's possible that he'll get an MRI tomorrow, though the pitcher says he feels fine.
Joe Maddon referred to the issue as "kind of a cramp," which fits what we were thinking earlier. While all the signs all point toward this being a best-case scenario, it seems foolish to not get an MRI at this point.
Jake said he feels good right now but will re-evaluate in the morning and decide if MRI is needed. Said he feels like he'll make next start

— Sahadev Sharma (@sahadevsharma) September 4, 2017
Walked to his locker without limp, will ice leg tonight, was examined by Pirates doctor

— Mark Gonzales (@MDGonzales) September 4, 2017