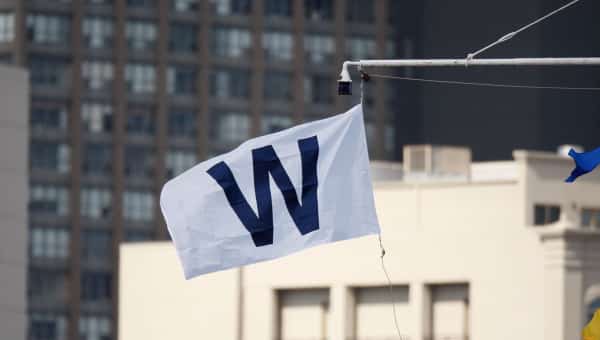 CI Recap (9/1/17) – Cubs 2, Braves 0: No Lack of Magic; Baez, Lackey Combine to Beat Braves
The Cubs continued their hot play with a shutout win over the light-hitting Atlanta Braves Friday. An excellent starting pitching performance and some more Javy Baez magic was more than enough for Chicago's fifth consecutive victory (box score).
Why The Cubs Won
John Lackey had one of his best starts of 2017, allowing the Braves almost nothing over seven shutout innings. Baez made a brilliant play on the bases to score the winning run and Anthony Rizzo created the insurance run the following inning.
Key Plays
Javy walked to open the bottom of the 3rd inning and advanced to second on a Lackey bunt. With two outs, Kyle Schwarber squibbed a ground ball toward Rio Ruiz at third base and beat the throw. Meanwhile, Javy never stopped running and beat Freddie Freeman's throw at the plate to score the Cubs' first run.
Anthony Rizzo led off the 4th with a double into the right field corner. Then Ian Happ slapped a single back up the middle to score Rizzo and give Chicago a 2-0 lead.
Stats That Matter
John Lackey was brilliant on Friday: 7 IP, 0 R, 3 H, 5 K, and 0 BB. Lack used the conditions to his advantage, getting a lot of outs in the air with the wind blowing in. In fact, all three hits he allowed were singles, no extra-base hits, which I can't remember him doing this season.
Anthony Rizzo went 2-for-3 with a double and a walk and is in the middle of one of his patented hot streaks.
Wade Davis got another save, his 28th straight to open his Cubs career. A walk to start the 9th caused some concern, but a quick double play from Freeman erased that worry.
Bottom Line
Another good starting pitching performance leads to a win, a formula that is working fine now after it was seemingly broken in the first half. Also, Javy Baez has a baseball IQ of 200. The man truly is a magician out there.
On Deck
The Cubs look for a series win against Atlanta Saturday at 1:20 CT. Jon Lester is back and kicks things off (get it, because college football is back) against Lucas Sims in a game that can be seen on CSN Chicago.