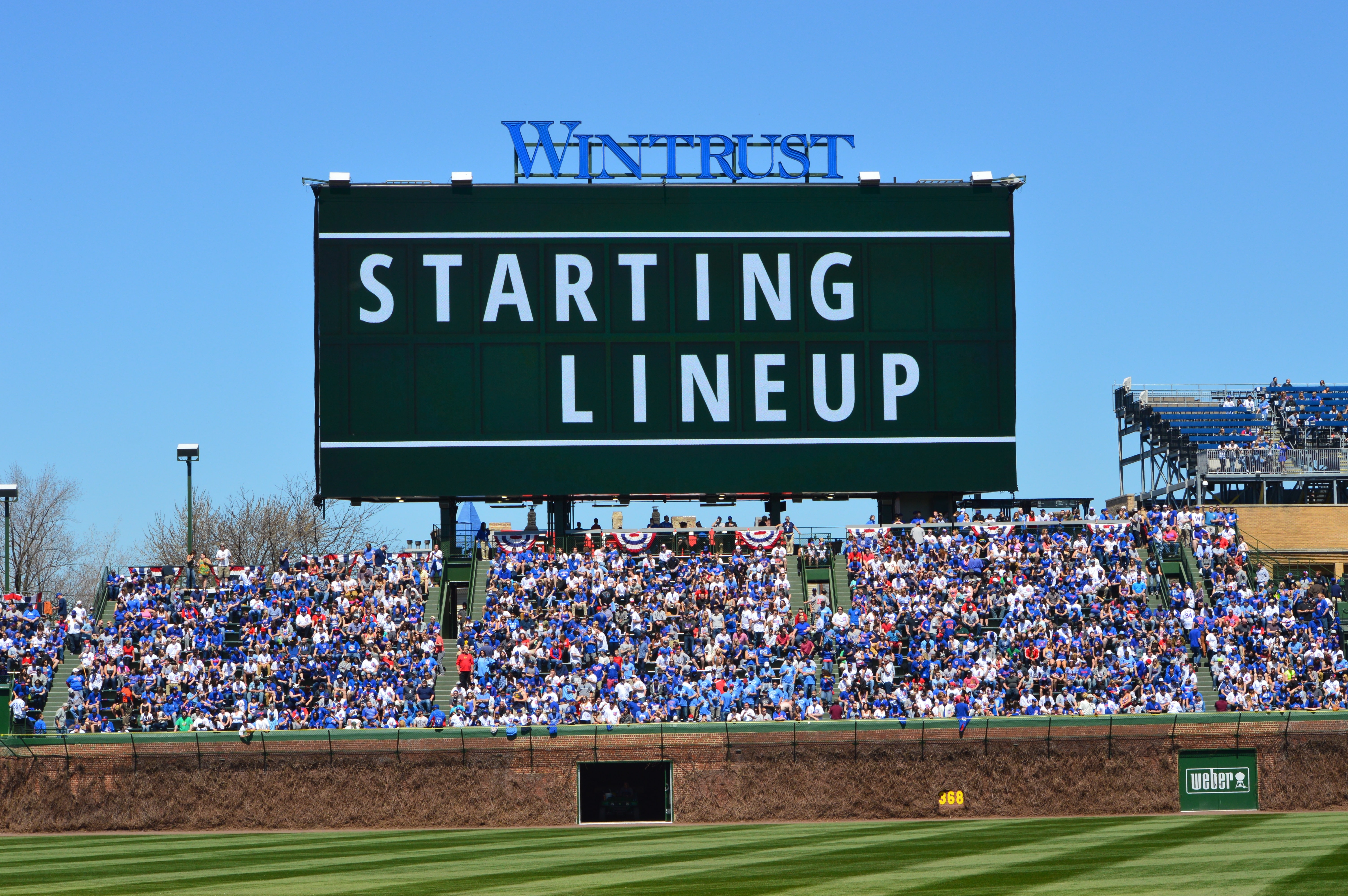 Chicago Cubs Lineup: Jay Leads Off, Zobrist Second, Happ in Right as Cubs Look to Nuke 'Em
After a spectacular display of baseballing yesterday, Jon Jay is back at the top of the order. Batting second will be the man I had affectionately referred to as Zombrist not that long ago. But with a .343 wOBA and 109 wRC+ in August, Ben Zobrist is once again a productive member of the lineup. Most of that has come from the left side of the plate, though, so we'll see what he can do as a righty hitter tonight.
Kris Bryant and Anthony Rizzo are next, ho hum, with Albert Almora Jr. batting fifth and playing center. Huh, that's kinda interesting. Known for hitting lefties well, Almora has actually fared better against right-handed pitchers at Wrigley. But he's been much better against lefties overall and hits better at Wrigley than on the road, so perhaps a confluence is in order.
Magic man Javy Baez moves up to sixth and Ian Happ, who just became the fastest Cubs player ever to reach 20 home runs, will bad seventh. Rene Rivera rounds out the order, though it might not only be due to the pitching matchup. While that's certainly part of it, Rivera has quickly established a chemistry with his pitchers and drew rave reviews from Kyle Hendricks after they worked together against the Blue Jays.
Hendricks has slowly been dialing up the velocity since returning from the DL last month, averaging over 86 mph on his fastball in his last two starts. The curve and change have likewise been more firm and his strikeout numbers have gone up in accordance. Control had been a concern for a bit there, but Hendricks walked none in a win against the Phillies his last time out.
He'll have a little leeway in facing a Braves team that ranks in the bottom third of MLB in ISO (.151, 26th) and walk rate (7.6 percent, 22nd) over the last month. And they have struggled against right-handed pitchers this season, posting a .313 wOBA and 89 wRC+ that both rank 23rd in MLB. If there's one potential issue, it's that Atlanta doesn't strike out often, sitting atop the NL with a 19.1 percent K-rate that has dropped to 16.9 percent over the last month.
Rookie southpaw Sean Newcomb (no relation to Duke) is a fastball/curve guy, using that combo for roughly 85 percent of his pitches. A slider and change have accounted for the remainder, though it appears he's abandoned the slider entirely over his last four starts. That is directly correlated to an increase in the changeup, which has actually been Newcomb's worst pitch this season.
I'm admittedly scouting the stat line here, but the slider had been Newcomb's best offering in terms of both overall and per-100-pitch value when he used it. He must have lost the feel for it in a start against the Dodgers in which he walked seven men, though he only threw the breaking pitch four times. Whatever the reason for discarding it, Newcomb has a less varied repertoire as a result.
His fastball touches the mid-90's but sits around 93 and tends to ride a little. He'll work outside to both righties and lefties, though leaving the four-seamer up in the zone has resulted in a .915 OPS against it. The curve works in the upper-70's and has 11-5 break that brings it down and in to righties.
Newcomb's mid-80's change can be a real weapon, as it usually stays over the heart of the plate and tumbles straight down. As such, it generates the most swings and swinging strikes of any of his pitches. And despite hitting the zone less than his other pitches, the change has been responsible for only one ball four this season. A lot of that is a product of sequencing and confidence — he rarely uses it deep in counts — but if's worth noting.
The curveball serves as Newcomb's de facto out pitch, so look for that in two-strike counts. Also look for the Cubs to be patient against a guy who has issued 5.33 BB/9 in 14 starts and who has run into trouble with high pitch counts. After going at least 6 innings in each of his first four stars, the rookie has only gone that deep thrice in his last 10 outings.
When they last faced Newcomb in Atlanta on July 18, the Cubs jumped all over him with a pair of home runs in the 3rd inning, one of which came from El Mago. Riding high from a sweep of the Pirates that saw them bang the ball all over the yard, they should be looking to do more of the same tonight.
First pitch from Wrigley is at 7:05 CT and can be seen on CSN Chicago.
Here is tonight's #Cubs lineup as we open a four-game set with the #Braves.

Game preview: https://t.co/9Xcjju0oqJ pic.twitter.com/UyEQgVPK5u

— Chicago Cubs (@Cubs) August 31, 2017