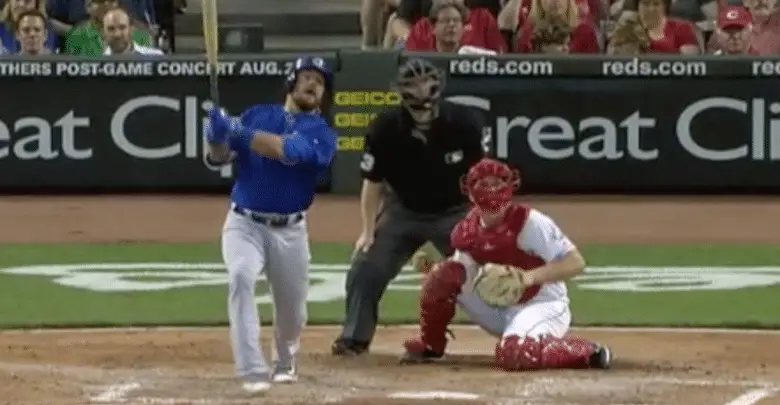 The Rundown: Underachievers Getting Hot, Montgomery Burns Worms, Rosenthal Finds a Home
Does anyone else get the sense that things are finally starting to break the Cubs' way here? I mean, yeah, it's just the Blue Jays and Reds, but there's a whole different vibe about this team right now. And that's in the midst of seeing three of their best offensive players and one of their best pitchers go down with injuries in the past two weeks.
Winning has a way of making things feel better, so there's that. Then you've got Addison Russell and Willson Contreras taking BP and working on some pretty strenuous running drills in the outfield, Jon Lester playing catch and getting ready for a bullpen session, and Kris Bryant coming away from an HBP with just a contusion.
What's really been fueling the good feels lately, though, is the play of some guys whose production had either been severely lacking or from whom very little was expected. Namely, Kyle Schwarber, Jason Heyward, and Tommy La Stella.
Let's start with Schwarber, who smacked an oppo taco last night and who has looked infinitely better since returning from AAA. But, Evan, he's only batting .202. Yeah, and he was at .171 before he went down. Over his last 132 plate appearances, the bearded fire hydrant is schlasching .261/.356/.557 with a .382 wOBA and 135 wRC+, all of which is quite solid.
Though he's down slightly in the slugging and overall categories here in August, it's only nominally so. And that's also taking into account the mini-skid in which he struck out in eight straight at-bats. He bounced back nicely from that, in part due to being more aggressive. As I had noted last week, Schwarber is at his best when he's jumping on pitches early in the count.
Like, I'm talking about hitting .392 with a 1.482 OPS (stats as of last week) when he swings at one of the first two pitches he sees. Things get significantly worse as Schwarber gets deeper into counts, as you can probably assume from the disparity between the numbers above and those on the back of his baseball card. In the time since I ran those stats, Schwarber is 1-for-12 with a walk when he sees three or more pitches and he's 2-for-5 with a homer when he puts the first or second pitch in play.
That's too arbitrary to be indicative of anything at this point, but we're seeing further evidence of the big guy finally getting his approach right. The strikeout rate is coming down and he definitely looks like a more confident hitter up there.
Same goes for Heyward, who is hitting .357 (10-for-28) with a .455 OPB (15-for-33) over his last eight games. Again, this is far too arbitrary a sample from which to determine anything significant, but his hits over the last couple days haven't exactly been duck snorts. At the same time, you'd like him to elevate a little more and show some actual power.
His last 13 hits have been singles, which gives him an ISO of .000 over his last 50 PA's, though he's driven in runs with them in the last couple of days. And when you're getting the kind of defense Heyward provides out in right, all you really need is singles. While his overall offensive production has left a lot to be desired, Heyward's perception is hampered by the size of both his contract and his body. A dude that big being paid that much — and playing in a corner outfield spot, no less — should be mashing 35 homers, people reason.
I get that, I really do, but if Heyward can just be a mediocre offensive player he'll be perfectly fine in the bottom half of the order.
Now to La Stella, who falls into this category not because he had been underperforming, but because no one really expects much of him. He's been shuttled back and forth between Iowa and Chicago as a result of the roster crunch and has served primarily as a pinch hitter or injury replacement. Despite the inconsistent playing time, TLS has posted a .295/.406/.500 slash with a 14.4 percent walk rate and 10.3 percent strikeout rate.
Had he enough innings to qualify, his .386 wOBA would rank second among all second baseman (Jose Altuve – .415). La Stella normally plays third, though, where he'd rank eighth in wOBA and seventh with a wRC+ of 137. Such comparisons are imperfect, of course, as La Stella hasn't racked up nearly the number of plate appearances as the others on the list. But he's come up big when the Cubs need it most, specifically in the absence of Kris Bryant.
Though La Stella has only three (AM) home runs on the season, the last two have come when spelling the injured MVP. The most recent came Wednesday night, when he blasted a ball to deep right to boost the Cubs' lead. Prior to that, he hammered a homer in Atlanta after taking over when Bryant left with an injury suffered while sliding into third.
Who was the starting pitcher in both of those games?
Monty stays on the ground
What did you think of first when you read the portion of the title that corresponds to this segment: the Simpsons antagonist opening a bait shop or a mean kid using a magnifying glass to torture poor, soft-bodied invertebrates?
I think of the Cubs' spot-starter, Mike Montgomery, a guy who was called upon to pitch for Jon Lester in sort of a second interview for a starting role next season. I've been skeptical of Montgomery's ability to perform consistently as a starter, but he was excellent last night in shutting down a Reds offense that is more than capable of putting up some runs.
"That's what [Montgomery] should be," Joe Maddon said after Wednesday's win. "He should be a ground-ball machine, walk fewer hitters, utilize all of his pitches. And when he does that in a simple manner, he's gonna be very good."
To Maddon's point, 12 of the 18 outs Montgomery recorded came via the ground ball. He got two groundouts in each of the six innings he pitched and had an overall ground-ball rate of 82.4 percent, which is just absurd. That's an unsustainably high number in terms of season-long production, but Monty's 59.9 percent overall mark ranks fifth among all pitchers (min. 100 IP).
In addition to keeping the ball on the ground, Montgomery is at his best when he works over the plate. Which is to say he needs to do a better job of limiting walks. Chalking up 4.05 BB/9 isn't really going to cut it, and 4.82 BB/9 as a reliever is not what you want to see.
But if Montgomery can pitch like he did last night, he'll be fine no matter what role he plays.
More news and notes
After turning to Facebook following FOX Sports' pivot to video, Ken Rosenthal announced yesterday that he's joining The Athletic to share his written content. This is great stuff for a venture that began in Chicago and has since spread to Toronto, Detroit, the Bay Area, and Philly to provide strong local coverage of the teams in those cities. But the outfit has since gone national, hiring some really big names to cover college sports. And now they've got Rosenthal, which is awesome. An annual subscription is only around a cup of coffee a month and gives you access to ALL of the content across all the different cities (and that includes my Everyplayer reviews on The Athletic's app).
In other Rosenthal news, Cardinals closer Trevor will undergo Tommy John surgery to repair a torn elbow ligament.