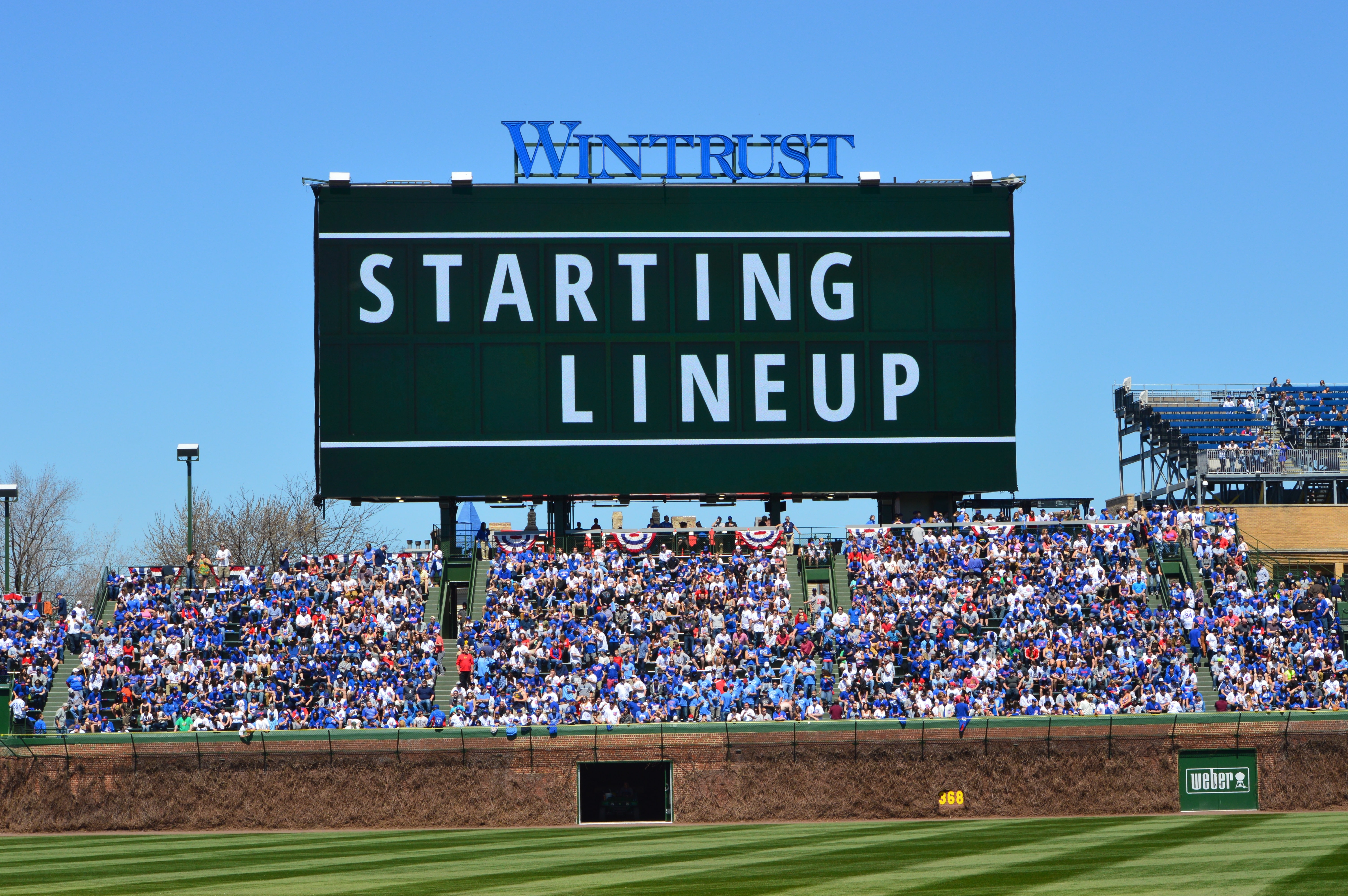 Chicago Cubs Lineup: Jay Leads Off, Schwarber Second, Zobrist Fifth in Battle of Opening-Day Starters
Jon Jay will be the leadoff hitter du jour — mmm, that sounds good, I'll have that — as he makes yet another start in center. The former Cardinal has continued to produce and has firmly established himself as a regular; this is his ninth start in center and his 11th time to lead the order this month.
Kyle Schwarber bats second for the second day in a row as he he attempts to replicate the much-improved approach we've seen since he struck out in eight straight at-bats. Kris Bryant and Anthony Rizzo slot in after that, which I really like. After a day in the top spot, Ben Zobrist slides back to fifth and gives Jason Heyward a break in right.
Alex Avila is catching, Ian Happ plays second — where he's been getting a majority of his starts these days — and Javy Baez is at short and holding down the eighth spot. Having Javy and Happer next to each other in the field and the order could be hella fun.
Jon Lester takes the bump hoping to improve upon a recent spate of incredibly meh starts. Though he hasn't allowed a homer in his last three outings, he's not getting many grounders and has gotten virtually zero soft contact. As we've seen all too well recently, these Reds can pound it a little and there's not a lot of room for error against them.
The key for Lester, which I suppose is pretty obvious, will be limiting the walks. You know Billy Hamilton is itching to get on base and start running, but it's imperative to keep the bases clean when the middle of the order is up. Might be a good day for the offense to jump out early again.
The fact that Scott Feldman was the Reds' Opening-Day starter tells you pretty much all you need to know about Cincy's pitching staff. And the fact that Feldman shut the Cubs out over 7 innings of two-hit ball on June 30 after allowing 7 runs over 2.2 innings on May 17 tells you pretty much all you need to know about the Cubs offense. Now it's just a matter of seeing which versions of the parties in question show up.
Despite pitching in that band box on the Ohio River, Feldman has actually been a much better pitcher at home this season. Even more surprisingly, he's been far better against lefties at GABC. But there ain't no Power Stacks in the distance this time and the Cubs will look to maintain that .333/.404/.515 slash line the big righty has surrendered to lefties on the road.
Employing a sinker/cutter/curve combo, Feldman generally tries to work both sides of the plate with the fastball variations while he buries the slow curve down and away to righties. He's done of good job of keeping the cutter away to righties, but has left it over the plate far too often to lefties. Likewise, the sinker is a decidedly mediocre offering that tends to stay up in the zone.
Feldman isn't going to miss many bats, though his 8.3 percent swinging-strike rate this season is the highest of his career. He's also walking more men (2.93 BB/9) than he has since 2008 despite working in the zone more than he has in recent years. And those aren't the only high-water marks he's posted, as the Hawaiian-born hurler is allowing more hard-hit balls and line drives than at any point since his rookie season.
Let's see: mediocre stuff, lots of hard-hit line drives, really bad against lefties on the road. I like the way this bodes for the Cubs.
First pitch of the series finale is 1:20 CT on CSN Chicago.
Here is today's #Cubs lineup for the finale vs. the #Reds.

Game preview: https://t.co/66LPbqCjUW pic.twitter.com/y8hXVW6EF2

— Chicago Cubs (@Cubs) August 17, 2017