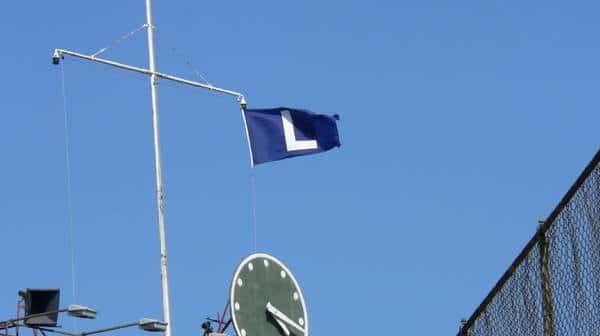 CI Recap (8/4/17) – Nationals 4, Cubs 2: Daniel Murphy Plays at Wrigley Field
Kyle Hendricks had a bumpy start today and the Cubs were never able to recover. In the 1st inning he hung a curveball to Daniel Murphy, who deposited it into the right field bleachers. Howie Kendrick, who'd singled earlier, was along for the ride and the Nationals were up 2-0.
Hendricks settled in after that, right up until Daniel Murphy hit another home run in the top of the 6th inning.
Other than the two homers, Hendricks was pretty good. In seven innings, he allowed only five hits and two walks while striking out five. His velocity — something to watch for going forward — got better as the game went on, touching 87 mph a few times. Now that the coaching staff has a three-start sample after his return from the DL, they may tweak some mechanics hoping to bring that velocity back to 89-90 mph.
Down 3-0 in the bottom of the 7th, Kyle Schwarber led off with a double into the right field gap. After a Jason Heyward fly-out, Javier Baez stepped to the plate and crushed a 443-foot home run to end Tanner Roark's day. The Cubs had cut the Nationals lead to one run.
Carl Edwards Jr. came on to pitch the 8th and walked the leadoff batter, a pattern that has become all too familiar. His BB/9 over the previous 14 appearances were a rather large 10.80 (per Evan Altman), so some lower-leverage situations may be in his near future. Returning to game action, Edwards loaded the bases but got a sac fly and a double play to limit the damage to one run, 4-2 Nationals. The bottom of the 8th provided the Cubs nothing.
The 9th was quick on both ends. Koji Uehara struck out two and got a one-pitch ground-out to end the top half. The bottom started with a leadoff single from Jason Heyward. Baez struck out on three fastballs before Ian Happ grounded into a double play to end the game. Cubs lost 4-2.
The Bottom Line
A Baez homer was the only offense for the Cubs as they dropped their third straight game.
Stats that Matter
Hendricks was 83-85 early but topped out at 87. More importantly, his curve was 71-72 but looked very sharp and he looked to be commanding it well.
On deck
Edwin Jackson, yes that Edwin Jackson, takes the bump for the Nationals as he faces Jon Lester for the Cubs.