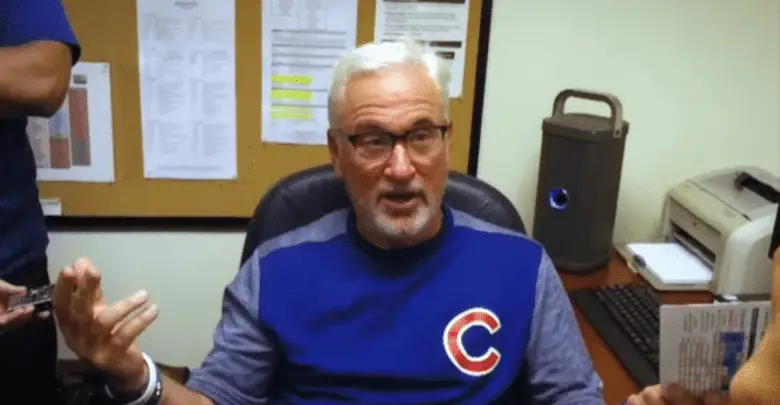 The Rundown: Thin Skin Don't Win, Arrieta's Old/New Spin, Potential Breakout Prospect
There's an adage among basketball players — some of them, anyway — of which I grew particularly fond in my younger days. In fact, it has essentially become the pattern for my writing here at CI, which is sometimes born more of compulsion than desire.
"If you're on, shoot. If you're off, shoot till you're on."
The pithy saying applies just as well when we substitute "write" as the verb. And one could even put "hit" in there, since baseball players need to work through slumps in live action.
Thing is, ain't nobody got time for that on this Cubs team. Some guys might get more slack than others, sure, but the roster dictates that if you're not hitting, someone on the bench is going to be able to. And that means grabbing some pine if you're slumping or if the matchup isn't favorable to you. Which also means being humble enough to understand the deal.
"This is no time to be thin-skinned," the manager said sternly on Wednesday. "You cannot be thin-skinned and win. You cannot."
Maddon had previously spoken about keeping Kyle Schwarber out of the lineup against tough lefties. Same for Jason Heyward. And he's been giving Jon Jay a significant amount of playing time as Ian Happ has struggled. So while the lineup has solidified a good deal here in the second half, there will still be plenty of movement in terms of those spots in the middle infield, center, and left.
"You may see us doing things a little differently now," Maddon explained. "You may see us use different patterns of players based on that thought. Winning teams get it. Guys who win as groups get it. Those that get it get it. They will not be concerned about that they got hit for or sitting out a game. None of all that crazy talk; that can only cause you a loss."
Not that this is anything new, particularly when it comes to the three-headed monster in center. Albert Almora Jr. came into the season as the heir apparent to Dexter Fowler, but his struggles against right-handed pitching and the resurgence of Jay at the plate reduced Almora's role. Ian Happ's arrival further usurped that playing time. But in an interesting twist, Almora's handling of the situation has provided a positive example for the rest of the team.
"Hey, this is a team game, so I don't think [Happ playing center] is a humbling experience for me," Almora told 670 The Score's Spiegel and Parkins Show back in May. "No, this is not about me. This is about the Chicago Cubs and we want the best nine out there every day to contribute for a win, and whatever Skip puts out there, then that's what we gotta go with.
"But whatever my job is that day, if it's to come off the bench and try to contribute off the bench, so be it. This is not about me, this is about the team, and I'm just happy to be part of such a great organization."
Almora has actually been getting a little more time lately as Maddon rides hot hands and benches cold ones, primarily dictated by the opposing pitcher for that day. And it seems to be working pretty well when you look at how the Cubs have been playing. It's no surprise that the guys look like they're having more fun despite being forced into reduced roles.
Arrieta's pitch mix
As Brendan Miller examined, Jake Arrieta has been going really slider-heavy here in the second half. But Brendan also noted that Arrieta was getting back to using more secondary pitches last night and that he generated more whiffs as a result.
It's been really interesting to watch as Arrieta has evolved since coming to Chicago, but his changes haven't always been for the better. His mechanics have been anything but consistent, which has led to maddening changes in performance from start to start and even inning to inning. However, Arrieta does seem to have settled back into a nice groove over the last month or so. He's not over-throwing and trying to force pitches that just aren't there.
The Cubs took a loss last night, but that had nothing to do with their starting pitcher. If Arrieta can keep pitching like that, he'll help both the Cubs and his bank account.
Kevonte Mitchell could be something
When they were first starting to rebuild the organization, the Cubs couldn't afford to draft a bunch of projects. They needed polished bats that could matriculate through the system quickly and make an impact at the major-league level in short order. Now, however, the rapid development of those prospects has afforded the organization more time to allow higher-risk players to hone their skills.
One such player is Kevonte Mitchell, a super-athletic outfielder who took three years to make it out of Mesa and Eugene and who is now putting things together at South Bend. Despite not rocketing through the lowest levels of the system, Mitchell is still younger than the average Midwest League player. Drafted out of high school in 2014, he won't turn 22 for another couple weeks.
In the wake of the Cubs' depletion of he farm system to bolster the 25-man roster for a playoff run, a lot of the big prospects people had gotten to know are gone. That means getting familiar with a new group, one that is much stronger than the widely available rankings might tell you. Scouting scores and ranks are great, but buy into them at your own peril.
More news and notes
Jose Bautista and Justin Verlander have been placed on waivers
Ryan Davis is back with Cubs Insider after getting really big-time
I went to bed before 1am for the first time in at least a week, so I didn't have time for much more here