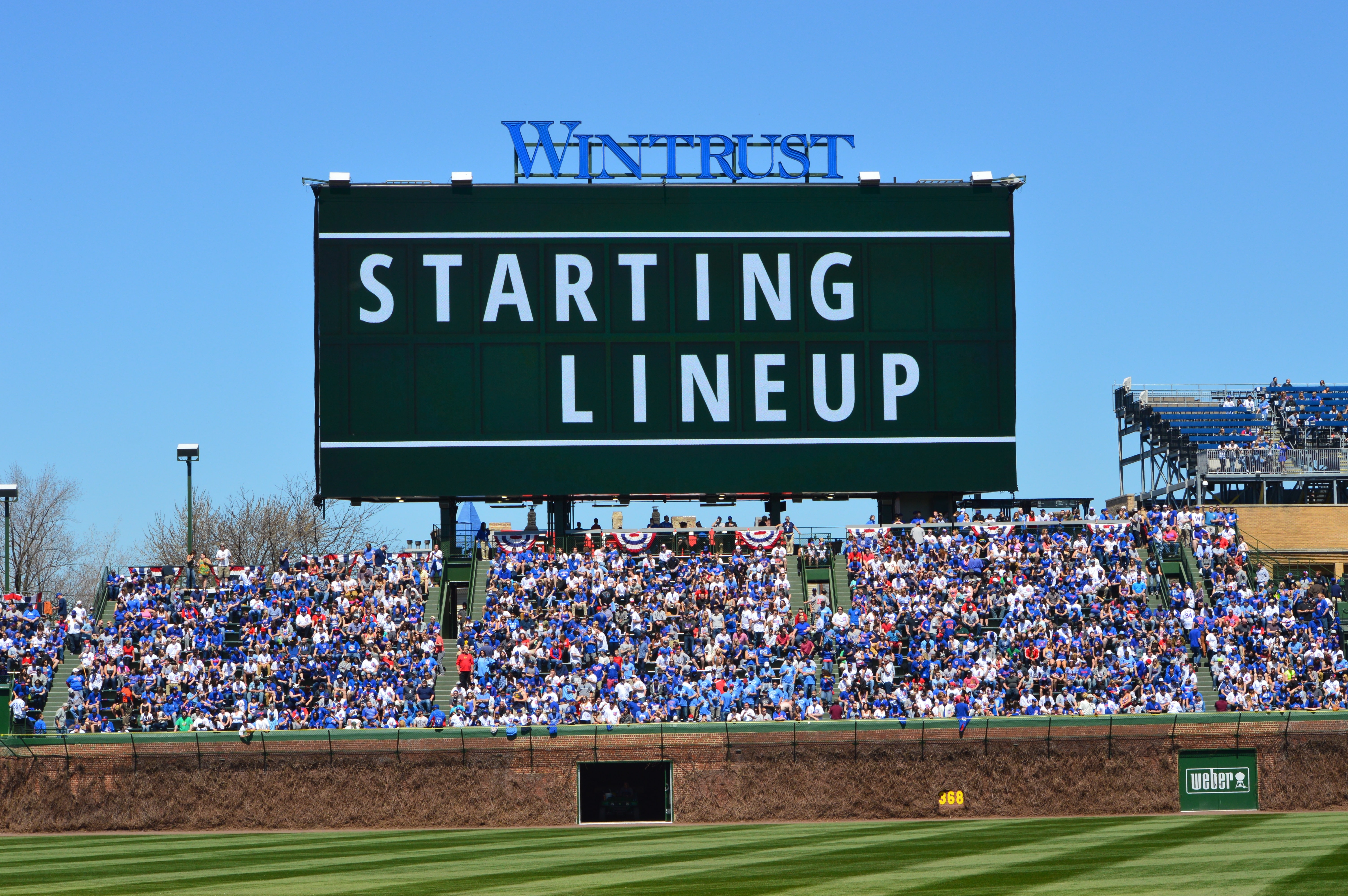 Chicago Cubs Lineup: Zobrist Leads Off, Schwarber DH as Cubs Look for Short Sweep
Jon Lester will be on the bump looking for his third straight excellent start out of the break. In his first two against the Braves and Cardinals, the lefty has gone a combined 15 innings and has surrendered only 3 earned runs on 6 hits and a single walk. Oh, he's struck out 16 in that time. And now he's pitching with his team in sole possession of first place in the NL Central against a team that doesn't feature many threats.
Leading off for the Cubs is Ben Zobrist, followed by Kris Bryant, Anthony Rizzo and Willson Contreras batting cleanup. Kyle Schwarber bats fifth as the DH. After leading off several times since the break, Jason Heyward slots in at sixth, followed Jon Jay in center and Addison Russell at short.
Albert Almora is getting a rare start against a righty tonight as Ian Happ sits to collect himself a bit. Happ has had some hot and cold stretches in his young career and he's in the middle of skid right now, batting .136/.240/.136 over his last 25 plate appearances. The three hits he's collected in that stretch have all been singles. In a similar sample (24 PAs), Almora has a .409/.375/.591 line.
Pitching for his third AL Central team in the last five seasons, 33-year-old Mike Pelfrey is not having a banner campaign. His 4.46 ERA is actually better than his career average, but his 5.33 FIP is nearly a full run higher than what he's posted over parts of 11 previous MLB seasons. His batted-ball numbers aren't indicative of overly poor performance, but Pelfrey has really struggled when it comes to balls and strikes.
Namely, he misses the zone without being able to miss bats. While the 6-foot-7 might be physically imposing on the mound, his 5.95 K/9 mark is anything but. And get this, that's almost a full strikeout higher than his career average. Couple it with 4.46 BB/9 and you've got a guy with the lowest K/BB ratio (1.33) of any pitcher (min. 70 IP) not named Andrew Cashner (1.15).
As you might imagine, that lack of control leads to high pitch counts early in games, thus producing short outings. Sure enough, Pelfrey has gone as many as 5 innings only eight times in 16 starts and has only gone 6 innings twice (both wins).
Primarily a sinker-baller, Pelfrey also works with a splitter, curve, and slider. As you probably deduced from the strikeout numbers, he doesn't generate many whiffs with any of those pitches, though he does get a lot of grounders. Though his anemic 6.5 percent swinging strike rate is one of the five lowest in baseball, his 49.6 percent ground-ball rate is among the top quarter of pitchers with at least 70 IP. What's more, his 23.3 percent soft contact rate is of the 11 highest in the game.
Only six pitchers miss the zone more than Pelfrey, so Cubs hitters are going to have to be patient. He'll work primarily down and away to both hitters from both sides of the plate with breaking and offspeed stuff, but he's got a tendency to leave the sinker up and in the zone.
He can work the curve to either side of the plate, pounding it low and away to righties and working the outside edge of the zone to lefties.The splitter, of course, is going to come in low all day, which might be really good for a guy like Ian Happ who feasts on such a location. The slider isn't exceptional, but we've seen how Javy Baez has been powerless against those pitches of late, which is part of why he's not in there today.
The key will be to jump on mistakes early and keep Pelfrey from getting any kind of rhythm. Hitters have only a .389 OPS against the slider and a .368 against his curve, but an .846 against the sinker. If the trend holds, the starter will quickly give way to a bullpen that is now without both Anthony Swarzak and Dan Jennings after trades shipped them elsewhere.
First pitch comes at 8:10 CT on both CSN Chicago (Cubs) and WGN (Sox). Because everyone reading this is probably a Cubs fan, you might think it's weird that I'm suggesting to seek out the home feed, but you really should. Especially if things are going well for the Cubs, Hawk Harrelson is sure to provide some solid entertainment.
Here is tonight's #Cubs starting lineup.

Game preview: https://t.co/sBG1p6HYi4 pic.twitter.com/ah6aBaGPDe

— Chicago Cubs (@Cubs) July 27, 2017