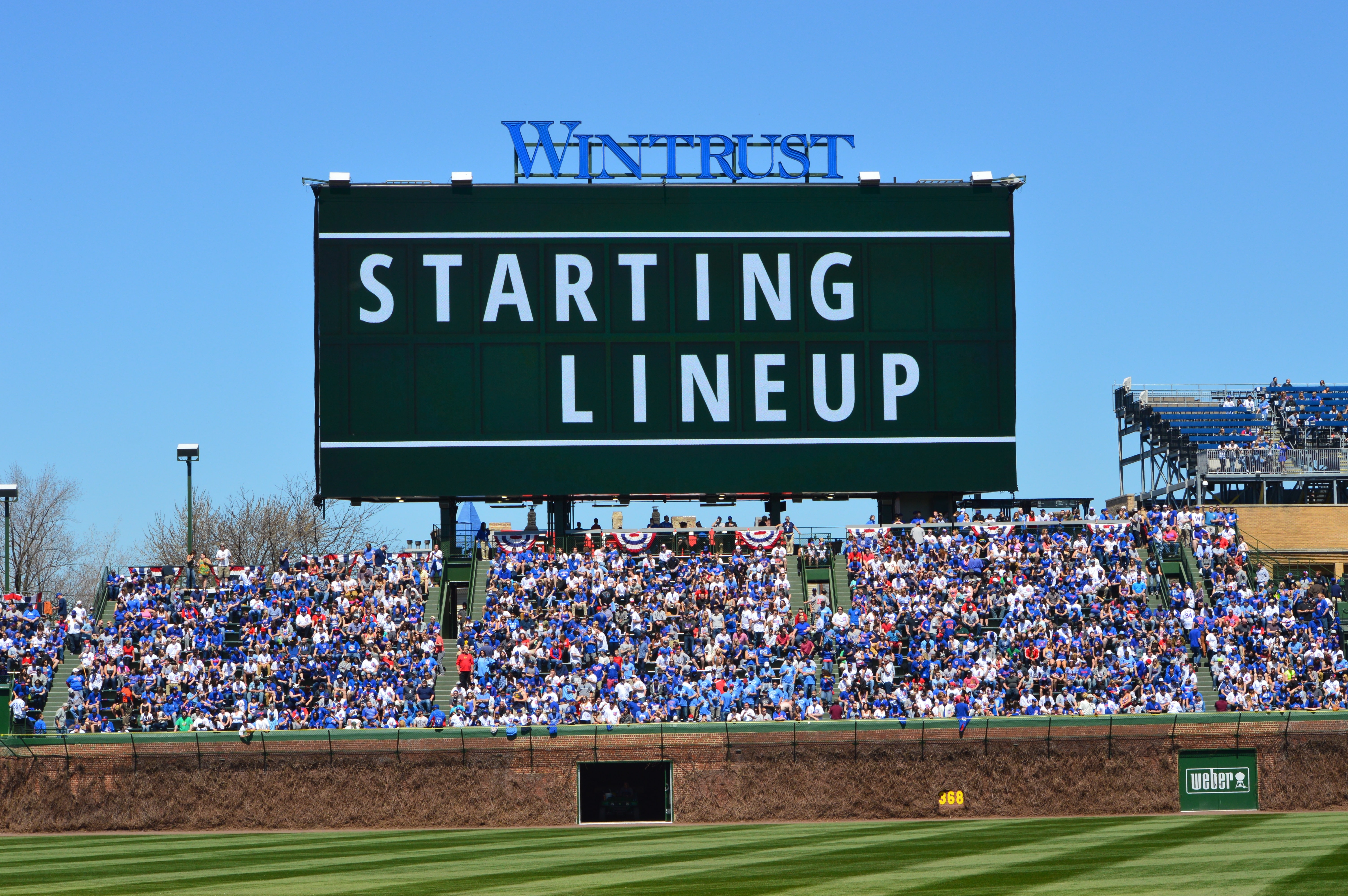 Chicago Cubs Lineup: Bryant Returns as Cubs Try to Bounce Back Against Wainwright
For the second time this season, an awkward play by Kris Bryant at third base had all of Cubdom holding its breath. But just like the first time, when he stepped on bag while fielding a pop-up, the sprained finger he suffered on a headfirst slide hardly affected the MVP's playing time.
There's been a lot of chatter online lately about Bryant's diminished results, which is really kind of odd. Maybe he can bang a couple off the scoreboard today to put a stop to all that. He's back in his familiar spot in the order, pushing the rejuvenated Ben Zobrist back to leadoff.
Anthony Rizzo, Willson Contreras, and Kyle Schwarber follow, with Addison Russell moving up to sixth as Ian Happ sits. Jason Heyward will be in right and batting seventh, with Jon Jay handling the duties in center. Only three Cubs (Contreras, Heyward, Rizzo) have homered against Adam Wainwright and none have really gotten over on him in a big way.
Russell is 6-for-12, though, and he's been putting up some really nice swings since the break. Bryant is only 2-for-11 against Waino, which tells me a breakout is just around the corner.
After giving up 16 runs (9 earned) over 5.2 innings in his last two games prior to the break, Jon Lester came back with a gem to open the series in Atlanta. He's had mixed results against the Cardinals this season, holding them to a single run on opening night and then walking four and allowing as many runs in a May 13 loss. Lester was also the starter on June 3 — that's when Kyle Schwarber's grand slam saved the day — allowing three runs on six hits and three walks.
The big lefty has yet to really settle into a groove this season, but the Cardinals offer an opportunity for him to do so. St. Louis has only a .718 OPS (18th in MLB) and .310 wOBA (19th) against left-handers this season, so it's a matter of Lester pitching his game and not giving his opponent any help.
Longtime Cubs nemesis Wainwright will be on the mound this afternoon facing his division rivals for the third time this season. Though the 35-year-old isn't nearly the force he once was, you'd never know it by looking at his previous two performances against Chicago. Waino has allowed only two runs on seven hits across 12 innings thus far, all of which came in St. Louis.
His scoreless outing on May 14 kicked off a stretch in which he allowed only one run across four starts (26.1 IP). Take those games out, however, and his 5.08 ERA jumps to around 6.60. But Wainwright's FIP in those ~76 IP is about two runs lower, not far off from the 4.05 he's posted on the season. Which is to say that he's not as bad as the numbers might seem to indicate. Then again, he's not as good as an 11-5 record tells those folks who think pitcher wins matter.
Wainwright has long been consistent when it comes to his platoon splits and that's certainly the case this season. Lefties have an aggregate OPS of .818, 36 points higher than their right-handed counterparts, though nearly all of that comes from a gap in slugging percentage. While it's possible to jump on the massive righty early, the Cubs' best bet will be to wait him out and wear him down. Wainwright really struggles the third time through the lineup and has a tendency to leave pitches out over the plate.
First pitch is set for 3:05 CT and will be carried by CSN Chicago and FS1.
Here is today's #Cubs lineup.

Game preview: https://t.co/Q2YXmA83us pic.twitter.com/JIjNJ8CSwW

— Chicago Cubs (@Cubs) July 22, 2017