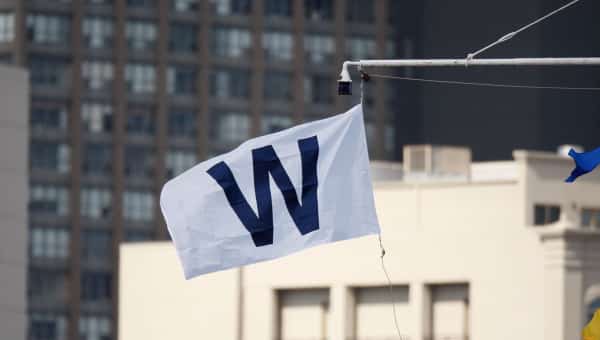 CI Recap (7/18/17) – Cubs 5, Braves 1 : No Raining on Cubs Parade, Lackey Brings Home Win
The Cubs came into tonight's game against the Braves seeking their fifth straight win. But not before a lengthy rain delay lasting two and a half hours.
The only Braves run came in the bottom of the 2nd inning when Nick Markakis hit his fifth home run of the year.
In the very next inning, the Cubs came roaring back with four runs of their own. The first came from a leadoff solo-shot by Javier Baez that sailed 425 feet, his 11th long ball of the season. Then, with two outs and two men on, Willson Contreras hit a line drive over the center field wall for a three-run homer. The Cubs never looked back.
In the top of the 6th inning the Cubs had a chance to do a lot more damage with the bases loaded and no outs. They could only salvage one run on an RBI groundout by Ben Zobrist.
The Braves tried putting together a rally in the bottom of the 8th against Carl Edwards Jr., but walked away empty handed leaving two men stranded.
Hector Rondon came in to shut the door for the Cubs in the 9th inning. He gave up a one-out single but no damage was done, and he closed the books on game two.
Stats that matter
John Lackey pitched five strong innings tonight, giving up only one run over five innings in his first start since returning from the disabled list.
Willson Contreras, everyone's favorite clean-up hitting stud, launched his fifth home run in 13 starts in the four-hole. He seems to be very comfortable right where he's at.
The Cubs bullpen really held it down for John Lackey, giving up only two hits in four innings of work. The final six outs the bullpen got were all strikeouts.
Bottom line
The Cubs really seem to be hitting the groove that we all hoped they would in the second half. Or the first half, for that matter. They've won all five of their games since the All-Star break, with one game to go on this six-game road trip. If they play like this consistently, the Brewers better watch their backs. The Cubs have already gained three games over the Brew Crew over the past three days.
On deck
Mike Montgomery makes his 8th start of the season against knuckleballer R.A. Dickey on Wednesday. It'll be an early day game, 11:10 a.m. CT on CSN and MLB Network (out-of-market).