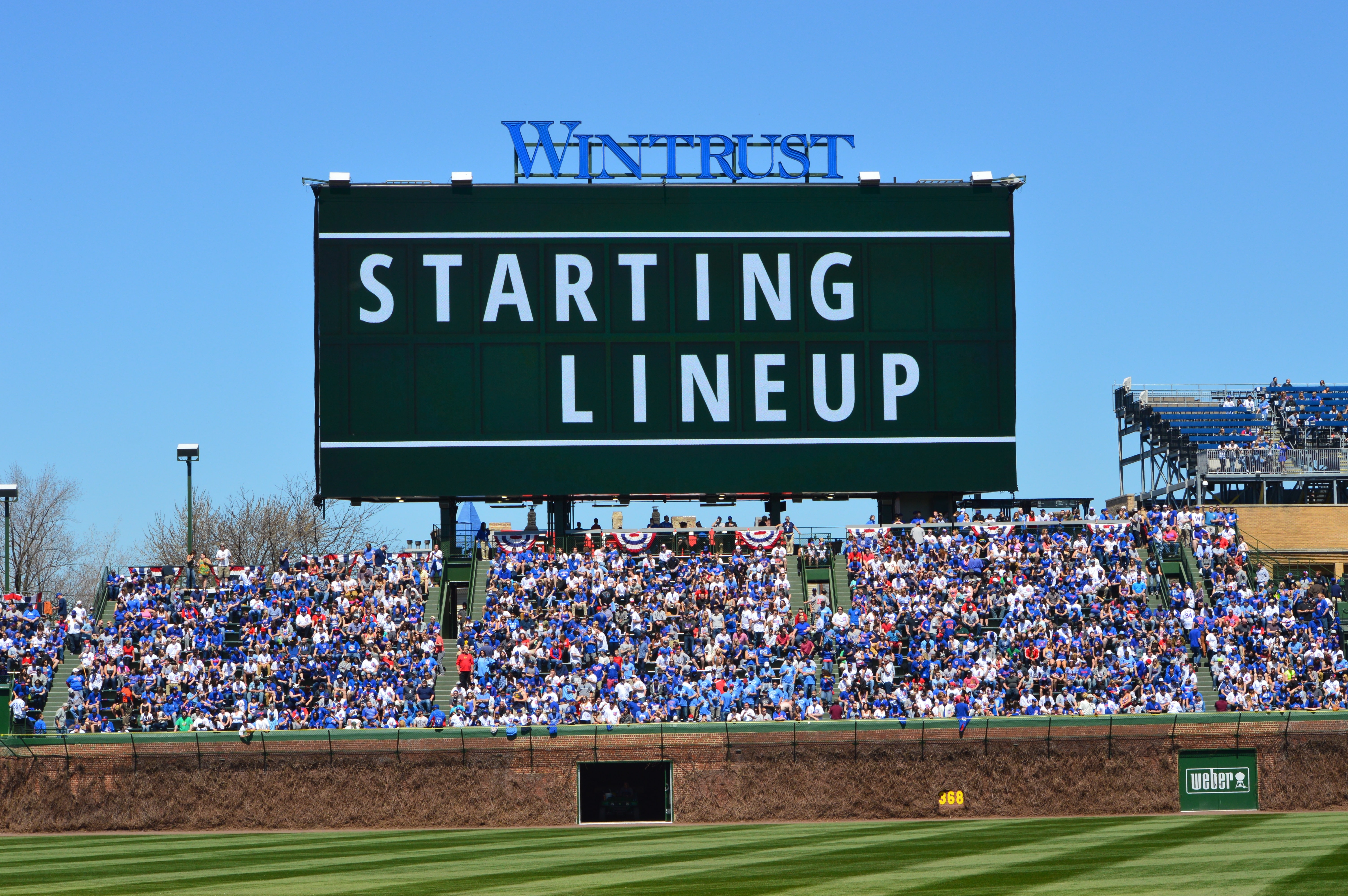 Chicago Cubs Lineup: Zobrist Leads Off, Schwarber DH as Cubs Look to Start Second Half Strong
We're indeed starting to see what Joe Maddon was talking about when he promised more consistent lineups in the second half. Ben Zobrist leads off in left, with Kris Bryant and Anthony Rizzo following him up. The one change might be Willson Contreras at cleanup and Ian Happ in the six spot, but we won't worry too much about that.
Kyle Schwarber remains in the five-hole as the DH, hence Zo in left, with Jason Heyward, Javy Baez, and Addison Russell bringing up the bottom third. It's a pretty balanced lineup against a guy who is giving up some really robust splits to hitters on both sides of the plate, so look for the Cubs to attack early and often.
Mike Montgomery opens the second half with an eye toward improving upon his last few outings heading into the break. He may even be pitching for his spot in the rotation once Kyle Hendricks returns from the DL next weekend (presumably). The Orioles, a team that doesn't tend to put up runs in bunches, offer a nice start for the lefty.
The O's are batting .253/.307/.409 against lefties and their .717 OPS ranks 17th in baseball, while their 87 wRC+ is 20th. They strike out at a 25.2 percent clip (seventh highest) and walk only 7.1 percent of the time (28th in MLB), so Monty really just needs to pitch his game.
Opposing the Cubs Friday evening will be Kevin Gausman, a name who's been thrown around as a possible buy-low trade candidate. Maybe the two sides can work on something from the suites and get a deal done so the 26-year-old righty can just change clubhouses this weekend. Even better, they could do it mid-game and have him tank the game for his new team.
A quick look at Gausman's stats tells you he might be trying to do that anyway. That 5.85 ERA is pretty terrible, and even though his FIP is much better, 4.73 isn't exactly something to crow about. The lithe southpaw is also walking 3.99 men per 9 innings while striking out only 7.70, which sets up really nicely for the Cubs as they try to get the bats going right out of the gate.
Gausman's 1.30 HR/9 isn't awful, but the .371 BABIP he's allowed on balls that don't leave the yard is pretty abysmal. And he's a big-time fly-ball pitcher, with nearly 35 percent of the balls put in play against him bearing along a parabolic path. When you consider that 81.6 percent of overall contact against him has been either hard or medium, you can see why the guy is getting roughed up.
I won't pretend to know what's ailing Gausman this year and I haven't watched him enough to spot differences from previous campaigns. He does appear to be missing up a little bit more than in the past, when he would absolutely pound the low, inside corner to righties. He's also hitting the opposite corner more, which could be an issue with the slider. Maybe it's starting away and finishing farther away.
Whatever the case, Gausman is allowing a .298/.393/.437 slash and a .364 wOBA to lefties, while righties are hammering him to the tune of .329/.382/.508 with a .379 wOBA. Basically, this guy is turning opposing lineups into All-Star rosters. Which is good since the Cubs didn't have any batters in the actual All-Star Game. Not that anyone made a big deal out of that or anything.
First pitch of the second half is at 6:05 CT and will be broadcast on CSN Chicago.
Back in action.

Game preview: https://t.co/LilZsD348p pic.twitter.com/DIbLwU8YTe

— Chicago Cubs (@Cubs) July 14, 2017